Nice weather is on the way! If the sunshine has you wanting to get out of the house, there are plenty of great shows this week worth checking out.  This Monday come out and see G-Nome Project, Israel's premier livetronica band, at Brooklyn Bowl in New York.  G-Nome Project has been packing venues in the home country and are now touring the east coast and mid-west to bring the good vibes. Also playing Monday night is the Georgia-based rock-jam band Perpetual Groove.  Stop by the Chameleon Club in Lancaster, PA for an unusually groovy Monday night.  Perpetual Groove will also be at The Southern, in Charlottesville, VA. this Wednesday, and the NorVa, in Norfolk, VA. this Thursday, if your urge to boogie can't wait until the weekend.
Everyone's favorite flatpicker Billy Strings will be at The Rex Theater this Wednesday April 25, and is joined by JP Biondo of Cabinet, who recently went on hiatus.
The legendary David Crosby will be playing at Plaza Live in Orlando this Thursday. One of the most influential singer-songwriters of the 60's and 70's, Crosby in a double inductee in the Rock and Roll Hall of Fame. His music was a huge part of the hippie, counter-culture revolution which took place during the late 60's and 70's, and has had a huge influence on many of our favorite bands today, as well as the way we experience music in general.  Crosby will also be performing at the Ponte Verde Music Hall in Ponte Verde, FL. Friday evening.
Merlefest returns to Wilkes Community College in Wilkesboro, North Carolina this Thursday.  Join Bela Fleck, Sam Bush, Kris Kristofferson and other premier bluegrass players for four unforgettable days of wonderful music.  Come celebrate 13 years of Jibberjazz Productions at their annual Some Kind of Jam music festival.  The festival features three stages, both indoor and outdoor, as well as 29 musical acts, unique art vendors, and tons of delicious food. Visit www.jibberjazz.com for more info, a compete line-up, and to purchase tickets.
This Friday The Jamwich presents the Mad Tea Party Pre-Party with LITZ and Of Tomorrow.  Stop by Opera House Live in Shepherdstown, West Virginia for gathering of friends and family, and display of elite musicianship. Come celebrate the arrival of spring!
Other notable performances this week include:  Twiddle at Jeffrson Theatre in Charlottesville, VA (04/25), The Orange Peel in Asheville, NC (04/26), The Charleston Pour House in Charleston, SC (04/27), and The Underground at The Fillmore in Charlotte, NC (04/28), Pigeons Playing Ping Pong at Lincoln Theatre in Raleigh, NC (04/28), and The Werks at Boonies Bar in Northwood, OH (04/28).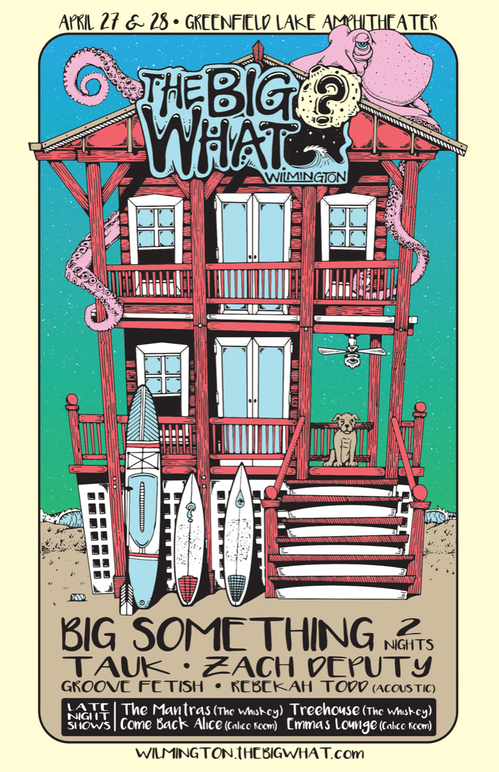 Festivals this weekend:
Merlefest – April 26-29 – Wilksboro, NC
Charm City Folk & Bluegrass – April 27 & 28 – Baltimore, MD
Some Kind of Jam 12 – April 27-29 – Schuylkill Have, PA
Wanderlust Musik Fest – April 27-29 – Hinton, WV
The Big What Wilmington (indoor) – April 27 & 28 – Wilmington, NC
Shows:
04/23 – G-Nome Project – Brooklyn Bowl – Brooklyn, NY
04/23 – Perpetual Groove – Chameleon Club – Lancaster, PA
04/24 – Perpetual Groove – The Southern – Charlottesville, VA
04/24 – Brit Floyd – Warner Theatre – Washington, DC
04/25 – The Heavy Pets – Pearl Street Warehouse – Washington, DC
04/25 – Twiddle – Jefferson Theatre – Charlottesville, VA
04/25 – Grateful April: Deadgrass – The 8×10 – Baltimore, MD
04/25 – Billy Strings w/JP Biondo of Cabinet – The Rex Theater – Pittsburgh, PA
04/26 – Perpetual Groove – The NorVa – Norfolk, VA
04/26 – The Heavy Pets – Milkboy Philly – Philadelphia, PA
04/26 – Brit Floyd – Lyric Opera House – Baltimore, MD
04/26 – ekoostik hookah – Woodlands Tavern – Columbus, OH
04/26 – Twiddle – The Orange Peel – Asheville, NC
04/26 – Zach Deputy – Lincoln Theatre – Raleigh, NC
04/26 – Tauk – High Dive – Gainesville, FL
04/26 – David Crosby – Plaza Live – Orlando, FL
04/27 – The Lizards – GameChangerWorld – Allentown, PA
04/27 – Tweed – Snug Harbor – New Paltz, NY
04/27 – Perpetual Groove – Boathouse Live – Newport News, VA
04/27 – Brit Floyd – Wilson Center – Wilmington, NC
04/27 – Twiddle – The Charleston Pour House – Charleston, SC
04/27 – The Original Wailers – Culture Room – Ft. Lauderdale, FL
04/27 – David Crosby – Ponte Verde Music Hall – Ponte Verde Beach, FL
04/28 – The Lizards – Buffalo Iron Works – Buffalo, NY
04/28 – Pigeons Playing Ping Pong – Lincoln Theatre – Raleigh, NC
04/28 – G-Nome Project – Johnny Brenda's – Philadelphia, PA
04/28 – Perpetual Groove – Second & Green Tavern – Winston-Salem, NC
04/28 – Brit Floyd – Durham Performing Arts Center – Durham, NC
04/28 – The Werks – Boonies Bar – Northwood, OH
04/28 – Twiddle – The Underground at The Fillmore – Charlotte, NC
04/28 – Zach Deputy – The Charleston Pour House – Charleston, SC
04/28 – Railroad Earth – The Blind Tiger – Greensboro, NC
04/28 – Tauk – 1904 Music Hall – Jacksonville, FL
04/28 – Charm City Bluegrass After Party: Jeff Austin Band, Man About a Horse – The 8×10 – Baltimore, MD
04/29 – Perpetual Groove – The Boathouse – Myrtle Beach, SC
04/29 – Railroad Earth – The Music Farm – Charleston, SC
04/29 – David Crosby – Charleston Music Hall – Charleston, SC
04/29 – Dweezil Zappa – The Rex Theater – Pittsburgh, PA