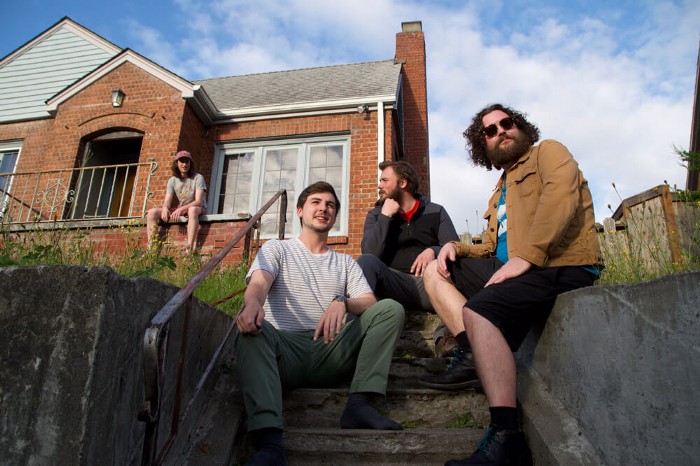 Moose Almighty, a psychedelic groove-rock band from Seattle, will be releasing their sophomore album 'The Luggage Underneath' on August 7th. They are celebrating the release by performing that night on the High Dive Live Stream Concert Series.
The 9 song album, which clocks in at just over an hour, marks a significant evolution from their debut album 'Bound & Revolving'. The transformation began when new guitarist Chris Young joined the band in June 2019. His fresh playing and raw ability allowed the band to explore new territories and extend their improvisational prowess. The lead single 'Blurry Lovers', a Wild West inspired tune of fleeting romance on a drunken Texas night, will be released on July 17th. It's a far departure from the rest of the album, which ranges from the relaxed summer vibes of 'Lapis Lazuli Julie' to the meaty psychedelic rock of 'The Wave' to the upbeat instrumental closer 'Six Plus Five'. Nothing gets quite as far out as 'Voice of the Universe', a 16 minute live track pulled from one of the band's practices that weaves through a variety of improvised grooves and danceable moments before crescendoing with a wild synthesizer jam.
The album was originally slated for April, but was pushed back several months due to the coronavirus, which forced the band into quarantine and canceled a full season's worth of shows, including a tour through Oregon. The extra time did pay dividends though, with the band able to polish each song and refine their vocals, seen in the numerous harmonies throughout the album.
'The Luggage Underneath' will be available August 7th, 2020 on Spotify, Apple Music and wherever music is streamed. RSVP to the livestream and find links to watch on Facebook.
Moose Almighty features Dan Underkofler (Keyboards, Synthesizers, Vocals), Chris Young (Guitar, Vocals), Aaron Mitchell (Bass, Vocals), and Kevin Shoop (Drums, Vocals, Audio Engineering). 'The Luggage Underneath' was recorded by the band, mixed by Kevin Shoop and mastered by Ray Dowd of MixedByDowd. Follow the band on instagram (@moosealmightyband) or visit their website at www.moosealmighty.com to learn more.