EOTO/ELM Show Review
The Jefferson, Charlottesville, VA, 11/04/15
by Morgan Whitehead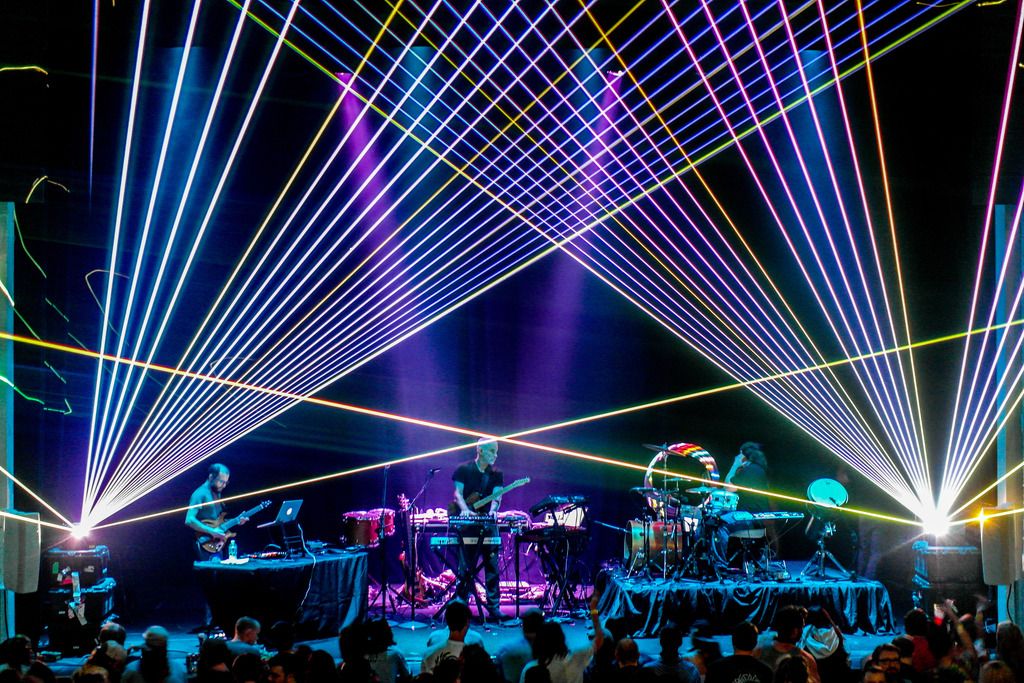 On an otherwise unassuming Wednesday night in Charlottesville, several distinctive individuals joined forces to give the good people of Virginia a show to remember for a lifetime.  EOTO & Friends, featuring Mike Rempel of Lotus, along with opener ELM, packed the house at The Jefferson Theater for a midweek face-melting session. EOTO, based out of Colorado and California, consists of multi-talented music mongrels Jason Hann and Michael Travis. The duo, well-known for their contributive genius to The String Cheese Incident, hosted their good friend Mike Rempel, guitarist for Lotus, for the first show of their collaborative four-night run.  ELM was lucky enough to join these heavy-hitters for three of the four nights, and they more than proved themselves worthy of such accompaniment. Along with a mesmerizing, multi-directional light show, these two acts turned the two-story auditorium of The Jefferson into a spaceship that seemed to travel through space and time!
Baltimore-based Electric Love Machine (ELM) started out the night with their high-energy, jazzy, dance-rock grooves, enticing the crowd to boogie from the very first beat. All four members are from the Maryland capital and have been playing their respective instruments their entire lives. Jon Wood (lead guitar and vocals) co-writes songs for the band with Jon Brady (keys and supporting vocals). Holding down the rhythm section are Alex Lang on the bass and original founder, Steve Gorsuch, on drums.
Morphing together over the past few years to form the current quartet, this band truly plays for the love of live music and its community. The sentiment shows in their interaction with the crowd—especially their fanbase of "Lovers." ELM integrated splashes of improvisation throughout their set, leaving themselves time to weave new guitar riffs and drum solos into their carefully crafted booty-shaking beats and dance-party-themed lyrics. This quartet intuitively paved an inter-stellar highway on which the crowd was left floating, before and as the headliners graced the stage.
Between sets, folks had the chance to check out some local art, artisan crafts, and draft brews. VA-bred painters Sam Navarre and Brian Bailey perched themselves under the bright lights of an open area for the evening; Sam progressed on a live painting entitled, "The Glazelle," while Brian created some new freestyle works. Jason Hann actually played an integral role in setting up the live painting opportunity. He, along with each of the night's performers, support and want to strengthen the community which supports them and their music.
Another symbiotic relationship appeared in the form of Charlottesville's own Starr Hill Brewery's craft beers on tap. Of course, I went for the limited-time offering of Boxcar Pumpkin Ale, which is their (obvious but delicious) autumn seasonal. I also had a chance to chat with the Kirby brothers—owners of RVA's Sybrik Wares—who were outside of the venue promoting their local, handmade jewelry and accessories business. We discussed their upcoming vending travels as we enjoyed the leisurely atmosphere of Charlottesville's historic Downtown Mall.
Still buzzing through intermission from ELM's energy boost, we anxiously awaited the appearance of EOTO, with their special guest Mike Rempel. Michael Travis and Jason Hann's seriously playful project, End Of Time Observatory, embodies improvisational intricacy at its peak. The duo essentially tosses a stick of dynamite back-and-forth, taking turns blowing the minds of each audience member in attendance. Add in the extra explosiveness of Mike Rempel, not only on his guitar but also threading in grooves through his MacBook, and there we had it—a lit fuse, sparked by three fiery musical masterminds, scorching through the speakers and searing into our brains.
The entire set was like watching a psychedelic game of hot potato! We watched in giddy excitement as the trio tossed the proverbial TNT around the stage, creating each new sound we heard right before our eyes and ears. Jason plays a full drum kit, sings and beatboxes, simultaneously builds and alters sounds with synth pads, and seriously lights up on his djembe. Michael plays bass, guitar, and several keyboards, blends sounds and beats on multiple MacBooks and mixing boards, and also keeps a mandolin and bongos ready at the helm. Both loop their instruments on a series of pedals connected to an intricate circuit of plugs and wires, which to the average onlooker can best be described as organized chaos!
If you're close enough to the front to see their faces, watch how much genuine joy appears as they serve up heaping portions of collectively-conscious musical brilliance. A personal favorite part of EOTO shows is watching the subtle (and sometimes not-so subtle) cues they give each other between transitions as they prepare to, well, do who-knows-what and go who-knows-where?! In a statement, these guys epitomize the ultimate creation of live music.
And, as if the two aren't enough of a thirst-quenching treat to see on their own, this crowd caught a taste of the greatness that is Mike Rempel. A long-time comrade of Michael's and Jason's, Mike has astounded audiences across the nation, mastering lead guitar and mind-melting with the deeply-loved band, Lotus. They've worked and played together before—five of Lotus' albums have actually been produced under the SCI Fidelity label—but, allow me to reinforce the uniqueness of this show in-particular, and what they all bring to the table. EOTO doesn't have setlists or play practiced material as it is, and they invited guitar-wielding guru Mike on a four-day mini-tour, exponentially making each show a completely different experience. This, the first night of their run, felt like being inside of a ticking time bomb, set to go off at any moment!
One could liken the improvisational detonations of EOTO and Mike Rempel to the excitement felt witnessing a fireworks encore for hours. To add to the awe-inspiring sounds these guys created live, the laser lightshow had the audience staring into space as if the bright rays were tractor beams sending them into another dimension. To say the lights did these guys' exceptional sound justice, would be a severe understatement. Flaring in every color and direction imaginable, and even creating shapes such as a fox and a lighthouse, the visuals lent just as much amazement as the music.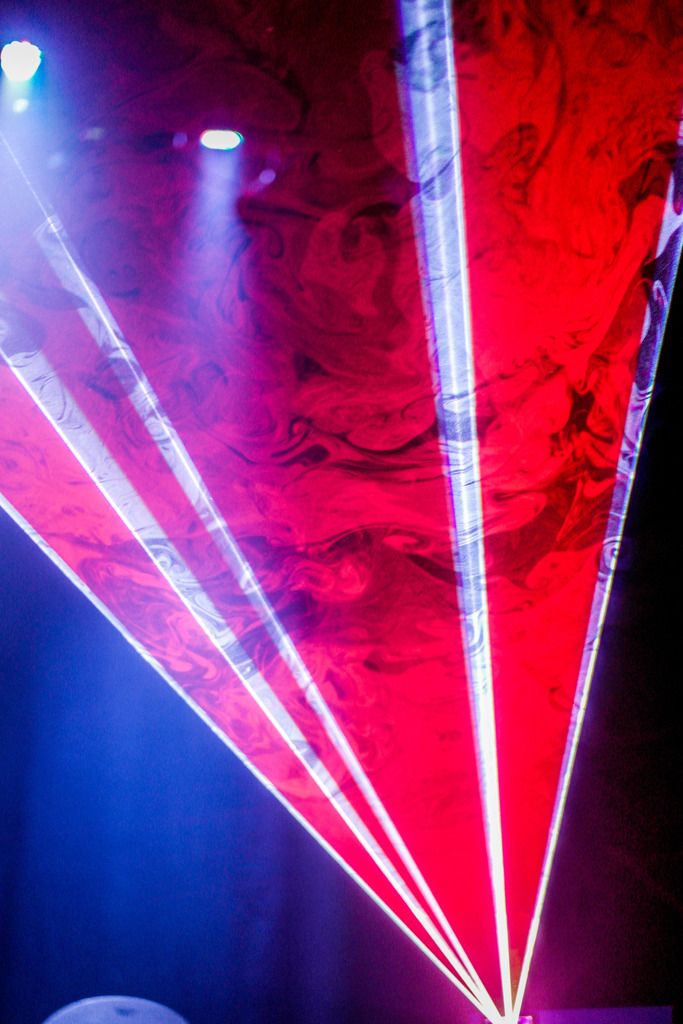 Much appreciation and respect go out to all the band and support members, sound and lights experts, promoters and coordinators, and everyone at The Jefferson Theater, for hosting such an irreplaceable evening in the heart of Virginia. Having seen the ELM evolve throughout the past three years has given me personal enjoyment, and it thrills me to see Steve Gorsuch grow from his Segway days to now opening for EOTO on multi-night runs. They vary each just slightly with every performance, making each experience more memorable than the last. Having seen EOTO a couple handfuls of times over the past two years and still walking away with a different encounter each time, it should've come as no surprise that they would put together such an unforgettable experience; but, it sure didn't make the night any less elating. These individuals inspire us to make the most of each moment, just as they do on- and off-stage. We caught a real, true taste of what incredibly innovative musical minds can create when they collaborate: a continuously climactic, ever-exploding atom bomb full of love, fun, community, and spontaneity!