Greetings, readers! This week we continue to slide into autumn. Tightly bound bundles of cornstalks have begun to pop-up here and there, clothes in store windows are changing, and the scents of firewood, wet foliage, and pumpkin-spice everything fill the air. The season of change is upon us, but that doesn't mean you have to stop having fun with your favorite live bands! Here is what's up this week.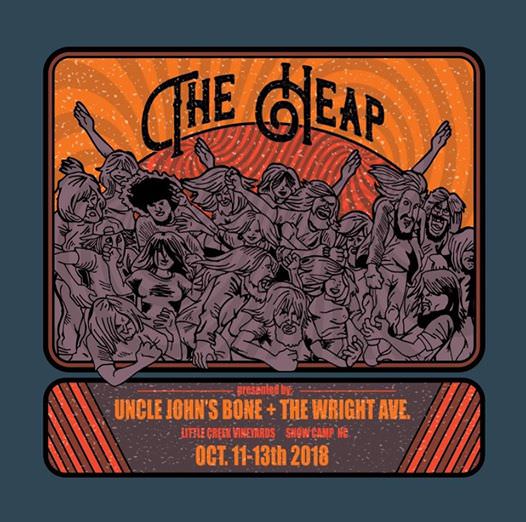 Get ready for the second installment of The Heap music and arts festival at the Little Creek Vineyards in Snow Camp, North Carolina. The Heap is a now three evenings of camping, and will feature multiple sets from The Wright Avenue, and some of your favorite artists from the Uncle John's Bone family.  Other musicians include The Mantras, Nick & The Nomads, The Brothership Abduction, Formula 5, Universal Sigh, and more! The total amount of tickets for The Heap is capped at 400, so if you'd like to go it is a good idea to secure your tickets A.S.A.P.  Weekend passes are currently on sale for $60, with single day-passes also available for any who can't get the whole weekend off.  Expect cooler temperature in the evenings: pack heavy, layer up, and make sure to bring lanterns and/or flashlights.  Head over to http://unclejohnsbone.com/ to learn more and purchase your tickets today.
Bearded Face Productions invite you to join in on the good vibes this Saturday and Sunday at the Mustang Rock & Roast at Timbuck II Shopping Center in Corolla, NC. The first annual Mustang Rock & Roast will be both a food & music experience, featuring North Carolina barbecue and AYCE oysters, with 14 banks playing non-stop live music throughout the day.  Musical acts are set to include Big Something, Pink Talking Fish, Danger Muffin, Mike Dillon Band, Jahman Brahman, Formula 5, Groove Fetish, and more!  No on-site camping will be available at this festival, however, there is a shuttle service available that will take you to and from the festival for $20 (make sure the shuttle services an area nearby you before purchasing your pass).  Check out http://www.mustangmusicfestival.com/mustangrockandroast/ for more info and ticketing.
Also this weekend, the brand new event Beauty in the Backyard, a "creative arts retreat," is taking place in Camp Ramblewood, Maryland.  Check out this article by The Jamwich's creative director, Elise Olmstead, for a sneak peek at what to expect.  http://www.thejamwich.com/2018/10/02/5-must-see-bands-beauty-backyard-oct-12-14-darlington-md/
Ohio Dreamfest will be held this weekend in Ansonia, OH. Featuring two nights of Ekoostik Hookah, and Dustin Smith & The Daydreamers. Other performers include The Joe Marcinek Band w/ Kofi Baker, Conscious Pilot, Nat Reeb & Friends, Zoo Trippin, plus more. Feel free to bring the kids; bounce houses, face painting, and the haunted trail will help keep them entertained for the entire weekend.  Also, enjoy fire & flow performances, live painters, plenty of workshops, as well as chances to win prizes, plus the awesome food and craft vendors.  General admission tickets are on sale for $50, and include a tent-camping pass. The early arrival option available, just expect to fork over an extra $15. Visit https://www.ohiodreamfest.com/ to answer any questions and get your tickets.
Other notable performance this week include: Dirty Heads /w Jukebox the Ghost and Just Loud at The Orange Peel in Asheville, NC (10/09), Particle at Cat's Cradle in Carrboro, NC (10/09), Perpetual Groove at The Southern in Charlottesville, VA (10/10), Sun Dried Vibes w/ The Ries Brotherhood and Oogee Wawa at Gypsy Sally's in Washington, DC (10/10), Umphrey's McGee w/ Southern Avenue at The Fillmore Charlotte in Charlotte, NC (10/11), Kung Fu w/ Perpetual Groove at The National in Richmond, VA (10/11), Umphrey's McGee w/ Zach Deputy at Red Hot Amphitheatre in Raleigh, NC (10/12). Dirty Grass Players at Dante's Bar in Frostburg, MD (10/12), Pink Talking Fish at The Southern in Charlottesville, VA (10/13) and TAUK w/ Dynamo at Charleston Pour House (10/13).
As always, please feel free to leave any suggestions for events or bands in your area!
Festivals:
10/11-13 – The Heap Festival – Snow Camp, NC
10/11-14 – Suwannee Roots Revival – Live Oak, FL
10/12-13 – Hoedown on The Harpeth – Kingston Spring, TN
10/12-14 – Beauty in the Backyard – Camp Ramblewood, MD
10/12-14 – The Moonshiner's Ball – Mt Vernon, KY
10/12-14 – Ohio Dreamfest – Ansonia, OH
10/13-14 – Mustang Rock & Roast – Corolla, NC
Concerts:                                              
10/09 – Melvin Seals & JGB – JCC of Rochester – Rochester, NY
10/09 – Tedeschi Trucks Band/Steve Earle – Beacon Theatre – New York, NY
10/09 – Gypsy Sally's Jam – Gypsy Sally's – Washington, DC
10/09 – Dirty Heads/Jukebox the Ghost/Just Loud – The Orange Peel – Asheville, NC
10/09 – Particle – Cat's Cradle – Carrboro, NC
10/10 – Melvin Seals & JGB – Buffalo Iron Work – Buffalo, NY
10/10 – Perpetual Groove – The Southern Café & Music Hall – Charlottesville, VA
10/10 – Fruition/The Lil Smokies – Boot & Saddle – Philadelphia, PA
10/10 – Tedeschi Trucks Band/ JJ Grey – Beacon Theatre – New York, NY
10/10 – TAUK – The Burl – Lexington, KY
10/10 – Sun-Dried Vibes/The Ries Brotherhood/Oogee Wawa – Gypsy Sally's – Washington,
DC
10/11 – Dark Star Orchestra – House of Blues – Cleveland, OH
10/11 – Pink Talking Phish – Club XL – Harrisburg, PA
10/11 – Fruition/The Lil Smokies/Daniel Rodriguez – Union Stage – Washington, DC
10/11 – Kung Fu/Perpetual Groove – The National – Richmond, VA
10/11 – Melvin Seals & JGB – Berkshire Music Hall – Pittsfield, MA
10/11 – TAUK/Funk You – Concourse at The International – Knoxville, TN
10/11 – Umphrey's McGee/Southern Avenue – The Fillmore Charlotte – Charlotte, NC
10/11 – Keller Williams – Vinyl Music Hall – Pensacola, FL
10/12 – Dark Star Orchestra – Stage AE – Pittsburgh, PA
10/12 – Pink Talking Phish – Blue Fox Billiards Bar & Grill – Winchester, VA
10/12 – Kung Fu/Perpetual Groove – Union Stage – Washington, DC
10/12 – Tedeschi Trucks Band – Beacon Theatre – New York, NY
10/12 – Spafford – Music Hall of Williamsburg – Brooklyn, NY
10/12 – Melvin Seals & JGB – The Space at Westbury – Westbury, NY
10/12 – Umphrey's McGee/Zach Deputy – Red Hat Amphitheatre – Raleigh, NC
10/12 – The Motet/Moon Hooch/Yo Mama's Big Fat Booty Band – Salvage Station – Charlotte,
NC
10/12 – Big Something – Visulite Theatre –  Charlotte, NC
10/12 – Dirty Grass Players – Dante's Bar – Frostburg, MD
10/12 – Mystic Bowie's Talking Dreads/Shamans of Sound – Gypsy Sally's – Washington, DC
10/12 – The Lil Smokies – The 8×10 – Baltimore, MD
10/12 – John Kadlecik & The DC Mystery Cats/Marc Brownstein – The Ardmore Music Hall –
Philadelphia, PA
10/13 – Dark Star Orchestra – Express LIVE! – Columbus, OH
10/13 – Bumpin Uglies/Stacked Like Pancakes – W.O. Wright's – Fairborn, OH
10/13 – Kung Fu/Perpetual Groove – Union Station – Washington, DC
10/13 – Melvin Seals & JGB – The Ardmore Music Hall – Philadelphia, PA
10/13 – Pink Talking Phish – The Southern – Charlottesville, VA
10/13 – Tedeschi Trucks Band – Beacon Theatre – New York, NY
10/13 – Spafford – The Music Hall of Williamsburg – Brooklyn, NY
10/13 – Fruition/The Lil Smokies – The Brooklyn Bowl – Brooklyn, NY
10/13 – Jouwala Collective/Tweed – Capital Ale House – Richmond, VA
10/13 – TAUK/Dynamo – The Charleston Pour House – Charleston, SC
10/13 – The Clock Reads/Mateo Monk – Dante's Bar – Frostburg, MD
10/13 – Trouble Funk/Nappy Riddem – Gypsy Sally's – Washington, DC
10/14 – Perpetual Groove/Kung Fu – The Ardmore Music Hall – Philadelphia, PA
10/14 – Spafford – Rough Trade NYC – Brooklyn, NY
10/14 – Umphrey's McGee/Southern Avenue – The Capitol Theatre – Port Chester, NY
10/14 – Turkuaz/Butcher Brown – The Blind Tiger – Greensboro, NC
10/14 – TAUK/Jonathan Scales Fourchestra – The Charleston Pourhouse – Charleston, SC