Written by Mike Forristell
Hey Readers! Trying to squeeze in as much fun as possible before the summer's end? Here's what's up this week.
Head to the Heron Farm & Festival Site in Sherman, New York for a weekend of music, art, camping and community at the Night Lights Festival.  Join artists such as Lotus, The Motet, Aqueous, Tropidelic, Lespecial and many more for a three-day sound and light spectacle.  Weekend passes are currently on sale for $125, with single day passes available as well.  Parking and car camping will incur an extra cost, but feel free to set up your tent in the wooded area free of charge. Night Lights Festival is as much about community as it is about the music: come ready to make friends and memories that will last a lifetime.  Be sure to check out www.nightlightsfest.com if you have any questions.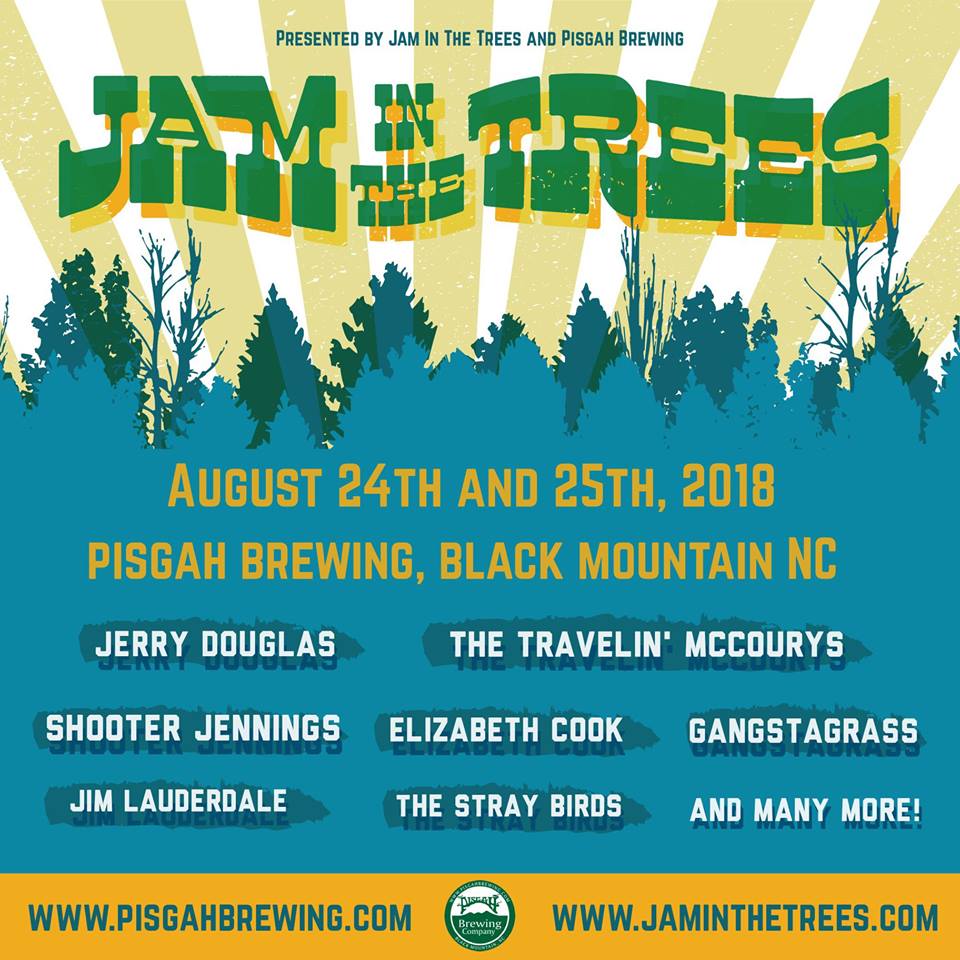 Join The Travelin' McCourys, Jerry Douglas, Shooter Jennings, Elizabeth Cook and several other great artists at Jam in the Trees for two days of Americana music at Pisgah Brewing in Black Mountain, North Carolina.  Bands will provide music on both the picturesque outdoor stage, and the more intimate brewery stage this Friday and Saturday, with no overlapping sets.  Early bird weekend passes are currently sold out; however, single day passes for both days are still available.  Also, make sure to take advantage of the complimentary shuttle service if you are staying near downtown Asheville. Visit www.jaminthetrees.com to gather more information and purchase your tickets.
Festival in the Field comes to Millersburg, Pennsylvania this weekend.  Scheduled acts include Flux Capacitor, Chipmunk Jamboree, Dire Wolves, Mysterytrain, Willie Jack and the Northern Lights, and many more great performers.  The music will all be leading up to an amazing fireworks show on Saturday night!  Feel free to BYOB, just remember not to being glass bottles; too many barefoot people. Kids under 12 enter for without charge. Feel free your canine companions, just be responsible in how you watch after them.  Discounted pre-sale tickets cost a mere $50, with the cutoff being Tuesday, August 21.  Camping and parking is graciously included in the ticket price. See you on the field! Visit https://www.facebook.com/events/132365207448278 to learn more.
Stop by Gypsy Sally's this Tuesday for the Gypsy Sally's Jam, present by Gordon Sterling.  Place your name in a hat for a chance to land yourself on-stage with a group of strangers that have one thing in common: the desire to jam.  Amps and drum kit are provided.
Also, be sure to check out LITZ this week at The Abbey Bar at Appalachian Brewing Company in Harrisburg, PA this Friday (08/24) and Milkboy Arthouse in College Park, MD Saturday (08/25).
Festivals:
08/23-25 – Night Lights Festival – Sherman New York
08/23-26 – Lockn'- Arrington, VA
08/24-25 – Big Mean BBQ IV – Trumansburg, PA
08/24-26 – Garefest – Sandy Lake, PA
08/24-26 – Jam in the Trees – Black Mountain, NC
08/24-26 – Festival in the Field – Millersburg, PA
08/24-26 – Dam Show – Austin, PA
08/24-26 – Mazzstock Music Festival – Marlboro, NY
08/25-26 – InCuya Music Festival – Cleveland, OH
08/25 – Sensorium Festival – Philadelphia, PA
Concerts:
08/20 –
08/21 – Gov't Mule – The Rose Music Center at The Heights – Huber Heights, OH
08/21 – Gordon Sterling Presents: The Gypsy Sally's Jam – Gypsy Sally's – Washington, DC
08/22 – Rosedale/Chute – Gypsy Sally's – Washington, DC
08/23 – Circles Around the Sun/John Kadlecik – Brooklyn Bowl – Brooklyn, NY
08/23 – Rumpke Mountain Boys – The Waterhole – Saranac Lake, NY
08/23 – Yonder Mountain String Band – East Side Park – Norwich, NY
08/23 – The Original Wailers – The Ramkat – Winston-Salem, NC
08/23 – Late Night Space Flight – Dante's Bar – Frostburg, MD
08/24 – The Flaming Lips – Stage AE – Pittsburgh, PA
08/24 – Circles Around the Sun/Steal Your Peach – The Ardmore Music Hall – Philadelphia, PA
08/24 – Roots of Creation – Chameleon Club – Lancaster, PA
08/24 – LITZ – The Abbey Bar at Appalachian Brewing Company – Harrisburg, PA
08/24 – Juice/Butcher Brown/Los Elk – Gypsy Sally's – Washington, DC
08/25 – Umphrey's McGee – Iroquois Theatre – Louisville, KY
08/25 – DeadPhish – Orchestra – Critz Farms – Cazenovia, NY
08/25 – LITZ – MilkBoy ArtHouse – College Park, MD
08/25 – Big Whisky – Gypsy Sally's – Washington, DC
08/25 – Herb & Hanson/Smoky Shed String Band – Dante's Bar – Frostburg, MD
08/26 – Gratefully Yours/Noah Lehrman – The Sugarbowl – Breezy Point, NY