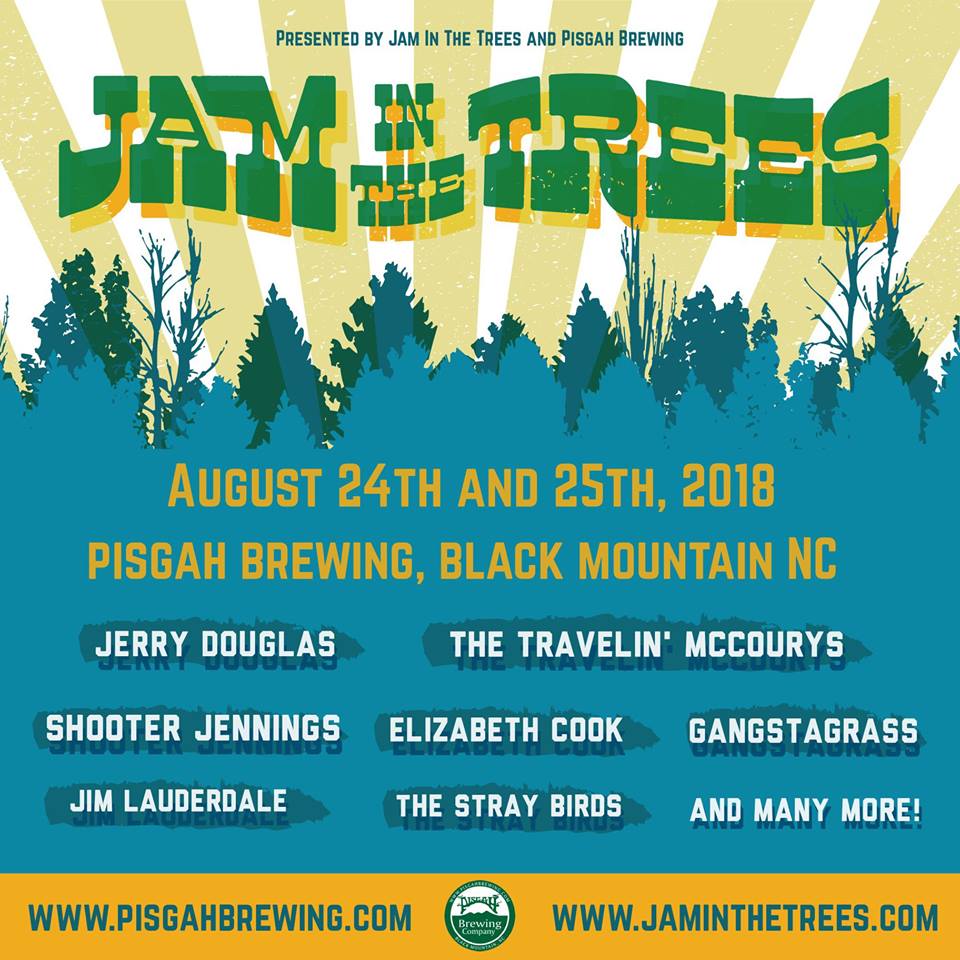 Jam in the Trees returns this weekend August 24-25, 2018 for its third year at Pisgah Brewing in Black Mountain, NC.  If you've ever explored the eclectic Asheville and beautiful nearby Pisgah Forest, you know that the quaint and artistic town of Black Mountain is truly a gem within the Smoky Mountain area.  Pisgah Brewing hosts an outdoor stage and an intimate indoor stage, as well as award winning craft beer on tap.
One of the fondest memories I have from my honeymoon in 2010, is wandering into the area without any plans and finding a small festival taking place at Pisgah.  We gathered around a small fire late that night at the brewery stage talking to some locals, while a friendly hippie tossed colored powders into the fire making it flame magenta and blue.  We made friends with a guy named Turtle and then chatted with the band after their set. This place has a magical vibe that makes for memories you will cherish forever. Jam in the Trees is going to be one of those amazing weekends filled with friends old and new, and can't-miss musical collaborations.
Friday night's music will take place at the indoor stage only, so warm up your dancin' shoes with the music of blue ridge songstress Jane Kramer, the unique bluegrass hip-hop of Gangstagrass, and the honest, heartfelt newgrass of Fireside Collective.  Music kicks off at 8PM and ends at midnight. Pay your tab and tip your bartender then be sure to catch some sleep, because Saturday's schedule is stacked with non-stop tunes.
Music takes place on both the outdoor and indoor stage on Saturday, but never fear, because there are no overlapping sets at Jam in the Trees. The day starts at 1PM with the "plain and simple" bluegrass of Po' Ramblin Boys, then continues with Andy Buckner, Slocan Ramblers, Lindi Ortega, Jerry Douglas, Elizabeth Cook, The Steel Wheels, and Jim Lauderdale.  The evening finishes out with a bang–headliners Shooter Jennings and The Travelin' McCourys play back to back sets on the outdoor stage. I love the dichotomy of these two bands – Shooter Jennings is a dangerous outlaw of country music, living on the edge and breaking all the rules, while The Travelin McCourys carry on a legendary bluegrass tradition with their skillful, albeight by-the-books Americana. You might be feeling all lit up by the banjos and brews, but don't forget to stay late on Saturday night to see who comes out for the after hours jam at the brewery stage, hosted by Jim Lauderdale and Po' Ramblin Boys.
It's sure to be a wonderful weekend, so if you haven't already, pick up your tickets and plan your accommodations. There are plenty of hotels, airbnb's, and campgrounds within the area.  I've personally stayed in many charming airbnb's in the area, but space is sure to fill up soon. Uber and Lyft is readily available, so there's no need to worry about driving your own car if you would like to sample the Pisgah brews.  You can take your experience to the next level by purchasing VIP tickets which include meet and greets with the artists, special seating and more. Make your plans now and we'll see you in the trees!