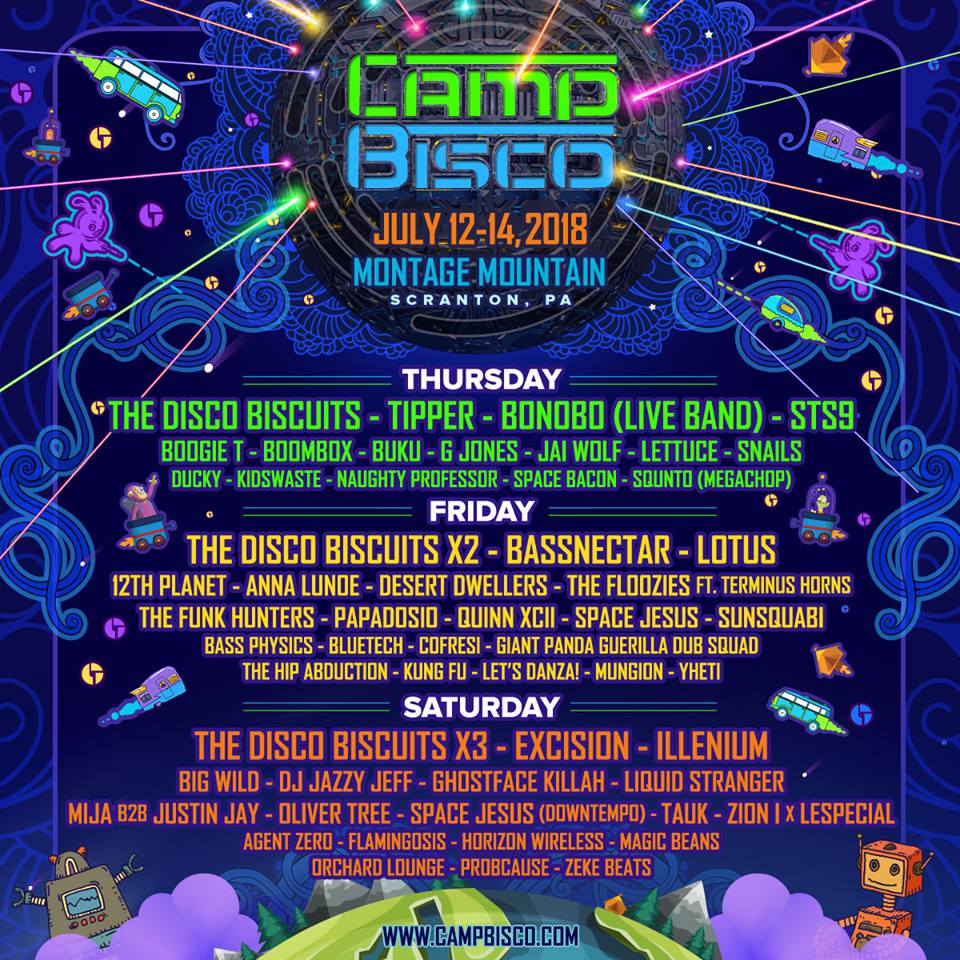 Camp Bisco, July 14-18, 2018, Montage Mountain, Scranton, PA
Written by Alejandro Beach
Camp Bisco has been on the forefront of the Northeast's jam and electronic music festival scene since the late '90s.  For sixteen years, host band The Disco Biscuits have welcomed world class acts from a wide spectrum of genres ranging from jam, electronic, funk, hip-hop and more.  In today's saturated festival circuit, it can definitely be tricky for music lovers to choose between hundreds of top-notch music events. If you're looking for a no-holds-barred weekend of absolute mayhem on a ski resort turned water park/festival ground for the summer months, look no further than Camp Bisco.
Having changed locations several times over the years, it definitely looks as though Bisco has found its home at Montage Mountain in Scranton, PA. For those of you who have been to Camp before, you already know that it's one of the hardest hitting weekends of the summer. And for those of you that have been to any festival on Montage Mountain before, you also know that the mountain is no joke. With campgrounds situated upon ski slopes, traversing the festival is a workout in and of itself. The best part of Montage Mountain however, can be seen the moment you enter the festival grounds. A labyrinth of water slides to the left welcomes attendees, and the full sized wave pool to the right washes away any worries about the July heat. Even better, the wave pool is positioned directly to the right of Bisco's largest side stage, aptly named, Above the Waves. Wander further into the grounds to see every possible vendor (food, craft beer, art, you name it) followed by a lazy river with the occasional zip liner coasting through the air overhead. Oh, and more water slides. Did I mention there are water slides at this festival? Needless to say for as action packed of a weekend Camp is every year, having the luxury of cooling off in Montage Mountains' water park is almost a necessity.  Along with the impressive dome covering main stage and breathtakingly picturesque views of the Wyoming Valley, it really doesn't get much better than this.
Camp Bisco, on top of being home to arguably one of the most exhilarating and interactive venues in the region, consistently brings the top artists from the realms of jam, electronic, and more. This years' lineup includes Bisco veterans such as STS9, Bassnectar, Lotus, and of course, six sets of The Disco Biscuits. Other headliners include Tipper, Bonobo Live Band, Excision, and Illenium, all of which you'd be hard pressed to miss. Bisco isn't just about the headliners though; look further down the lineup, and you'll find yourself wondering how you're even going to have a second to catch your breath, let alone get some actual sleep. From staples in the electronic scene like Buku, Snails, and Space Jesus (including a special downtempo set), to face melting electro-funk groups such as The Floozies (ft. The Terminus Horns) and Sunsquabi, to livetronica jam acts like Papadosio and TAUK, Camp has something for anybody at any given moment of the day. If at this point, you still haven't checked out the lineup, go to www.campbisco.com to see the full lineup and have your mind blown a little more.
Choosing which festivals you're going to with your limited amount of time away from real life is no small task.  As someone with firsthand experience of what Camp Bisco has to offer–a full immersion of music, art, and one of the best parties of the summer, it goes without saying that if it lives up to years past (and I have no doubt that it will), than Camp Bisco 2018 will be another one for the books.
Below is the Camp Bisco 2017 Official Aftermovie in case you aren't sold yet (but, for real, see you on the mountain this July 14th-17th):