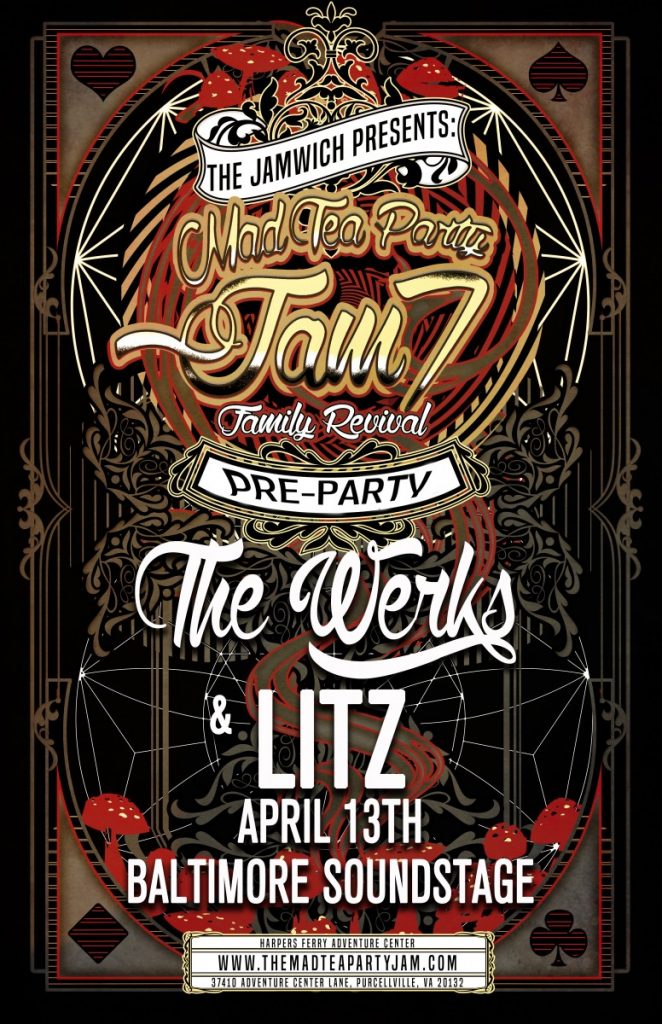 What's up readers?
Great news! Join us this Friday at the Baltimore Soundstage in Baltimore, Maryland for the Mad Tea Party Pre-Party.  Come out to see old friends and familiar faces with live music from The Werks, LITZ, and Deaf Scene. If you haven't heard of the Mad Tea Party Jam, feel welcome to come see what the festival is about, make new friends, talk with the good people who have been there before, and share in the groove. This is an all ages event. Doors open at 8 p.m. Show starts at 9 p.m.
Aqueous will be at the Flour City station in Rochester, New York this Friday and Saturday, bringing you two nights jam-packed with progressive, funky, groove-rock.  The band, which formed in Buffalo in 2006, has proven themselves to be one of the most dedicated improvisational rock acts on the circuit currently. Buy a ticket to either night, or grab a two-night pass for a small discount.  Tickets are sure to sell out fast, and the number of two-night passes in limited. Don't miss out on your chance to experience Aqueous!
Nearby in Ithaca, Twiddle will be bringing the jam at The State Theatre of Ithaca Friday and Saturday night.  Another recent act which has quickly picked up steam, Twiddle is known for their captivating live performances, and style that incorporates many musical influences. Further south, in Philadelphia, the instrumental, electronic jam band Lotus will be setting up shop at Union Transfer for a two-night run, also this Friday and Saturday.  Another powerhouse on the touring circuit, Lotus has proven that they know how to party.  Their shows are a rollercoaster-like experience that always leave you wanting more. If you're feeling fancy, purchase a two-night VIP pass and get a chance to meet the band, and gain access to the "soundcheck party."
Other notable performances this week include:
Keller Williams at the Rams Head Tavern in Annapolis, MD (04/12), The Hamilton in Washington, D.C. (04/13) and The Blind Tiger in Greensboro, NC (04/14).
Toubab Krewe at the Blind Tiger in Greensboro, NC (04/12), The Pour House Music Hall in Raleigh, NC (04.13), and Visulite Theatre in Charlotte, NC (04/14).
Perpetual Groove at 9:30 Club in Washington, D.C. (04/14).
Dark Star Orchestra at The Orange Peel in Asheville, NC (04/10), Charleston Music Hall in Charleston, SC (04/12), The Fillmore Charlotte in Charlotte, NC (04/13), Ritz Theatre in Raleigh, NC (04/14), and Greenfield Lake Amphitheatre in Wilmington, NC (04/15)
04/10 – Brit Floyd – Radio City Music Hall – New York, NY
04/10 – Dark Star Orchestra – The Orange Peel – Asheville, NC
04/10 – Gordon Sterling Presents: The Gypsy Sally's Jam – Gypsy Sally's – Washington, DC
04/11 – Toubab Krewe – The Charleston Pour House – Charleston, SC
04/11 – Grateful April – The 8×10 – Baltimore, MD
04/11 – Amoramora – Gypsy Sally's – Washington, DC
04/12 – Brit Floyd – Benedum Center – Pittsburgh, PA
04/12 – Roots of Creation – The Java Barn – Canton, NY
04/12 – Keller Williams – Rams Head Tavern – Annapolis, MD
04/12 – Toubab Krewe – The Blind Tiger – Greensboro, NC
04/12 – Dark Star Orchestra – Charleston Music Hall – Charleston, SC
04/12 – Tedeschi Trucks Band – Barbara B. Mann Performing Arts Hall – Fort Myers, FL
04/13 – Brit Floyd – Benedum Center – Pittsburgh, PA
04/13 – Dead Alliance Buffalo – Evening Star Concert Hall – Niagara Falls, NY
04/13 – Aqueous – Flour City Station – Rochester, NY
04/13 – Roots of Creation – Anthology – Rochester, NY
04/13 – Twiddle – The State Theatre of Ithaca – Ithaca, NY
04/13 – Perpetual Groove – 9:30 Club – Washington, DC
04/13 – Keller Williams – The Hamilton – Washington, DC
04/13 – The Werks – Baltimore Sound Stage – Baltimore, MD
04/13 – Lotus – Union Transfer – Philadelphia, PA
04/13 – Ekoostik Hookah – The Union – Athens, OH
04/13 – Toubab Krewe – The Pour House Music Hall – Raleigh, NC
04/13 – Dark Star Orchestra – The Fillmore Charlotte – Charlotte, NC
04/13 – Tedeschi Trucks Band – Capital City Amphitheatre – Tallahassee, FL
04/13 – Bumpin' Uglies – Dante's Bar – Frostburg, MD
04/13 – Pimps of Joytime – Gypsy Sally's – Washington, DC
04/14 – Aqueous – Flour City Station – Rochester, NY
04/14 – Roots of Creation – Rex Theatre – Pittsburgh, PA
04/14 – Twiddle – The State Theatre of Ithaca – Ithaca, NY
04/14 – Keller Williams – The Blind Tiger – Greensboro, NC
04/14 – Lotus – Union Transfer – Philadelphia, PA
04/14 – Tweed – HMAC: Stage on Herr – Harrisburg, PA
04/14 – Toubab Krewe – Visulite Theatre – Charlotte, NC
04/14 – Dark Star Orchestra – Ritz Theatre – Raleigh, NC
04/14 – The Heavy Pets – Sailfish Brewing Company – Fort Pierce, FL
04/14 – Bumplin' Uglies – Rex Theater – Pittsburgh, PA
04/15 – Brit Floyd – The State Theatre of Ithaca – Ithaca, NY
04/15 – Roots of Creation – Woodlands Tavern – Columbus, OH
04/15 – Tweed – Brother's Drake Meadery – Columbus, OH
04/15 – Dark Star Orchestra – Greenfield Lake Amphitheatre – Wilmington, NC
04/15 – The Magic Beans – Gypsy Sally's – Washington, DC