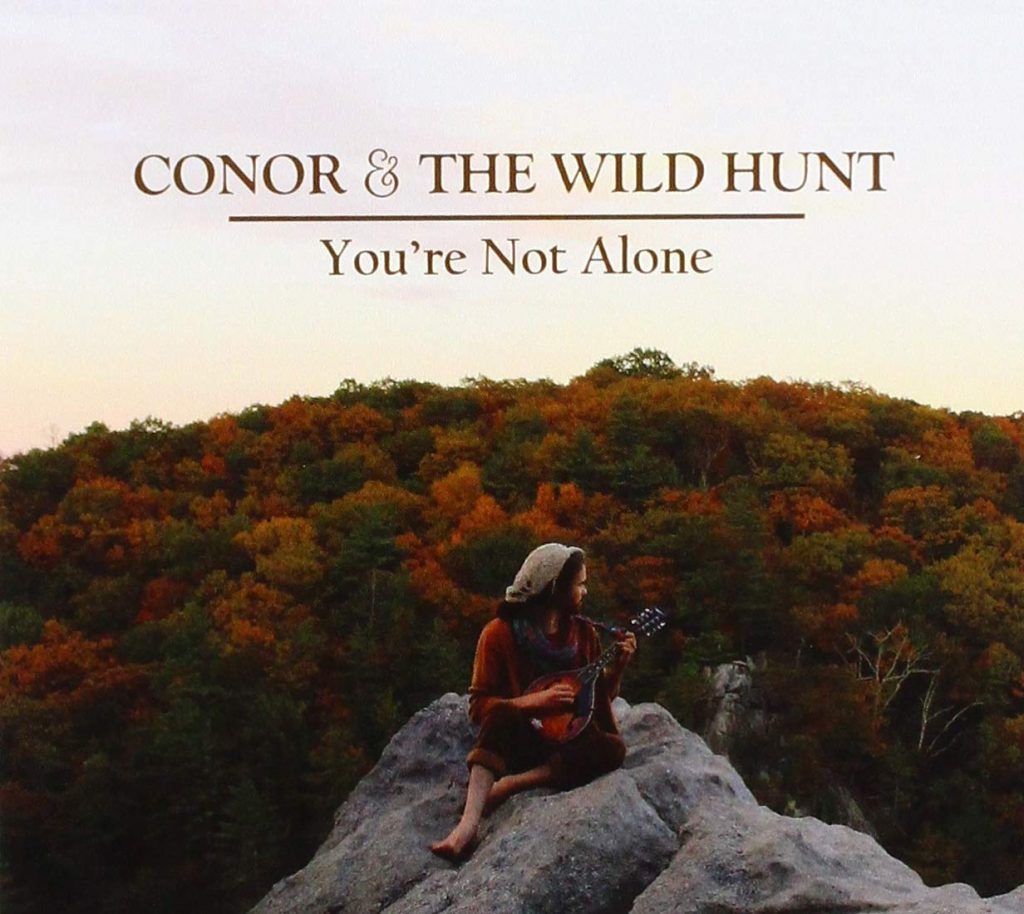 When Conor and the Wild Hunt's new album You're Not Alone came to my email inbox, I had no idea it would be exactly what I needed to hear.  Lead by Conor Brendan's inspired songwriting and vocals, this inspiring collection is full of emotion and positive messaging that strikes a poignant chord in these trying times.  It's also possible that I am nine months pregnant, extremely hormonal, and susceptible to falling hard for vocally driven folk-pop (The Ghost of Paul Revere, Fleet Foxes), but I fell utterly in love with You're Not Alone and I have a feeling you will, too.

Funny enough the album's sound immediately took me back to my indie/emo days and reminded me of the emotive sounds of the little known Daphne Loves Derby, albeit with a much more lush and layered sound. The soaring four-part harmonies are my favorite part of these polished acoustic songs. The album starts with the upbeat harmonica and harmonies of "Eliza," into the sweet sounds of love song "Garden State." "Dear Mary" treats you to the female vocals of Lena Traynham dueting with Conor, along with more harmonies and loving lyrics singing of promises a lover makes to his family. Many of the songs bring me close to tears — most of which unsurprisingly is "Broken Hearted Lullaby" with lyrics about a woman singing "don't you worry, little baby, we'll be alright" to the baby in her belly. The title track "You're Not Alone" is appropriately the most cinematic of tracks, an emphatic anthem singing "I see you, I hear you, I'm with you, you're not alone." The building of impassioned drumming, guitar and vocals builds to triumphant heights that will take your breath away. The rest of the album continues similarly with rousing harmonies, foot-stomping beats and upbeat harmonica to keep you smiling. They even break the unspoken rule to never cover "Wagon Wheel" with enough inspired vocals and respect for the original that it might be my new favorite version of the song.

Conor and the Wild Hunt's album You're Not Alone is a feel-good collection of songs from front to back.  Their folk/Americana is driven by a vivid emotion not often heard accompanying the traditional acoustic instruments.  An album of lullabies and love songs, You're Not Alone is perfect for a quiet morning or a twilight drive, and I imagine their live performances are just as moving.  Listen to the album now on Spotify or on their website.