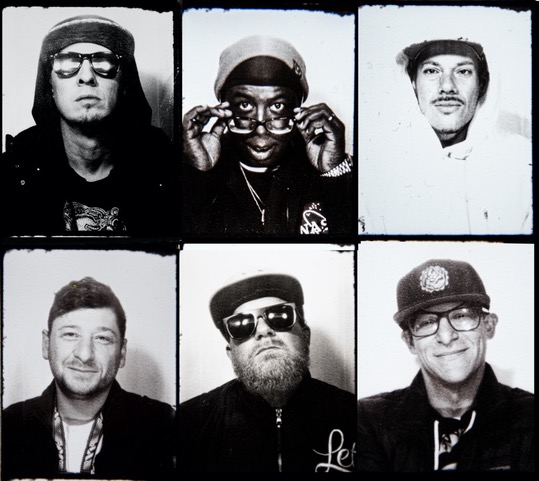 Lettuce is a six-piece funk powerhouse comprised of members: Adam (Shmeeans) Smirnoff on Guitar, Adam Deitch on Drums, Erick (Jesus) Coomes on Bass, Ryan Zoidis on Alto, Tenor and Bari Sax, Eric (Benny) Bloom on Trumpet and Nigel Hall on Organ, Keys and Vocals. All of the Lettuce members are some of the most sought out musicians in the industry having success playing and/or touring with high caliber acts such as: Kanye West, Dr. Dre, The Game, Lady Gaga, Stevie Wonder, Justin Timberlake, Questlove, Skrillex, Wyclef Jean, John Scofield and many more. Eventually the band decided to start turning down the outside work, which will always be there, and collectively focus on the evolution of Lettuce. This decision, partnered with their consistent touring and boundary pushing music, has led to the band selling out shows all over the nation and building a fanbase all over the world.
Lettuce is known for their masterful ability to fuse genres filled with big horns, passion for soul and go-go, intertwining elements of both Jazz and hip-hop, and taking listeners on a psychedelic voyage. They have become true innovators of funk. Lettuce's 2019 album Elevate was nominated for a Grammy in the category of Best Contemporary Instrumental Album, which racked up more than 3 million streams and hit #1 on both the Billboard Contemporary Jazz Album Charts and also iTunes Top R&B Albums Chart. The album also reached Top 15 on the billboard Jazz Albums, R&B Album Sales and Heatseekers Charts. Elevate was recorded at Colorado Sound Studio with Russ Elevado, an esteemed producer and engineer, known for his work with D'Angelo, The Roots, Erykah Badu and more. Lettuce was recently in Europe on their headlining tour for the album. Check out the minidocumentary on the band's experience in London:
After not being in the studio for almost 4 years, Lettuce was able to record both Elevate and their soon to be released album Resonate during their sessions with Russ. Lettuce's seventh studio album Resonate is set to be released on May 8th, 2020 with Round Hill Records. The first single released on the album was "Checker Wrecker," a tune greatly inspired by the collective passion for Washington D.C. go-go music. The tune also features music legends, Big Tony Fisher of Trouble Funk and Tyrone "Jungle Boogie" Williams of Rare Essence. April 18th, Lettuce released "NDUGU," a Funkadelic instrumental and another single on their 11-track soon to be released album Resonate.
I was able to catch up with the drummer of Lettuce, Adam Deitch, and discuss various topics and most importantly dive into Resonate with him.
Adam, it's always great getting to catch up! I am excited to discuss the new album Resonate with you. How are you and the guys doing with this global crisis our world is experiencing?
Adam: Likewise, it's always a pleasure. We are so stoked on the new album. Elevate was the introductory record for this new era of Lettuce. Basically, Elevate was the first Star Wars and Resonate is the Empire Strikes Back. We cannot wait to get it out to the people.
Man, first we are trying to deal with the reality at hand and educate ourselves about everything. Our next move was to rally and get our Lettuce teach program up and running. This platform allows us to teach others by using Zoom and it has been awesome so far. Having the ability to teach the style of music we love so much such as: Funk, Soul, Hip-Hop, Go-Go, New Orleans, which are all styles of music that are a part of Lettuce's DNA. I just had my first two virtual sessions and they went really well. This has allowed us to get our mind off what is going on and give back to the people. It has been a cool experience so far and given us the ability to Funkify the world.
I think it is imperative to our culture that we rise up as a unified force. Do everything we can to keep our industry alive and continue to bring the magic of music to the people, so when we do return back to shows and festivals, we can return better than ever before. I appreciate that you guys and many other musicians are stepping up during these times and bringing a lot of value to people!
Adam: Exactly man, if there is a silver lining to all this, it seems to have brought a lot of people together and the amount of sharing and livestreaming going on is truly a beautiful thing to be a part of.
I want to congratulate you and the entire team on the 2019 Grammy nomination on the album Elevate, which also has some pretty incredible stats. How was that experience for you and the team?
Adam: It has been a great experience. The more we get focused on how to put records out and big shout out to our management team, who is doing a great job and is working with us closely, ensuring we do this the right way. We are excited how everything is working out and that people are getting to hear it. Elevate is the first record that's been in Europe before. This has been a new beginning for us, where people are actually hearing these records now and it's great!
That actually leads me into the next question, I saw the minidocumentary of your time in Europe, which everyone needs to check out by the way, but it was awesome to watch you guys living your best lives and it truly looked like you guys were having the time of your life. How was the experience in Europe?
Adam: Europe was incredible, despite all the craziness going on and it was right before shit hit the fan. Being out there and getting to meet fans, who were telling me they have been waiting 10 to 15 years to see us live was truly humbling. It was a beautiful experience to meet them, hang out with them and we became a better band, because we could sense the energy of people who have never seen us before, whereas America has seen us tour after tour. We felt like we could just do our thing and it felt really comfortable. We ended up really evolving as a band and growing our worldwide audience, which is just such a beautiful thing and we are super fortunate to have done that.
When I first heard "Checker Wrecker," I had a feeling more Lettuce magic was on the way! Knowing the band's passion for the Washington D.C. Go-Go music scene, what was it like getting to collaborate with legends Big Tony and Jungle Boogie on "Checker Wrecker," the first single dropped on the upcoming album?
Adam: It was a dream, knowing some of the musicians in these scenes is a very important part of it. Hearing all the stories while hanging out with Jungle Boogie, who is one of the forefathers of the go-go movement–a conga player who's been around since the Chuck Brown era, in the late 70's. He is a super legend in that scene, so getting to hang out with him and getting to hear the stories of how the music has evolved and where it's at now was super cool. Hearing from him that he loves what we're doing with the music and bringing back the old school go-go vibe, sort of a retro thing, because go-go has evolved into a whole different rhythm now in D.C. The stuff that we are doing is sort of a throwback to the Trouble Funk and Chuck Brown era of go-go. Getting to hang out with him and Big Tony was awesome. He is one of the greatest frontmen of all time and he is super funky and he understands the history of the whole thing and how it relates to hip-hop, relates to James Brown, and relates to everything. It was such a beautiful experience to get to meet him and get to be around these people and to record with them. We are super thankful that it happened
On March 18th, you guys released your second single "NDUGU," which is a super funky instrumental and another single from the upcoming album Resonate. I have some ideas, but what is "NDUGU" and tell me some about this track?
Adam: "NDUGU" is based off a groove by one of my favorite drummers, Leon "Ndugu" Chancler. He was a drummer that played on "Billy Jean" by Michael Jackson, George Duke, all of Peter Gabriel 80's hits and so much more. From jazz to funk to pop to hip hop, this dude's a super legend and he just passed recently, so I wrote this song as a tribute to him. This track is also a tribute of afro beat meets an Ethiopian 60's funk vibe–a combination of different influences that resulted into this song. "NDUGU" is an African name that Leon Chancler adapted, which was popular in the 60's and 70's. A lot of artists would adapt African names.
Resonate is dropping May 8th, how was it working with Russ Elevado on both Elevate and Resonate?
Adam: Russ is the dream we didn't know was possible, He is the band's favorite. He has done so much incredible work with D'Angelo, Erykah Badu and his resume is so deep with Roy Hargrove's RH Factor, the great trumpet player's band, and was Russ's first go at recording a funky/jazz project. This came out in the mid 90's when we were all 18-year olds in college and those records were so big for us and the whole community of people who had a jazz mindset but funky beats. We had management reach out to him, and wasn't sure if it was going to happen, but he said he digs the band and he is ready to go. It was like winning the lottery for us, we were so excited. He is so calm and chill and had an awesome process. We would record some stuff and then he would say, "Guys, let's listen to some Jimi Hendrix, Are You Experienced." It was really wild and then he would put on some D'Angelo live recording from Europe that he had worked on. He was dropping bombs and gems on us to educate us and to get us into the zone of how his ears work and how he hears things and then he would say, "Okay, now you play me some music," and we had a great sharing experience of music. Both Elevate and Resonate are a direct result of that hang.
Let's talk about a few of the tracks on the album Resonate. Tell me a little bit about "Blaze," the opening track, "Mr. Dynamite," and "Resonate," the album titled track!
Adam: "Blaze" was originally going to be the opening track on Elevate, it was something that really kicked off the new era of Lettuce, but we weren't into the solo section, so we ended up changing it up and making it way funkier than the original version. We decided to put it on Resonate and it's really a set-it-off funk song and is Lettuce all day with a nod to New Orleans funk, with a little bit of The Meters and Dumpstaphunk in there. We are excited for people to hear it!
"Mr. Dynamite" was just a jam and I didn't realize it was going on to the record. We came up with a little James Brown groove in the studio, we were feeling good and letting it flow and all of a sudden it became a song. Zoidis and Benny have this amazing psychic ability to come up with horn parts together on the spot. Schmeeans got synced in with them, I was searching for the right beat, but those guys knew exactly what they were doing. Even though I was looking for it, they had it and that is why it became a song. They had a beautiful horn line going with a solid guitar part and a killer bass line and then next thing I knew the song was over and that was that.
"Resonate" is hilarious, we were doing a rehearsal and Shmeeans and Jesus were tuning with harmonics, and because they are such funky dudes, even when they tune it's in rhythm. I started hearing these harmonics happening, and told them to keep doing that and they were confused asking keep doing what? I told them to keep playing the harmonics and I started playing a beat over it. Originally the song was going to be called Harmonic Jam, but it evolved and became our title track. When you're around guys like that, you can't take anything lightly. Even them just warming up could be a gem.
You guys are an all-star cast, and some of the most sought-after musicians in the industry. What's it like creating with your bandmates and how has the experience of outside work helped Lettuce grow and develop?
Adam: A lot of times great musicians, or musicians who have done a lot with other artists, don't join together and create something as a group. They are always looking for this gig or that gig, but it worked for us to go out and play out with a bunch of other people and learn as much as we can and come back as a group and create together and be a unit. The more we started turning down outside work and outside tours, which are always going to be offered, and concentrated on Lettuce and that being the unit is when everything started to skyrocket and things really started to happen for us.
Obviously, with what is going on it is hard to talk about shows or tours coming up, but what can the fans be on the lookout for when it comes to Lettuce?
Adam: Remains to be seen when we will be back playing again and we are keeping our hopes up that within a few months we can play live again. We will be so excited to be playing in a room together that it doesn't matter if it's for only 5 people, those 5 people will get a show of a lifetime. We were just hitting a stride and a togetherness in Europe, so I am grateful we recorded everything in Europe. We will release those shows soon. We have been recording a lot. We will have to wait this pandemic out, but in the meantime we will be recording a lot of material and I have about 30 songs written in addition to the tracks working on with the guys and we are working on a lot of material that we are really excited about and will be releasing in the future.
Any last-minute gems about the upcoming album, or what people can expect or look forward too?
Adam: We did an Earth, Wind and Fire tune, "Save the Children." This is an early Earth, Wind and Fire tune, that not a lot of people know, and Nigel sang really incredibly on it. Earth, Wind and Fire is one of our biggest influences in music, in life and in philosophy, so we are really excited for people to hear that. We want people to enjoy it, dance around the house to it and take their mind off all the craziness in the world. We want to calm people down and put them in a groove.