Greetings, readers! The holiday seasons is in the rearview once more, but that doesn't mean that the cold weather is leaving us just yet. Don't stay hunkered down for too long! Get up, get out and get ready to groove. Enjoy the pretty lights, kind people, and good vibes at a live concert this week, and keep your love-light burnin' through these final stages of the winter season.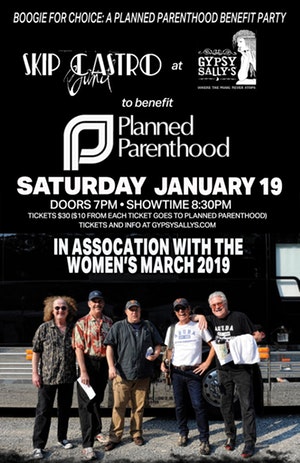 This Saturday, head on over to Gypsy Sally's in Washington, DC for Boogie for Choice: A Planned Parenthood Party.  Join Skip Castro Band (rock, rhythm & blues, boogie woogie), of Charlottesville, VA, and community activists for an evening of education, advocation, and networking…with a fun twist.  Doors open at 7:00, with festivities kicking off at 8:30.  Tickets for the event are $30, $10 of which will be donated directly to the Planned Parenthood Federation of American.  In order to learn more about Planned Parenthood and what they stand for, visit www.plannedparenthood.org. To purchase tickets and learn more about the event itself, head on over to www.gypsysallys.com.
Jamwich fan-favorite LITZ make their way to Cleveland, OH for an evening of debauchery at The Grog Shop with The Cat's Meow and Dynamo Love. A $10 cover will be charged at the door, or scoop some up in advance for $8 a pop.  Door at 7:30. Show starts at 8:30. Meanwhile, a few hours south in Cincinnati, Umphrey's McGee will be joining forces with the pop/funk/rock powerhouse Big Something at Taft Theatre this Friday and Saturday night.
Joe Russo's Almost Dead, better known at JRAD, are keeping fan's busy this weekend, with a three-night run this Friday, Saturday, and Sunday at The Capitol Theatre in Port Chester, NY.  JRAD has been making waves since their first performance back in 2013 and are best known for their classic Americana folk-rock sound, combined with contemporary prog-rock/jazz fusion elements.
Other notable concerts this week include:  Toots and the Maytals at Wolf Trap in Vienna, VA (01/16), The Werks at Cosmic Charlie's in Covington, KY (01/17), Donna The Buffalo at Music Box Supper Club in Cleveland, OH (01/18) and Rex Theatre (01/19), The Last Rewind  at Union Stage in Washington, DC (01/18), Pink Talking Fish at Strand Center for the Arts in Harrisburg, PA (01/18) Willie Nelson w/ Daphne and The Mystery Machines  at Downtown Alive in Greenville, SC (01/19) and Keller Williams w/ The Hillbenders at Kent Stage in Kent, OH (01/19) and Byham Theatre in Pittsburgh, PA (01/20).
Don't forget to peruse the entire list of concerts through the region this week.  As always, we encourage you to leave your own suggestions for concerts, or to let us know what band's you'll be seeing this week! Until next week. Stay jammy.
Festivals/Events This Week:
01/19 – Boogie for Choice: A Planned Parenthood Benefit Party ft. Skip Castro Band – Washington, DC
Concerts This Week:
01/15 –  Grails w/ Helen Money, Painting Moon – The Mothlight – Asheville, NC
01/16 – Badfish: A Tribute to Sublime – The Orange Peel – Asheville, NC
01/16 – Danger Bird – Gypsy Sally's – Washington, DC
01/16 – Toots and the Maytals – The Barns at Wolf Trap – Vienna, VA
01/16 – Greensky Bluegrass w/ Circles Around the Sun – Madison Theatre – Covington, KY
01/17 – Suga Grits w/ Pleasure Train – Gypsy Sally's – Washington, DC
01/17 – The Werks – Cosmic Charlie's – Covington, KY
01/17 – Lettuce w/ Ghost-Note – Rex Theatre – Pittsburgh, PA
01/17 – LITZ w/ The Cat's Meow, Dynamo Love – The Grog Shop – Cleveland, OH
01/17 – The Revivalists w/ American Authors – Beacon Theatre – New York, NY
01/18 – CBDB – The Charleston Pour House – Charleston, SC
01/18 – O'Malley's March – Gypsy Sally's – Washington, DC
01/18 – The Last Rewind w/ novo – Union Stage – Washington, DC
01/18 – Umphrey's McGee w/ Big Something – Taft Theatre – Cincinnati, OH
01/18 – Donna The Buffalo – Music Box Supper Club – Cleveland, OH
01/18 – Joe Russo's Almost Dead – The Capitol Theatre – Port Chester, NY
01/18 – The Lizards – Anthology – Rochester, NY
01/18 – Pink Talking Fish – Strand Center for the Arts – Plattsburgh, PA
01/18 – Driftwood – Appalachian Brewing Company – Harrisburg, PA
01/19 – Skip Castro Band – Gypsy Sally's – Washington, DC
01/19 – CBDB – The Calico Room – Wilmington, NC
01/19 – Steep Canyon Rangers w/ Hiss Golden Messenger – U.S. Cellular Center – Asheville, NC
01/19 – Dirty Grass Players – Pisgah Brewing Company – Black Mountain, NC
01/19 – Willie Nelson w/ Daphne & The Mystery Machines – Downtown Alive – Greenville, SC
01/19 – Greensky Bluegrass w/ Circles Around the Sun – The Tabernacle – Atlanta, GA
01/19 – Umphrey's McGee w/ Big Something – Taft Theatre – Cincinnati, OH
01/19 – Black Masala w/ New Pony – 118 North – Wayne, PA
01/19 – Donna the Buffalo w/ Tiger Maple String Band – Rex Theatre– Pittsburgh, PA
01/19 – Keller Williams w/ The Hillbenders – The Kent Stage – Kent, OH
01/19 – Lettuce w/ Ghost-Note – Brooklyn Bowl – New York, NY
01/19 – Joe Russo's Almost Dead – The Capitol Theatre – Port Chester, NY
01/20 – Keller Williams w/ The Hillbenders – Byham Theatre – Pittsburgh, PA
01/20 – Joe Russo's Almost Dead – The Capitol Theatre – Port Chester, NY