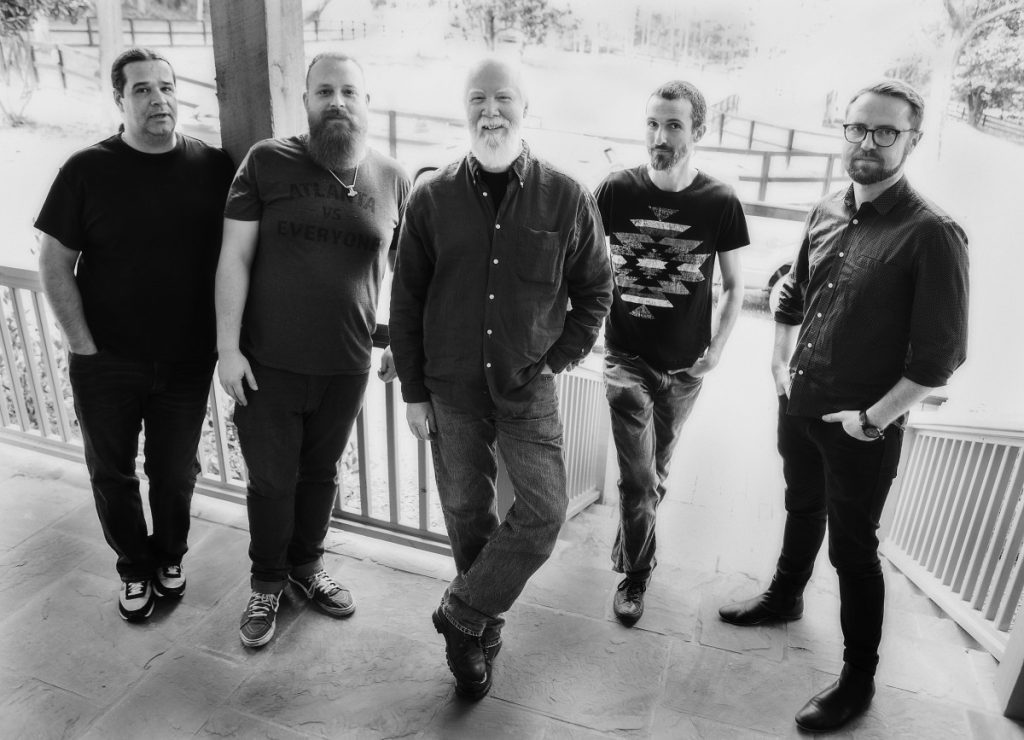 Tour Begins September 12 Continues through November 2019
New Dates Include Stops in New Orleans, Nashville , Athens and More….
In only a few days Widespread Panic guitarist Jimmy Herring and his new band,
Jimmy Herring and The 5 of 7
, load up the trucks, the band us adding more live tour dates to their fall 2019 schedule. To give fans an early taste of what to expect at their debut performances, the band is sharing a live video shot at rehearsals this week. Enjoy the exclusive clip,
here.
The tour begins on September 12th in Denver with performances scheduled in Chicago, St. Louis, Savannah, Nashville, New Orleans and more.  This leg will wrap up with a hometown show at the Variety Playhouse in Atlanta on Wednesday, November 20th.
The 5 of 7 finds Herring joined by bassist Kevin Scott, drummer Darren Stanley, longtime collaborator Matt Slocum on keyboards (Hammond B3, clavinet), and vocalist and guitarist Rick Lollar.
"Rick, Matt, and Kevin had a band together called King Baby," explains Herring from his home in Atlanta, "and I heard their record…I couldn't help but think, man, if I could get together, play some of Rick's songs, some of my songs, some covers, and maybe write a few things together, we may be on to something…"
From fatback, roadhouse R&B to more expansive, jazz-inflected explorations, The 5 of 7 demonstrates Herrings chops not just as a musician, but as a bandleader and catalyst. The novel vocal element is just one more texture at his disposal.
"With instrumental music," he reflects, "people expect to hear your solos, but they've just heard you play the melody! You can overexpose your voice. With Rick, I can play behind him, then step out with a solo, and give a fresh feeling to the song — take it to another place."
Setting out on the road this September, Herring is typically modest when describing what audiences can expect from The 5 of 7:
"There'll be vocals, there'll be instrumentals. There will be funk and rock and roll, with some songs leaning towards more sophisticated harmony…but, to me, it's just music."
Jimmy Herring and The 5 of 7 on Tour:
09.12.19 Gothic Theatre – Denver, CO
09.13.19 Aggie Theatre – Fort Collins, CO
09.14.19 Fox Theatre – Boulder, CO
09.18.19 Wildwood Saloon – Iowa City, IA
09.19.19 El Volcan – St. Louis, MO
09.20.19 Park West – Chicago, IL
09.21.19 The Vogue – Indianapolis, IN
09.24.19 The Egg – Albany, NY
09.25.19 The Center for Arts in Natick – Natick, MA
09.26.19 The Center for Arts in Natick – Natick, MA
09.27.19 Ridgefield Playhouse – Ridgefield, CT
09.28.19 Brooklyn Bowl – Brooklyn, NY
09.29.19 Ardmore Music Hall – Philadelphia, PA
10.01.19 The Hamilton – Washington, DC
10.02.19 The Broadberry – Richmond, VA
10.03.19 Harvester Performance Center – Rocky Mount, VA
10.04.19 Lincoln Theatre – Raleigh, NC
10.05.19 Neighborhood Theatre – Charlotte, NC
11.7.19 Victory North – Savannah, GA
11.8.19 Orange Peel – Asheville, NC
11.9.19 Georgia Theatre, Athens, GA
11.11.19 Hargray Capitol Theatre – Macon, GA
11.12.19 Songbirds South – Chattanooga, TN
11.13.19 Basement East – Nashville, TN
11.14.19 Saturn – Birmingham, AL
11.15.19 Duling Hall – Jackson, MS
11.16.19 Joy Theater – New Orleans, LA
11.17.19 The Moon – Tallahassee, FL
11.20.19 Variety Playhouse – Atlanta, GA
More dates to be announced