It's that time again! The Jamwich is back with another one of our home-brewed lists of the hottest concerts and other events going down in the region this week.  Don't let the falling temperatures stop you from having a good time. There are still plenty of festivals going on this weekend to help lift your spirits before we make our way into the winter months.  No plans? No problem! Here's what's up this week.
Pack up the car and head on over to the lovely Berryville, VA for a weekend full of camping, live music and good times at the 10th annual Pasture Palooza; where the dedicated fans are the backbone of the event.  This little celebration started out as an outrageous party among close friends and has slowly transformed itself into one of Virginia's premier grassroots festivals.  Come see what all the hype is about, plus check out live sets from BIG Something, The Nth Power, Toubab Krewe, People's Blues of Richmond, The Fritz, Jouwala Collective and several other great bands.  Gates open this Friday at noon, with weekend general admission costing $90 (camping and parking are both included in this price). If you'd like to learn more check out this article, written by Jamwich contributor Kathy Moore, or navigate on over to the festival's official website.
Bring a big smile and all of the good vibes you can find to Camp Kee-Wanee in Greenfield, MA this weekend for a groovin' good time at the 21st annual Wormtown Music Festival.  Join a cast of premier musicians including: The Infamous Stringdusters, Max Creek, John Medeski's Mad Skillet, Zach Deputy, Ryan Montbleau Band, Pink Talking Fish, Consider the Source, Satsang, and tons of talented artists for an unforgettable weekend amongst friends and family.  Make sure to by the Holistic Village for some educational, and lifestyle-enhancing workshops, sound healing, group hikes and medicinal plant walks.  Also, don't miss out on the nighty fire-spinning performances by The Wormtown Fire Tribe.  Weekend passes for this one are going to set you back $140, although this prices includes wooded, primitive camping as well as a parking pass.  If you would like, feel free to upgrade to a car-camping package for an additional $30. To learn more and scoop up your tickets, please visit the Wormtown Music Festival official site.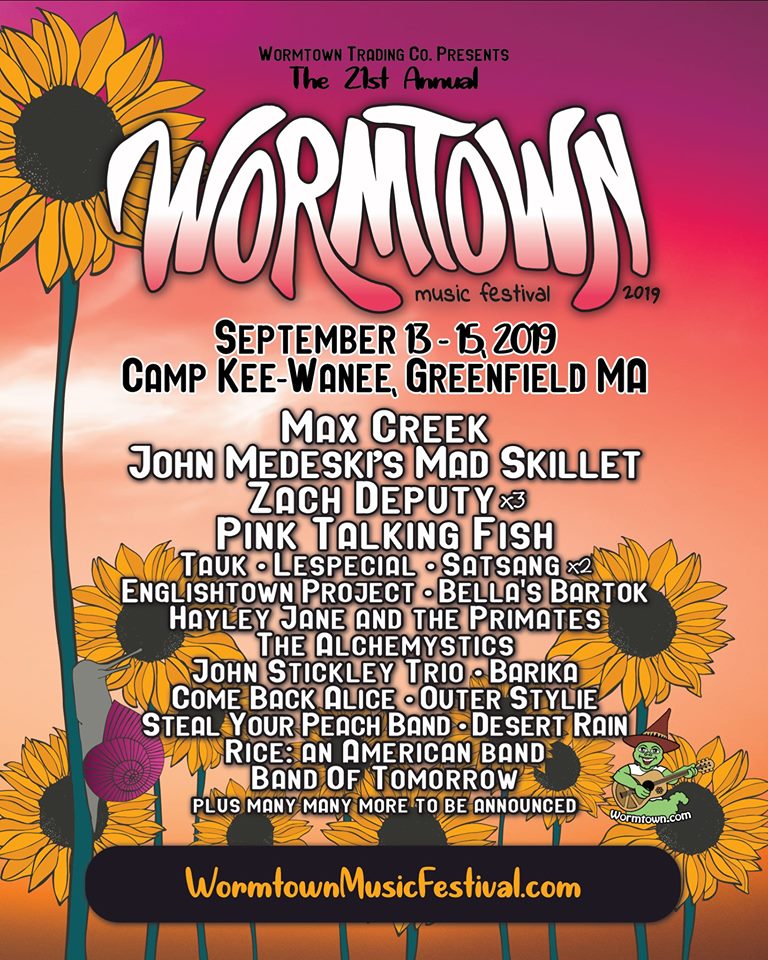 Come celebrate the music, legacy, and life of the late and great Jerry Garcia with live music, unique food and craft vendors, and a wonderful community of open-minded people at Jerrystock 5 in Hampstead, MA.  Don't worry about staying warm at night, this event is just a single day.  Gates open at 1p.m. this Saturday, with the first band taking to the stage at 2p.m.   Tunes for the event will be provided by Stewbone (x2), From the Vault, The Opera Stars, and F.T. Blindman.  Also on-site at the event will be Jaqui MacMillan of Drum For Joy, to help lead some fantastic drum circles.  A very small number of percussion instruments will be available to borrow, however, if you want to jam in the circle it's best to bring your own drum.  Food and beverages will be sold on site, and there will be no outside booze allowed in the venue.  Come be a part of something that is more than just a gathering of people with music. See you there! Learn more here.
Another great event is happening at Tanglewood Park in Clemmons, NC this weekend: North Carolina's Big Pour; a perfect getaway for those who enjoy the festival culture but are a bit wary about camping in the cooler temperatures. Spend an entire day tasting craft beverages, eating tasty food-truck creations, getting schooled at the several workshops being offered, buying artisanal crafts, and much more!  Headlining acts for the event include JJ Grey & Mofro and Lettuce, however, several other talented musicians will be playing live sets as well.  The event is organized by Support Local Everything, INC, a non-profit company that helps raise funds for a few local charities and organizations.  Local organizations present at the event this year include Pink Boots Society, Moji Coffee & More, Forsyth Beekeepers Association, and Arts for Life.  Get more info and answer all your questions here.
That's all we've got for you this week.  Be sure to keep scrolling a bit further down the page to check out the entire list of concerts and other related events for the week. Let us know where you'll be, and feel free to leave your own suggestions in the comment section. Until next week. Stay Jammy.
Festivals:
09/12-15 – Ocean City BikeFest – Ocean City, MD
09/13-15 – Fall Classic Fest – Garrettsville, OH
09/13-14 – Pasture Palooza – Berryville, VA
09/13-15 – Wormtown Music Festival – Greenfield, MA
09/14 – Rhode Island Music & Arts Festival – Providence, RI
09/14-15 – Hometown Rising Country Music & Bourbon Festival – Louisville, KY
09/14-15 – Grand Point North – Burlington, VT
09/14 – Outlaw Music Festival – Virginia Beach, VA
09/14 – North Carolina's Big Pour – Clemmons, NC
09/14 – Cape Cod Roots & Blues Festival – Orleans, MA
09/14 – Jerrystock – Hampstead, MD
09/14 – The Music is Medicine Festival – Saratoga Springs, NY
09/14 – IrieSun Reggae Festival – Conway, SC
09/15 – Grateful Fest 7 – Greenvale, NY
Shows:
09/09 – EOTO – Sprout Music Collective – West Chester, PA
09/09 – Weyes Blood – The Rex Theater – Pittsburgh, PA
09/10 – Ashe w/ Charlie Burg, Gavin Haley – Union Stage – Washington, DC
09/10 – Supersuckers w/ The Hangmen – The Camel – Richmond, VA
09/10 – The Avett Brothers – WVU Coliseum – Morgantown, WV
09/10 – EOTO – Stage West – Scranton, PA
09/10 – Robert Randolph & The Family Band – The Kent Stage – Kent, OH
09/11 – John Medeski's Mad Skillet – Roxian Theatre – McKees Rocks, PA
09/11 – Fortunate Youth w/ Bumpin Uglies, Edjacated Phools – The Ardmore Music Hall – Philadelphia, PA
09/11 – Jennifer Hartswick w/ Nick Cassarino – The Camel – Richmond, VA
09/11 – Yacht Rock Revue – Brooklyn Bowl – New York, NY
09/11 – Snarky Puppy – Madison Theatre – Covington, KY
09/11 – EOTO – Songbirds – Chattanooga, TN
09/12 – Cycles w/ Johnny Grave – Pearl Street Warehouse – Washington, DC
09/12 – Snarky Puppy – Music Center at Strathmore – N. Bethesda, MD
09/12 – Minnesota w/ Pigeon Hole, LSDream – Roxian Theatre – McKees Rocks, PA
09/12 – GREY AREA ANNIVERSARY PARTY: Zach Nugent's Disco Dead – The Rex Theater – Pittsburgh, PA
09/12 – Fortunate Youth w/ Bumpin Uglies – House of Independents – Asbury Park, NJ
09/12 – Becca Mancari w/ Frances Cone – The Camel – Richmond, VA
09/12 – Lettuce – Salvage Station – Asheville, NC
09/12 – The Shady Recruits – Asheville Music Hall – Asheville, NC
09/12 – Fruition w/ TK & The Holy Know Nothing – The Firmament – Greenville, SC
09/12 – Holly Bowling – City Winery – Boston, MA
09/12 – EOTO – Cosmic Charlie's – Lexington, KY
09/12 — Paris Monster — DC Pies — Washington, DC
09/13 – Steal Your Face w/ Great Northern – Gypsy Sally's – Washington, DC
09/13 – Shakey Graves with Dr.Dog – The Anthem – Washington, DC
09/13 – Megan Jean and the KFB – Dante's Bar – Frostburg, MD
09/13 – The Avett Brothers – UMBC Fieldhouse – Baltimore, MD
09/13 – Gedeon Luke and The People – Waterfront Baltimore – Baltimore, MD
09/13 – Aries w/ Biskwiq – Union Stage – Washington, DC
09/13 – Elise Testone w/ The Underwater Sounds – The 8×10 – Washington, DC
09/13 – Kendall Street Company w/ LITZ – The Camel – Richmond, VA
09/13 – Snarky Puppy w/ Broadberry – The National – Richmond, VA
09/13 – The Infamous Stringdusters w/ Ghost of Paul Revere – The NorVa – Norfolk, VA
09/13 – Roots of Creation w/ Signal Fire – 5 Points Sanctuary – Roanoke, VA
09/13 – The Fritz – Precarious Beer Hall – Williamsburg, VA
09/13 – Flux Capacitor – Appalachian Brewing Company – Harrisburg, PA
09/13 – Andrew Bird w/ Chicano Batman – Roxian Theatre – McKees Rocks, PA
09/13 – Runway Gin – State Theatre – Greenville, NC
09/13 – Fruition w/ TK & The Holy Know Nothings – The Charleston Pour House – Charleston, SC
09/14 – Quadno Rondo – MilkBoy ArtHouse – College Park, MD
09/14 – The Trainjumpers – Dante's Bar – Frostburg, MD
09/14 – Seratones w/ Hanorah – Pearl Street Warehouse – Washington, DC
09/14 – The Infamous Stringdusters w/ The Ghost of Paul Revere – Sony Hall – New York, NY
09/14 – Sister Sparrow and the Dirty Birds – Brooklyn Bowl – New York, NY
09/14 – Brandon "Taz" Niederauer – The Charleston Pour House – Charleston, SC
09/14 – Funk You – Gottrocks – Greenville, SC
09/14 – Snarky Puppy – North Carolina Museum of Art – Raleigh, NC
09/14 – Runaway Gin – The Ramkat – Winston-Salem, NC
09/15 – Don Broco w/ Sleep On It – MilkBoy ArtHouse – Washington, DC
09/15 – Roots of Creation w/ Treehouse! – Peabody's – Virginia Beach, VA
09/15 – Danny Duncan – The Rex Theatre – Pittsburgh, PA
09/15 – Descendents – Roxian Thatre – McKees Rocks, PA
09/15 – Reckless Kelly – Thunderbird Café & Music Hall – Pittsburgh, PA
09/15 – Snarky Puppy w/ Breastfist – NoDa Brewing Company – Charlotte, NC
09/15 – Lettuce – Greenfield Lake Amphitheatre – Wilmington, NC
09/15 – Steel Pulse – Pisgah Brewing Company – Asheville, NC