What's up readers?! The Jamwich is back with another hand-picked list of some of our favorite concerts and events happening throughout the region this week.  Summer is starting to wind down, so now it's up to YOU to keep the good times rolling. No plans this week? No problem! We've got you covered. Here's what's up.
Hang out in the foothills of the Potomac Highlands this weekend during the fourth annual Valley Fusion Festival at the Buffalo Gap Retreat in Capon Bridge, WV.  This gorgeous venue is sandwiched in between the Sandy Ridge and Slane's Knob mountain ranges, and features forest, creeks, streams, waterfalls, ponds, beautiful wildlife and much more. If you're into smaller festivals and the family-friendly, eco-conscious, and community-oriented vibe that they give off, then this festival will be perfect for you.  Unfortunately, online ticket sales for this event have ended, and at this point tickets will only be available for purchase at the gate for $65-$100 at the gate (cash only).  A $10 parking fee will also be charged per car entering the venue.  Camping price is included in your general admission pass, however, there will be no car-camping allowed at this event.  Schedules musical acts for the weekend include LITZ, Goose, Caesy & The Comrades, The Sweet Life, The Dirty Grass Players, Higher Education, The Clock Reads, The Phyrg, and many other awesome bands as well.  To learn more about this event head on over to www.valleyfusionfest.com, and consider giving this article a read.
The friendly folks at Terrapin Hill Farm are back with another amazing event this weekend. Terrapin Hill Harvest Festival will begin this Thursday and will continue strong until Sunday.  First and foremost, the event planners have partnered with Zero Waste Event Management to help reduce the carbon footprint created by an event of such magnitude. Please play your part and clean up after yourself, make use of the proper waste and recycling bins, and just try to leave the place cleaner than you found it.  General admission weekend passes are currently on sale for $80, however, online sales end Tuesday 09/03 at 11:30 p.m. If you don't purchase now, ticket prices will increase to $100 at the gate, and can only be paid for in cash. Camping is included in your ticket price, with everyone camping next to their vehicles.  $5 will be charged for each car that enters the venue, so make sure to carpool to save some money, and the environment. Tunes for the weekend will be provided by Yo Mama's Big Fat Booty Band, Hyryder, Rumpke Mountain Boys, Fat Box, Captain Midnight Band, JD Westmoreland, Hot Brown Smackdown, Grassfed, Still Shine, Thirteenth Sun, Flatland Harmony Experiment and Mama Said Stringband.  To find the answers to all of your questions navigate on over to www.terrapinhillfestivals.com.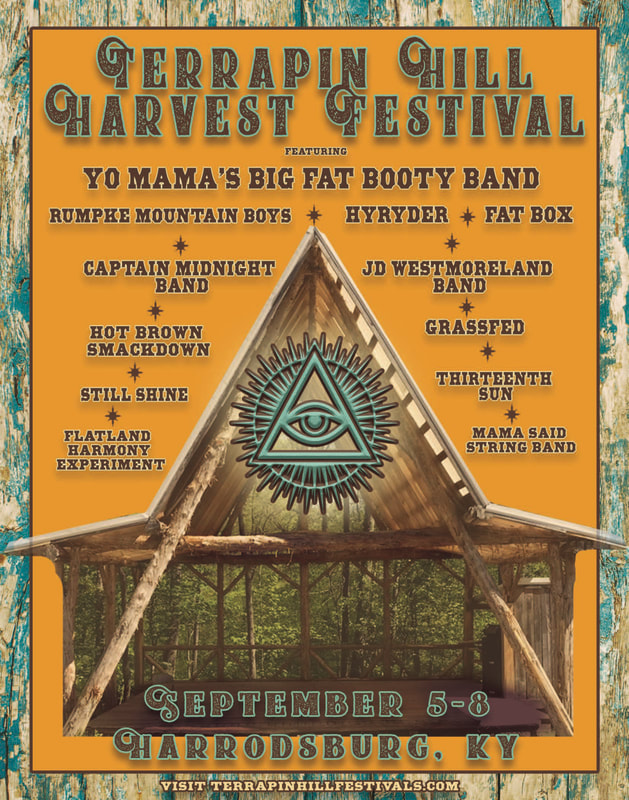 The 14th annual Mountain Song Festival is taking place this weekend at the Whittington-Pfohl Auditorium of Brevard Music Center in Brevard, NC: a festival that aims to bring together the best of acoustic musicians, and others that are influenced by the acoustic and folk legacies.  The venue, which has the Pisgah National Forest as it's backdrop is beautiful, however, not large enough to accommodate camping and the usual music festival amenities. Instead, consider booking a room at the nearby Hampton Inn, or reserve a campsite at the Pisgah National Forest.  Tickets for this event are being sold as individual day passes, and (as far as we know) there aren't any weekend, or bundle passes available. Check the schedule of events to see which day best suits your interests if you aren't up for purchasing a ticket for each day of the event.  Ticket prices can range from $40 to $60 depending on the day (Saturday being the most expensive), with pavilion or lawn seating available.  Scheduled acts for the event are Steep Canyon Rangers, Del McCoury & David Grisman, Preservation Hall Jazz Band, Tommy Emmanuel, Chatham County Line, Po'Ramblin Boys, and several other great acts.  To secure your tickets today, head on over to www.mountainsonfestival.com.
That's it for this week, my friends.  Don't forget to scroll a bit further down to sneak a peek at the entire list of concerts and events for the week. Let us know what shows you'll be at this week, and feel free to leave your own suggestions in the comment section. Until next week. Stay jammy!
Festivals:
09/05-07 – Hopscotch Music Festival – Raleigh, NC
09/05-08 – Terrapin Hill Harvest Festival – Harrodsburg, KY
09/05-08 – Valley Fusion Festival – Capon Bridge, WV
09/05-08 – Oldtone Roots Music Festival – Hillsdale, NY
09/05-07 – Blue Bear Music Festival – Todd, NC
09/06-07 – Dirt Farmer Festival – Accord, NY
09/06-08 – PeteFest – Louisville, KY
09/06-08 – Mountain Song Festival – Brevard, NC
09/06-07 – Sacred Harvest Music Festival – Grand Rapids, OH
09/06-07 – David Shaw's Big River Get Down – Hamilton, OH
09/07 – Haverford Music Festival – Havertown, PA
09/07 – Le Crème Music Festival – Pittsburgh, PA
Concerts:
09/02 – The Gilberts – The Camel – Richmond, VA
09/03 – Nebula w/ Sasquatch, Omen Stones, Dirt Merchant – The Camel – Richmond, VA
09/04 – Grayscale w/ Belmont, Bearings, Rich People – MilkBoy Arthouse – College Park, MD
09/04 – Devon Gilfillian – Muddy Creek Café – Winston-Salem, NC
09/04 – Easter Island – The Camel – Richmond, VA
09/04 – Tough Old Bird w/ Jackson Howard – Bourbon & Branch – Philadelphia, PA
09/04 – Snarky Puppy w/ Alina Engibaryan – The Fillmore – Philadelphia, PA
09/04 – EOTO w/ Malachi – Higher Ground – Burlington, VT
09/05 – The Green w/ New Kingston, FeelFree – Union Stage – Washington, DC
09/05 – Fortunate Youth w/ Bumpin Uglies – Mulcahy's – Wantagh, NY
09/05 – TreeHouse! – Appalachian Brewing Company – Harrisburg, PA
09/05 – Mikrowaves w/ Colin Phils, Catbamboo – The Camel – Richmond, VA
09/05 – Snarky Puppy – Toad's Place – New Haven, CT
09/05 – EOTO w/ Bake Joynton – Aura – Portland, ME
09/06 – Ultrafaux – The 8×10 – Baltimore, MD
09/06 – Jon Stickley Trio w/ South Hill Banks, Two Ton Twig – Gypsy Sally's – Washington, DC
09/06 – Audacity Brass Band – Pearl Street Warehouse – Washington, DC
09/06 – Blanco White – Union Stage – Washington, DC
09/06 – Blackberry Smoke w/ JD Simo, SIMO – Brooklyn Bowl – Brooklyn, NY
09/06 – Little River Creek Police – The Camel – Richmond, VA
09/06 – Goose – Sprout Music Collective – West Chester, PA
09/06 – Living Light – Asheville Music Hall – Asheville, NC
09/06 – Roots of Creation – The Ocean Mist – South Kingstown, RI
09/06 – ROTO – The Reliquarium LLC – Lincoln, RI
09/07 – Clones of Funk w/ Steve Leads & The Off Grid Band – Gypsy Sallys – Washington, DC
09/07 – Optimus Riff – Dante's Bar – Frostburg, MDe
09/07 – Virginia Coalition w/ Strong Water – Pearl Street Warehouse – Washington, DC
09/07 – EOTO – Market Hotel – Brooklyn, NY
09/07 – Blackberry Smoke w/ Daniel Donato – Brooklyn Bowl – Brooklyn, NY
09/07 – South Hill Banks w/ Songs from the Road Band – The Broadberry – Richmond, VA
09/07 – Stop Light Observations w/ Argonaut&Wasp, Twin Brothers Band – The Camel – Richmond, VA
09/07 – Runaway Gin – The Charleston Pour House – Charleston, SC
09/07 – Ripe – Yee-Haw Brewing Company – Nashville, TN
09/08 – Stabbing Westward w/ The Rememberables – Union Stage – Washington, DC
09/08 – EOTO – The Town Ballroom – Buffalo, NY
09/08 – The Green w/ New Kingston – Brooklyn Bowl – Brooklyn, NY
09/08 – Mike and the Moonpies w/ Tennessee Jet – The Charleston Pour House – Charleston, SC
09/08 – The Avett Brothers – Wolstein Center – Cleveland, OH