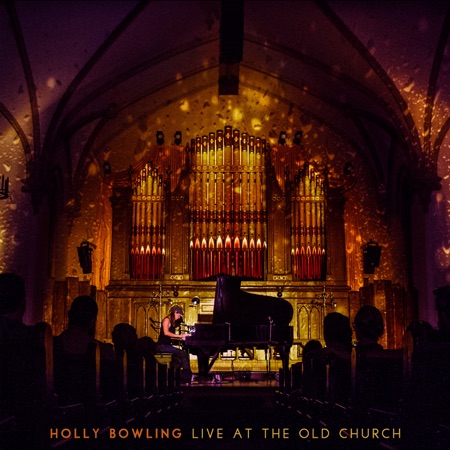 Holly Bowling will release her first live album Live At The Old Church on August 23rd. The album was recorded on Holly's Fall 2018 tour, 9/21/18 at The Old Church Concert Hall in Portland, OR, and features Holly's solo-piano interpretations of the Phish and Grateful Dead catalogues.
Live At The Old Church is available for
pre-order
 on signed and un-signed CD, iTunes pre-order, and Spotify Pre-Save. The Grateful Dead classic "Brokedown Palace" is available for streaming now at Spotify, and is an instant gratification track for those who pre-order the album at iTunes.
Holly Bowling has become known for her meticulously transcribed instrumental renditions of well-known jam band works. 
A
 lifelong Phish and Grateful Dead fan, the classically trained musician was moved to adapt Phish's "Tweezer" for solo piano after witnessing the band play 
a
 now-famous 37-minute version of the song in Lake Tahoe in 2013. Basing her arrangements on already improvised works, Bowling furthers the pieces with her own improvisations as heard on her first album, 2015's
Distillation of 

a 

Dream: Music of Phish Reimagined for Solo Piano
. The album garnered wide acclaim, especially in the jam band community. 
A
 year later, she applied the same concept to the music of the Grateful Dead on her second LP,
Better Left Unsung
. This is her first live 
release
.
The album's 
release
 date is also the first day of Holly Bowling's solo-piano tour, which takes her stunning live show to 21 cities throughout the continental US.
Tracklist:
Disc One
1 – Lost Sailor >
2 – My Friend, My Friend
3 – Weather Report Suite: Prelude/Part I/Part II (Let It Grow) >
4 – Mountains in the Mist
5 – Scents and Subtle Sounds >
6 – Saint of Circumstance

Disc Two
1 – Theme from the Bottom >
2 – Dark Star >
3 – Let It Grow
4 – Piper >
5 – Theme from the Bottom >
6 – Slipknot! > Franklin's Tower
7 – Brokedown Palace
Upcoming Holly Bowling Tour Dates:
08/23 – San Francisco, CA – The Chapel (Album 
Release
 Party)
08/24 – Santa Barbara, CA – SOhO
08/25 – Hermosa Beach, CA – Saint Rocke
09/06 – Cedar Rapids, IA – CSPS
09/07 – Milwaukee, WI – Colectivo
09/08 – Evanston, IL – SPACE
09/09 – Cleveland, OH – Music Box Supper Club
09/11 – Albany, NY – The Linda
09/12 – Boston, MA – City Winery
09/13 – Portland, ME – Port City Music Hall
09/14 – New York, NY – Le Poisson Rouge
09/18 – Washington, D.C. – The Hamilton
09/19 – Philadelphia, PA – World Café
09/20 – State College, PA – State Theatre
09/21 – Pittsburgh, PA – Thunderbird Music Hall
09/24 – Roanoke, VA – 5 Points Music Sanctuary
09/25 – Carrboro, NC – ArtsCenter
09/26 – Charlotte, NC – Booth Playhouse
09/27 – Asheville, NC – Diana Wortham Theatre
09/28 – Nashville, TN – City Winery
09/29 – Atlanta, GA – City Winery