What's up, readers?! Don't slow down now.  Summer is moving along at full speed, and the good times will be gone before you know it.  What better way to enjoy the warm weather than with good vibes and live music at your favorite outdoor venue?  No plans? No problem! Here's what's up this week.
The BIG What? returns for their 8th annual weekend-long celebration this Thursday, at the Shakori Hills Community Arts Center in Pittsboro, NC.  The venue is home to the beloved Shakori Hills GrassRoots Festival each year, and features over 72 acres of rolling hills, shady groves, and sunny meadows.  If you're looking for a more intimate, personal experience that still packs a major punch, then this is the event for you! The line-up for the weekend includes BIG Something, Too Many Zoos, Sunsquabi, The Mantras, Toubab Krewe, The Nth Power, Peoples Blues of Richmond, LITZ, as well as many other great local, regional, and national artists.  Each day of the festival has been assigned a theme, so make sure to figure out what theme is for what day and bring your own special costume in order to share in on the fun. Weekend passes for the event will set you back $140, however, primitive camping and parking are included with your ticket.  Two-day and single-day passes are also available, as well as car-camping upgrade packages. Head on over to the event's official website to check out recap videos from previous years, view the entire schedule of performances and other happenings, purchase tickets, or just to learn more about the event in general.
Looking for a low-key, family-oriented music festival that has everything the mega-festivals have to offer, and possibly even more? Look no further than SoulShine Farm Music Festival, which is being held this weekend in Green Mountain, at SoulShine Farm.  Experience some of the best local and regional acts, with music being played across 5 different stages all day long.  Gates open at noon on Thursday, with music starting at 4 p.m., and running each night until 2 a.m.  A costume contest will be held on Saturday night, with the theme being 'superheroes'. Think hard, get creative, but most importantly have fun with it!  Other than the typical festival amenities, make sure to take advantage of the hiking trails, Toe River access, views of the Blue Ridge Mountains, the various workshops, daily yoga, and live visual artists.  This is a BYOB event, and no alcohol sales will take place on-site (no glass bottles, and please be responsible).  Music for the event will be provided by Fruition, The Blue Rags, Love Cannon, Consider the Source, Snake Oil Medicine Show, Mac Arnold and Plate Full o' Blues, The Snozberries, Malcolm Holcombe, and many more awesome musicians.  Weekend passes are on sale currently for $125, with kids passes (13-17) being $80. Parking and primitive camping is included in your ticket price, and there are upgrade packages available for those who wish to camp with their car.   To learn more, and grab your tickets, head on over to www.soulshinefarmfest.com.
The good people at Nelson Ledges Quarry Park in Garrettsville, OH are back at it again.  This weekend marks one of the most intimate, special festivals of the season: Lazy Daisy Music Festival.  Share in the groove on 250 acres of forest, meadows, rock ledges, fishing lakes, rivers, and of course, the spring-fed quarry.  Artists scheduled to perform include JiMiller Band (performing two sets of The Grateful Dead), Electric Orange Peel, Ice Cream Truckers, Thor Platter Band, Hop Stash (JGB set), and The Rapid Jags.  Weekend passes for this event are a mere $45 if you purchase in advance or $60 in cash at the gate and include parking as well as camping.  To learn more about the Nelson Ledges and Lazy Daisy Music Festival, head on over to www.nlqp.com.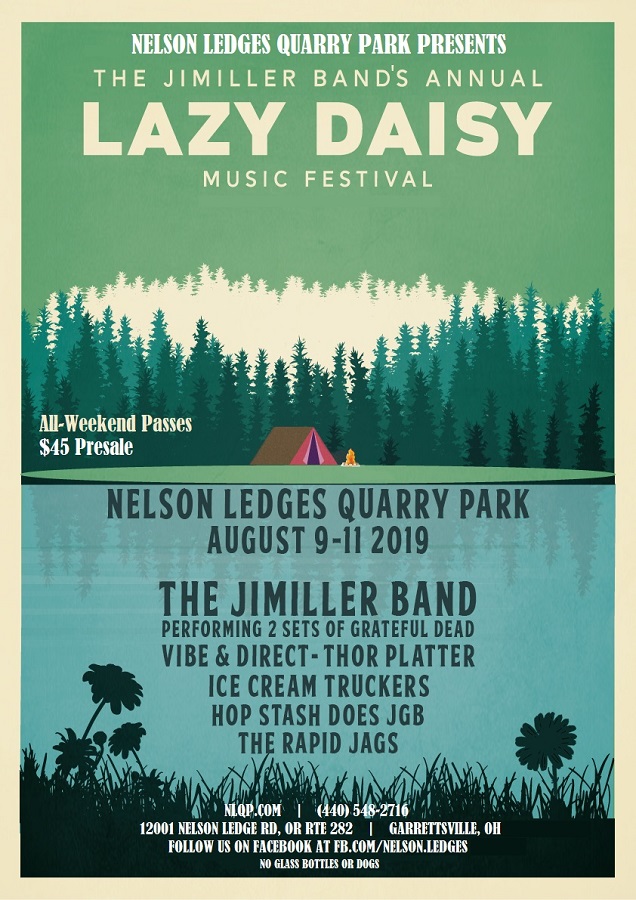 That's it for this week.  Don't forget to keep scrolling to check out the entire list of suggested concert and festivals going on this week. Let us know where you'll be, and feel free to leave your own suggestions in the comment section. Until next week. Stay jammy.
Festivals:
08/05-09 – Roots Rock Revival – Big Indian, NY
08/08-10 – The BIG What? – Pittsboro, NC
08/08-10 – Soulshine Farm Music Festival – Green Mountain, NC
08/09-10 – Burning Can North Carolina – Hendersonville, NC
08/09-10 – Garden of Eden – Jay, VT
08/09-11 – Inclusion Festival – Jermyn, PA
08/09-11 – Mazzstock Music Festival – Marlboro, NY
08/09-11 – Beach Road Weekend – Tisbury, MA
08/09-11 – Lazy Daisy Music Festival – Garrettsville, OH
08/09-11 – The Jugband's Endless Summer Fest – Hammonton, NJ
08/09-11 – The Freakstomp – Butler, OH
08/10-11 – Moonrise Festival – Baltimore, MD
Concerts:
08/05 – Brit Floyd – Cape Fear Community College – Wilmington, NC
08/06 – Mac Demarco – Prospect Park Bandshell – Brooklyn, NY
08/06 – Howlin' Rain w/ Garcia Peoples, Wet Tuna – Port Chester, NY
08/06 – John Butler Trio w/ Trevor Hall – Roxian Theatre – Pittsburgh, PA
08/06 – Jamison Ross (Snarky Puppy) – The Pour House Music Hall – Raleigh, NC
08/06 – moe. w/ Blues Traveler, G. Love – White Oak Amphitheatre – Greensboro, NC
08/06 – Dark Star Orchestra – Ridgefield Playhouse – Ridgefield, CT
08/06 – Tweed – Beachland Ballroom – Cleveland, OH
08/06 – The Marcus King Band – The Chicken Box – Nantucket, MA
08/07 – Howlin'Rain w/ Ryley Walker, Garcia Peoples – Brooklyn Bowl – Brooklyn, NY
08/07 – Thievery Corporation – Roxian Theatre – Pittsburgh, PA
08/07 – The Aristocrats – The Pour House Music Hall – Raleigh, NC
08/07 – The Marcus King Band – The Chicken Box – Nantucket, MA
08/07 – moe. w/ Blues Traveler, G. Love – Daily's Place – Jacksonville, FL
08/08 – Consider the Source w/ Night Idea – Capital Ale House – Richmond, VA
08/08 – Dark Star Orchestra – Bergen Performing Arts Center – Englewood, NJ
08/08 – Pink Talking Fish – East Side Park – Norwich, NY
08/08 – Galactic w/ Erica Falls – Manhattan Square Park – Rochester, NY
08/08 – Chad Sipes Stereo: Album Release Party – Thunderbird Café & Music Hall – Pittsburgh, PA
08/08 – Howlin' Rain w/ Garcia Peoples, Major Stars – ONCE Lounge and Ballroom – Somerville, MA
08/08 – Zach Deputy – Bernie's Beach Bar – Hampton, NH
.ws
08/09 – A Very Jerry Celebration ft. Cris Jacobs – Gypsy Sally's – Washington, DC
08/09 – Runaway Gin – The Broadberry – Richmond, VA
08/09 – Dark Star Orchestra – Tropicana Showroom – Atlantic City, NH
08/09 – John Kadlecik – Elevation 27 – Virginia Beach, VA
08/09 – Naughty Professor – Thunderbird café & Music Hall – Raleigh, NC
08/09 – Sun & Rain – Grotto Pub – Enola, PA
08/09 – Howlin' Rain w/ Garcia People, More Klementines – Space Ballroom – Hamden, CT
08/09 – Stephen Marley w/ DJ Shacia Payne – Lincoln Theatre – Raleigh, NC
08/09 – Roots of Creation – Rock on! Concerts Groove Cruise – Boston, MA
08/10 – Davy Knowles – Gypsy Sally's – Washington, DC
08/10 – Runaway Gin – The 8×10 – Baltimore, MD
08/10 – The Nth Power – Charleston Pour House – Charleston, SC
08/10 – Splintered Sunlight – The Ardmore Music Hall – Philadelphia, PA
08/10 – Dark Star Orchestra – The Stone Pony Summer Stage – Asbury Park, NH
08/10 – Consider the Source –  5 Points Music Sanctuary – Roanoke, VA
08/10 – Keller Williams – Tap Shack – Duck, NC
08/10 – Galactic – Prescott Park – Portsmouth, NH
08/11 – Chris Stapleton w/ Margo Price, The Marcus King Band – Merriweather Post Pavilion – Columbia, MD
08/11 – Howlin' Rain w/ Garcia People, Sparrow Steeple – Johnny Brenda's – Philadelphia, PA
08/11 – Keller Williams – Tap Shack – Duck, NC
08/11 – David Crosby – Damrosch Park Bandshell – New York, NYe