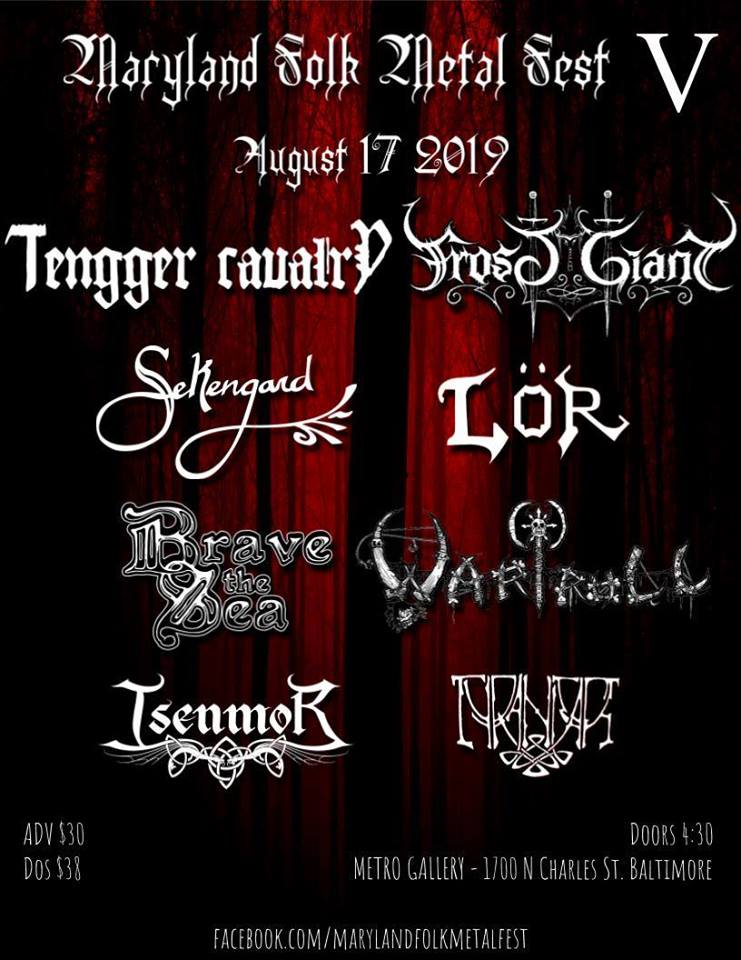 While "folk metal" might not be a genre you are used to hearing about — you may have been enchanted by it before.  Popularized by Pagan festivals, Renaissance Festivals, and players of traditional instruments with less-than-traditional tastes, folk metal is an exciting musical genre for music fans to explore. Its location at Metro Gallery in Baltimore makes it convenient and accommodating for music fans and explorative minds alike.  We talked to organizer Sarah Stepanik about her inspiration for organizing this gathering, choosing the musical artists, and what's in store for those who dare to step outside the box.
Note:  A member of the headlining band, Tengger Cavalry, has passed, and the band will no longer be able to play Maryland Folk Metal Festival in 2019.  They are currently working on securing a different headliner.
Did you come up with the idea to start this festival?  How did the inspiration come about?
For a long time, there was a tour called Paganfest which featured many folk/pagan metal bands from around the world. It was very popular in Europe and it eventually extended into the United States as well. In 2015 they announced there would no longer be Paganfest America. Myself and so many American folk metal fans were devastated. I remember thinking to myself "Someone has to do something! Folk metal is way too important to so many of us to not have a yearly festival of some kind! Someone has to do it!" I sat there with my own thoughts for probably a grand total of 2 minutes when I finally realized "Oh… that person has to be me"
What venue in Baltimore is the festival held?  What do you like about this venue?
This year we are bringing it back to Metro Gallery which is where we held it our first year. The venue is super easy to get to and right in the middle of the Baltimore Arts district. The venue staff are always so nice and supportive. The booking manager there Adam has welcomed the festival with open arms, as well as helped my own folk metal band, Sekengard, with a number of shows in Baltimore.
Baltimore has a great music scene, have you seen the popularity of local metal bands on the rise?
Maryland Deathfest just had its 18th year in Baltimore this year and every year there are more local/small bands getting put on the bill. Two of the more famous bands from Maryland are Dying Fetus and Visceral Disgorge. Otherwise of course, there are so many amazing local metal bands, of every subgenre, that are getting more and more attention and have toured, been on TV, and played bigger festivals as well. It is ever growing and I can't wait to see where Baltimore metal goes the coming years.
Describe what "folk metal" means, is it a genre or does it describe your festival?
Folk metal is essentially mixing traditional folk music and heavy metal. Many times you'll see folk instruments like fiddles, bagpipes, hurdy gurdies, flutes, accordions, and other "old world" instruments involved. That being said, not all folk metal bands have these instruments, but still incorporate the folk aspect in the electric guitars. It originated in Europe, like most metal genres, but what is interesting about this genre is how diverse it is culturally. Nordic and Celtic style folk metal are probably the most popular, but Russian and Eastern European styles have gotten more recognition. Asian cultures and their many unique instruments have grown immensely in folk metal as well, and surprisingly enough, there is a growing scene in South and Central America, where many bands that are forming there have Aztec and Mayan influences! Most folk metal bands tend to stick with very old, often ancient style folk music, but I've also seen bluegrass metal bands come out of the works in the last few years.
Some of the most popular folk metal bands are Korpiklaani, Turisas, Eluveitie, Ensiferium, Arkona, Tyr, and Finntroll.
What brought you love this genre of music?
I play fiddle myself, typically Irish style fiddle. I played classical violin growing up, and when I was 15 there was a guy who told me "Hey have you heard of folk metal and this band called Eluveitie? They have a violin too." So I checked them out and listened to a bunch of other folk metal bands and I've never been the same since. (Shameless self promotion, my band Sekengard is opening for Eluveitie at Baltimore Soundstage in October).
A lot of jam band fans I find also love metal surprisingly enough. What do you think so many people of different backgrounds enjoy this music?
There are countless styles of metal genres. A friend of mine who doesn't listen to metal said to me "I'm pretty sure at this point there are more sub genres of metal than there are for jazz." There are a variety of sounds that come from heavy metal and there is a sound for everyone. Many people think that all metal is Cannibal Corpse, and that absolutely isn't true, you just have to find the right one for you.
Do you personally enjoy bands of different genres that might surprise us?
As I mentioned before, I play fiddle, and I play in 5 bands including my folk metal band. I also play in Pirate sea chanty bands and Irish folk bands. I love music that you'd hear at the Renaissance Festival (which I also perform at). It is not uncommon to hear The Dubliners blasting from my house.
Can you tell me a little bit about a lesser known band on the lineup that you're excited for?
Lör from Pennsylvania is probably my favorite band on the bill this year. They are a more prog and symphonic style folk metal, all such talented musicians, and the singer is one of the best vocalists I've ever heard. Their music is so intricate and fun to listen to. When I got their CD, it was the only thing I listened to in my car for a full year.
What was your first music festival experience?  Tell me a little bit about it and how it affected you positively.
I was a Christian many many years ago and for a few of those years I attended Creation Fest. I mostly stayed at the smaller stage where all the metal and hardcore bands were. But it was an amazing experience camping for a week with a bunch of people and hanging out with other metal heads from all over the country. My first non Christian one was Maryland Deathfest and same deal, except no camping and a lot more drinking and drugs which is extra rad. This year I'll actually be going to my first not metal camping festival since Creation: I'm performing at Big Dub with my buddy John DuRant Jr. Always the music at festivals is great and that's why everyone is there, but at the end of the day, my favorite part is meeting so many people from everywhere in the world with the same musical interests.
How has Maryland Folk Metal Fest evolved over the years?  Anything spankin' new about this year?
The very first year I didn't know what I was doing, but somehow it worked out pretty damn well. I only had 6 bands because I didn't want to push it too hard with the little experience I had. I've since gotten way bigger bands and more bands. My connections have grown stronger across the folk metal scene around the world, and I've even been in contact with bands from Europe. I'm really stoked with how much this has grown in only 5 years and I can't wait to see it get even bigger.