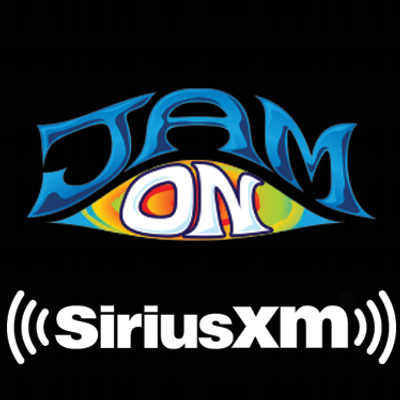 Written by Jeff Modzelewski.
The jam band community was struck a blow last month when SiriusXM made the decision to remove Jam On from their regular radio lineup.  The station, which had been a part of SiriusXM for over a decade, was a tremendous resource for bands and fans alike. It was by far the largest and most widely available radio station available to jam band fans, giving fans an opportunity to listen to many of their favorite acts and discover new artists.  The station had knowledgeable DJ's that were a part of the jam band community, featured interviews and in-studio performances that you couldn't find anywhere else, and had a variety of regular shows that highlighted different areas of the jam community. There is simply no other resource for artists and fans that provides what Jam On provided.
SiriusXM has stated that Jam On isn't gone, it's simply been removed from the regular radio lineup and relegated to a streaming-only.  These are stations that subscribers can access, for an additional fee, through their computers or the SiriusXM app on their smartphones.  Accessing the station through a computer or an app, however, is a completely different experience than having the station easily accessible through the radio.  For starters, there is an additional cost to the app and streaming service. The standard SiriusXM service already costs $15.99 a month. The streaming option is an additional $5 a month.  While this is not a bank breaker, consumers have more streaming options than ever and often aren't looking to add an additional streaming service when they often already have Spotify and Nugs.  Second, not everyone has unlimited data on their phones, and even if they do internet access can be very spotty on long drives. The satellite radio service is available no matter where you are since it doesn't rely on cell phone coverage, and it takes up no phone data.  Finally, a radio is simply much easier to use while driving. Personally, I only want to use my cell phone for navigation while driving. If I'm flipping channels I don't want to have to mess with my phone to do that when the radio is much more convenient.
Jam On was replaced with Phish Radio.  Clearly, Phish is deserving of their own station.  They have decades of live recordings and studio work as well as an extremely dedicated fanbase that can support a Phish station.  To say that they have been instrumental to the jam scene is a tremendous understatement. But adding Phish Radio does not mean that there isn't a place for Jam On.  Not every jam fan is a massive Phish fan, and most Phish fans I know appreciate other jam bands as well. SiriusXM didn't cancel their 90's alternative station when they added Pearl Jam Radio and they didn't cancel their classic rock station when they added Tom Petty Radio.  There is no reason Jam On and Phish Radio couldn't coexist.
Jam On was far from a perfect station.  They played many of the same live recordings on a rotation.  The DJs often pushed many of their personal favorites as well.  But, despite some problems, Jam On was instrumental in helping me learn about the jam band scene when I first dove into the genre, and it continued to be a great way to learn about new music.  Whether it was my early discovery of Umphrey's McGeeor Yonder Mountain String Band or it was more recent artists like Turkuaz, The Main Squeeze, or Aqueous, Jam On is one of the primary ways I discover new jam music.  
A petition was created after the announcement and has gained over 15,000 signatures.  The jam band community may be a niche, but jam band fans are loyal and active.  The petition has also been shared by many bands that have benefited from exposure on Jam On.  I don't know what it might take to change the decision of SiriusXM but I know that the jam band music community will make their voice heard.  I hope thatSiriusXM listens to the voice of this community and reconsiders brings Jam On back for all of their listeners.
If you are interested, the petition to bring Jam On back to the regular SiriusXM lineup can be found here: http://chng.it/886bJKzyYv