It's that time again! The Jamwich is back with its hand-picked selection of some of this week's hottest concerts, festivals, and other related events.  Don't put it off any longer! Buy your tickets today! Summer will be over in the blink of an eye! No plans? No problem. Here's what's up this week.
This weekend marks the first ever Shodown Flowdown, presented by Sean Howard Orchestra and their friends at Written Hour Productions and Lazy Ass Productions, held at the Gibbon Glade Festival Grounds in Gibbon Glade, Pennsylvania.  If you've got a tattoo that your proud of make sure to stop by the Moretti Tattoo booth in order to sign up for the tattoo contest (no actual tattooing happening at the event). There are several different categories, with 1st, 2nd, and 3rd place prizes available for the respective winners.  Musicians scheduled for the weekend include Sean Howard Orchestra, Glenn Strother Project, Pitt Floyd, Greasy Hands, Sweet Earth, BBGuns, Voodoo Circuit, Nag Champions, as well as several other great acts.  General admission tickets for the entire weekend are currently on sale for a mere $50, and include both parking and camping. Come be a part of this inaugural event, and get a piece of the "small festival" experience before word gets around. Visit the event's Facebook page to learn more.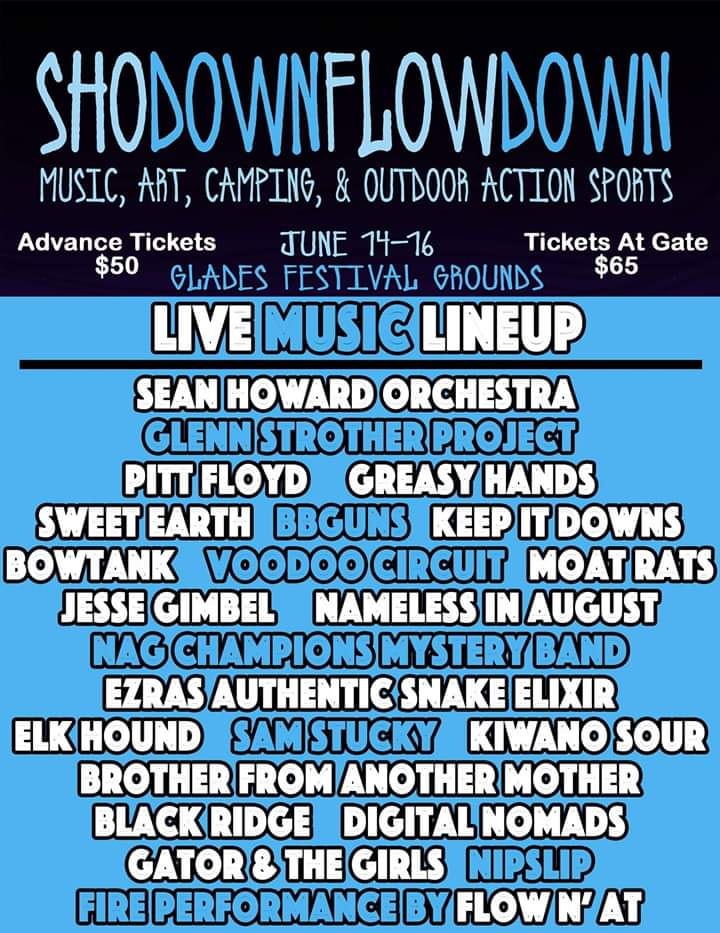 Come hang out at the site of the original Woodstock Festival, Bethel Woods, for this year's Mountain Jam, in Bethel, New York. The line-up for this one is stacked, and you'll be hard pressed to find another line-up with so many legendary artists.  Taking the stage this year will be, Willie Nelson & Family, Phil Lesh & Friends, Gov't Mule, The Avett Brothers, Joe Russo's Almost Dead, Dispatch, Twiddle, Karl Denson's Tiny Universe, and many others. If you find yourself at Mountain Jam this weekend, make sure to take some time to visit The Museum at Bethel Woods. Their award-winning, main exhibit, titled "Woodstock and The Sixties" promotes ideas of peace, respect, cooperation, creativity, engagement and connection and is great for all ages.  Also, no need to worry about taking a shuttle back and forth from your car, there is plenty of parking space on-site.  Last chance general admission tickets are on sale for $229, with car camping costing an additional $150, and $100 for tent camping.  To learn more, check out videos and photos of previous year's shenanigans, view set times and purchase tickets, head on over to www.mountainjam.com
Duck Creek Log Jam returns to the Duck Creek Camping and Outdoor Events Area in Hocking Hills, Ohio for the 8th annual weekend of music, camping, and good times.  Spend your weekend exploring the nearly 100 acres of picturesque landscapes that make up Hocking Hills.  When you're done with your nature expedition, sit down in front of the stage for a set from Caamp, Front Country, Lindsay Lou, Larry Keel Experience, Hocking River String Band, Big Daddy Love, Slippery Creek and several others.  Several camping options are available to help your find the experience that best suits you.  Set up shop in 'party down zone' and romp about until you drop, take your young ones to the 'quiet/family area' to make sure they get a good night's rest, or explore a bit before you pitch your tent in "dispersed/primate camping area. Two-day passes are currently sold out, however Saturday single-day passes are still available, with or without camping.  Too learn more, and purchase any tickets please visit the festivals official website.
Don't forget to continue scrolling down in order check out the entire list of concerts and festivals for the week.  Let us know where you'll be this week, and feel free to leave your own suggestions in the comment section below. Until next week. Stay jammy.
Festivals:
06/13-16 – Bonnaroo – Manchester, TN
06/13-16 – Mountain Jam – Bethel, NY
06/13-15 – Beardfest – Hammontown, NJ
06/14-16 – Shodown Flowdown – Gibbon Glade, PA
06/14-17 – ZIONTIFIC Summer Solstice Music Festival – Russell, MA
06/14-15 – Duck Creek Log Jam – Logan, OH
06/14-16 – Spring Classic Fest – Garrettsville, OH
06/15-16 – Clearwater's Great Hudson River Revival – Croton on Hudson, NY
06/15 – Garden Grove Music Festival – East Providence, RI
06/15-22 – Rudy Fest Bluegrass Festival – Morehead, KY
Concerts:
06/10 – David Crosby – Count Basie Theatre – Red Bank, NJ
06/11 – George Clinton & Parliament Funkadelic – Artpark – Lewistown, NY
06/11 – Brit Floyd – Orpheum Theatre – Memphis, TN
06/12 – Sinkane – U Street Music Hall – Washington, DC
06/12 – David Crosby – Garde Arts Center – New London, CT
06/12 – Brit Floyd – Fox Theatre – Atlanta, GA
06/12 – The Heavy Pets w/ Roosevelt Collier – Will's Pub – Orlando, FL
06/12 – Snarky Puppy w/ Breastfist – Minglewood Hall – Memphis, TN
06/13 – Cold Weather Company (album release party) – Gypsy Sally's – Washington, DC
06/13 – The Wailers – Roxian Theatre – Pittsburgh, PA
06/13 – Snarky Puppy w/ Breastfist – Pisgah Brewing Outdoor Stage – Black Mountain, NC
06/13 – Marbin – Flour City Station – Rochester, NY
06/13 – Elonzo Weasley (solo) – The Grove – Fayetteville, WV
06/13 – David Crosby – Lebanon Opera House – Lebanon, NH
06/13 – The Heavy Pets w/ Roosevelt Collier – 1904 Music Hall – Jacksonville, FL
06/14 – Star Kitchen – Gypsy Sally's – Washington, DC
06/14 – Snarky Puppy w/ Jose James – The Anthem – Washington, DC
06/14 – Swimmer w/ Doctor Rick – Nectar's – Burlington, VT
06/14 – Black Garlic – 123 Pleasant Street – Morgantown, WV
06/14 – Dustbowl Revival – Thunderbird Café & Music Hall – Pittsburgh, PA
06/14 – The Heavy Pets w/ Roosevelt Coller – Crowbar – Tampa, FL
06/14 – Brit Floyd – The Fillmore Miami – Miami Beach, FL
06/15 – Grateful Dead for Kids Father's Day Celebration – Gypsy Sally's – Washington, DC
06/15 – Splinterd Sunlight – The 8×10 – Baltimore, MD
06/15 – Better Off Dead – Gypsy Sally's – Washington, DC
06/15 – Living with Monsters – Dante's Bar – Frostburg, MD
06/15 – Tweed w/ Sun & Rain, Galaxy Dynamite – Pablo's Garden Center – Rockville, MD
06/15 – Snarky Puppy w/ Breastfist – Brooklyn Steel – Brooklyn, NY
06/15 – Max Creek – Lincoln Hill Farms – Canandaigua, NY
06/15 – David Crosby – The Cabot – Beverly, MA
06/15 – Moon Hooch w/ Nathan-Paul & The Admirables – The Pour House Music Hall – Raleigh, NC
06/15 – Zach Deputy – The Windjammer – Isle of Palms, SC
06/15 – The Heavy Pets w/ Roosevelt Collier, Tand – Funky Biscuit – Boca Raton
06/16 – Sons of FUNK w/ The Cat's Meow – The Beachland Ballroom – Cleveland, OH
06/16 – Max Creek – Good Nature Brewing – Hamilton, NY
06/16 – David Crosby – Criterion Theatre – Bar Harbor – ME
06/16 – Brit Floyd – Florida Theatre – Jacksonville, FL