Written by: Kathy Moore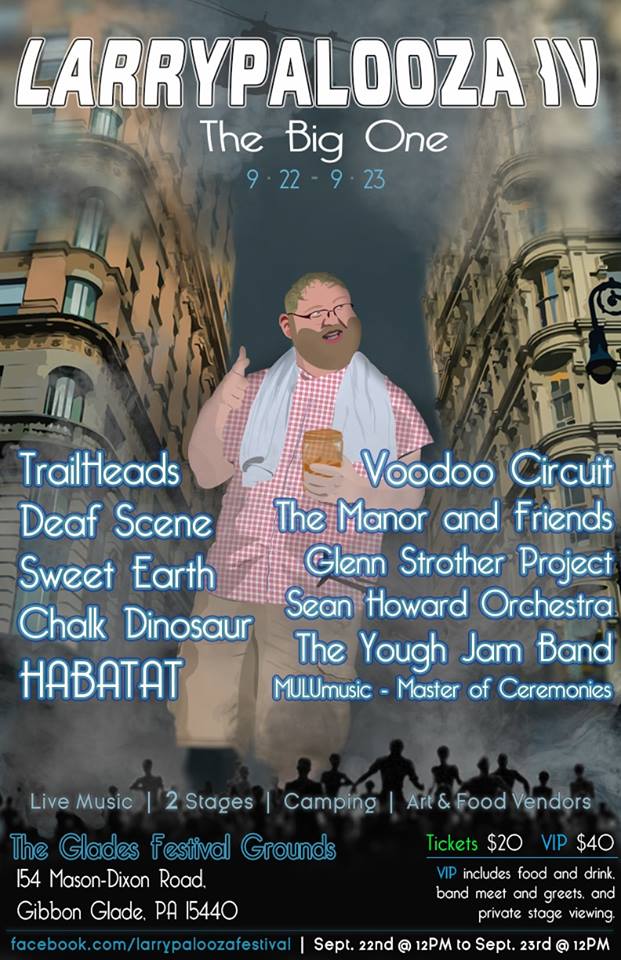 Larrypalooza IV-The Big One is going to be a one-day extravaganza filled with incredible music, friends, love, and dancing. Celebrating the birthday of good friend Larry Morris, TrailHeads and HABATAT are putting on a show that you do not want to miss. This one-day fest, held on Saturday, September 22 at The Glades in Gibbon Glade, PA, is sure to be a rager. This year's lineup includes TrailHeads, HABATAT, Sweet Earth, Chalk Dinosaur, Deaf Scene, Voodoo Circuit, The Manor and Friends, Glenn Strother Project, Sean Howard Orchestra, The Yough Jam Band, and MULUMusic as the emcee and artist at large. The Glades is a beautiful venue and owners and music lovers Domenick Ottoviani and Dana Duncan are the most fun hosts you will ever meet. Handling the production is Written Hour Productions, out of Connellsville, PA. They did an amazing job with Funky Fest and The Private Party, both of which were held at the Glades.
TrailHeads, a progressive, funk, jam band who hail from the Connellsville, PA area, are the hosts of Larrypalooza and very close friends of Larry. I first saw them in the summer of 2016 and have seen them several times since. Their late-night set at Trip's Farm last month blew me away—what I knew as a jam/funk band turned into a raging prog machine. It's obvious these guys are good friends who spend a lot of time together-their connection and ability to read one another is amazing. Bringing more horns to the stage is Pittsburgh based band, HABATAT, with a horn section comprised of saxophone, trumpet, and trombone. This rock/fusion/funk ensemble lays down the groove and gets you on your feet. It's hard not to dance and smile when HABATAT throws down.
If you know me well, you know that I have a soft spot for prog rock and trios-especially instrumental trios, so I couldn't be happier to be seeing Deaf Scene, Voodoo Circuit, and Sweet Earth all at the same fest.  Baltimore-based Deaf Scene will be bringing their heavy, psychedelic, prog rock sound to the stage. If you have not seen this band, you are in for a treat. I always enjoy the hard edge that they bring. Voodoo Circuit, from Morgantown, WV, have an electro-funk groove with danceable beats. These guys know how to get a crowd on the floor, and Pittsburgh-based Sweet Earth brings the prog rock mixed with funk and fusion. These three bands are not to be missed.
Chalk Dinosaur, also from Pittsburgh, creates an electro-funk-dance vibe, while The Manor and Friends from Morgantown bring their soulful vibe that will get the place jumping. Glenn Strother Project brings the funk and jazz and the Sean Howard Orchestra will entertain you with their blend of rock and blues while the Yough Jam band will lay down the groovy jams.
You can get your tickets online at the Larrypalooza IV Facebook event page, the TrailHeads Facebook page, Written Hour Productions Facebook page or at the gate- only $20 for an incredible day and night of music. See you there!