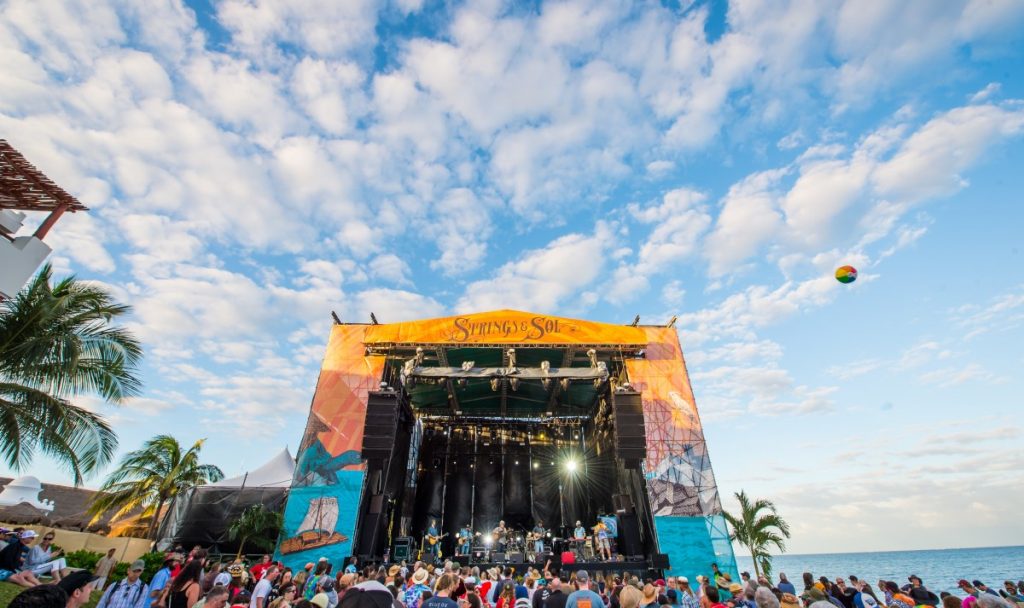 Produced by Cloud 9 Adventures, the 7th annual edition features musical hosts Yonder Mountain String Band and Greensky Bluegrass, with additional artists Railroad Earth, The Infamous Stringdusters, Leftover Salmon, Billy Strings, and The Lil Smokies
Pre-sale for returning guests begins April 4, 2018 at www.stringsandsol.com
Public On Sale begins April 5 at 2pm ET
March 28, 2018 – Cloud 9 Adventures announces the return of Strings & Sol, the annual bluegrass-centric tropical concert vacation, held at the beloved all-inclusive Now Sapphire and Dreams Resort & Spa in Puerto Morelos. Now entering its seventh year, the event will take place on the beautiful coastline in the Riviera Maya region of Mexico from December 7-11, 2018. The live music performances are guaranteed to be an extraordinary experience for guests, set in a variety of unique venues – beach main stage, poolside gazebo, and an open-air palapa – all steps away from guestrooms and all-inclusive amenities.
This year's lineup will feature Yonder Mountain String Band, Greensky Bluegrass, Railroad Earth, The Infamous Stringdusters, Leftover Salmon, Billy Strings, and The Lil Smokies. Greensky Bluegrass and Yonder Mountain String Band will perform three shows each while additional artists will have two performances respectively, all scheduled over the course of four nights. Special guests Lindsay Lou and The Shook Twins are also joining the party to perform and host late night sets and collaborations.
For the close-knit community of returning attendees, this unforgettable experience extends far beyond the stages to include a multitude of unique daily activities in addition to the always-incredible music. From artist-hosted workshops, poolside-contests and beach jam sessions, to theme nights, casual artist interactions and an autograph signing, this event is the ultimate experience for fans. Additionally, guests can book off-site excursions through Strings & Sol to explore the surrounding region's beauty and culture.
Strings & Sol will also be offering a limited number of suites just down the beach from the main stage at Dreams Resort & Spa. Dreams Resort is a well-appointed, all-inclusive resort that is located less than 1 mile from Now Sapphire. Keeping the event at a limited capacity while offering a second resort option is a contemporary opportunity for guests. If staying at Dreams Resort & Spa, guests can easily connect to Now Sapphire throughout the day and night either by a quick beach walk or door-to-door complimentary shuttle service. Experience the best of both worlds with all the action of Now Sapphire at your fingertips and a second resort full of amenities to add a more relaxing element to your vacation.
Strings & Sol is again partnering with charitable organization Positive Legacy, encouraging artists and fans to participate in a day of service and cultural connection in the community of Puerto Morelos as a way of giving back. The ongoing Positive Legacy project in this region has been the "Urban Garden Initiative," a mission to bring the practice of community gardening to the local high school. The goal of the project is to share in the practice of gardening and create a local, sustainable fresh food source. Details for this year's Day of Service will be announced in the coming months.
Event details are as follows:
All-inclusive packages for returning Strings & Sol guests can be booked during the Pre-sale on April 4, 2018. If packages remain following the Pre-sale, the Public On Sale will begin on April 5, 2018 at 2:00pm EDT on the Strings & Sol website.
Pricing for the all-inclusive packages at Now Sapphire start at $1499 per person for tropical view rooms with ocean view rooms starting at $1799 per person. Pricing for the all-inclusive packages at Dreams Resort & Spa start at $1699 per person for garden view rooms, with various upgraded room types available. Package pricing includes accommodations, meals, beverages, activities, and shows for all four nights. Look for announcements on artist-hosted activities, theme nights, and community outreach with Positive Legacy in the coming months.
Strings & Sol is produced by Cloud 9 Adventures. An industry leader in concert vacations on cruise ships and at all-inclusive resorts, Cloud 9 Adventures also produces Jam Cruise, Holy Ship!, Panic en la Playa (feat. Widespread Panic), My Morning Jacket's One Big Holiday, Dominican Holidaze, Zac Brown Band's Castaway with Southern Ground, The Avett Brothers At The Beach, and more to be announced.
Cloud 9 Adventures – Changing the Live Music Experience, Changing the Way Fans Vacation.