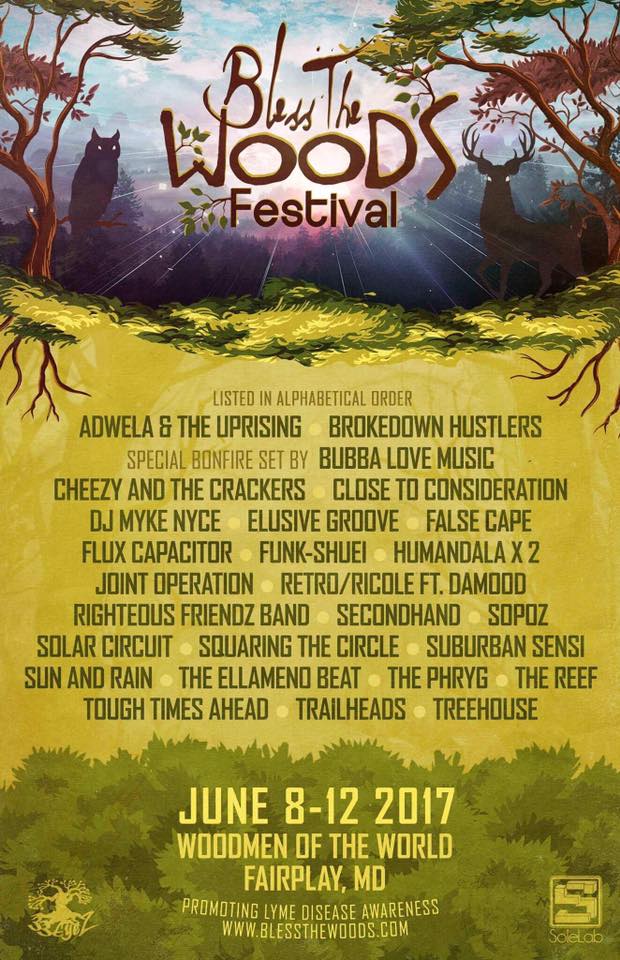 June 7-10, 2018
8334 Reichard Road
Fairplay, MD 21733
Written by Mike Tucker
I love small festivals! Choosing to attend one is like deciding to go to your neighborhood, independently-owned coffee shop— you know the one with the kind vibes, comfy couches, locally made art everywhere, and a bowl of water on the sidewalk for thirsty dogs —over the bland corporate mediocrity of Starbucks. Just like independent coffee shops, legit little festivals are where it's at. Uniqueness, intimacy, authenticity, and cheaper ticket prices are just a few of the benefits of attending one of these smaller, lovingly hand-crafted DIY-style events. One of my favorite small festivals, Bless the Woods, takes place every year in early June in Western Maryland. While I'm lucky enough to live right up the road (literally) from the beautiful Woodmen of the World Campground in Fairplay, MD where the event is held each year, it certainly is a festival for which driving would be worth it. This year's well-thought out line-up of music includes reggae, funk, jamtronica, rock, psychedelic shoegaze (!) all in a beautiful woodsy setting. Years past, the festival has had an eclectic (and delicious) offering of food vendors— I can smell delicious, vegan Indian food and jerk chicken just thinking about it—  along with an interesting assortment of crafts and other vendors. At its core, Bless the Woods prides itself on maintaining a chill, no- hassle, kind vibes environment which is family friendly and seeks to offer a transformational music experience to those who are open to it. And if that doesn't motivate you to join the madcap fun in the serene green of the peaceful woods, a portion of the proceeds goes to benefit the Mayday Project, an advocacy group "on the front lines fighting for those with Lyme disease."   So, at that special time of year when the soft glow of fireflies begins to appear as hot days fade into the cool of evening, please come join this very special gathering of stellar music and art, friendly faces, and kind hearts—and since it's in my neck of the woods, please come say hi to me, my amazing partner Tara, and our homie Shannon!
Here's a quick daily rundown of the music I'm currently most anticipating:
Thursday:
The first day is already looking like a heater with Ethan Larsh's quirky, piano-driven fun and local cool kids The Slim Jimmies, who are sure to bring the noise with their potent, melodic psychedelic shoe-gaze sound. I'm also excited about shaking my butt on a weeknight to the heavy progressive funk fusion of The Phryg.
Friday:
While I haven't caught them live yet, Suga Grits, a funk/jam band from DC featuring horns and keys with jazz and hip-hop elements promises to be a whole lot of fun if my online musical detective work bears out. Of course, Secondhand, BTW founder Dan Morgan's sunny, soulful reggae rock band will be bringing the positivity back to the woods this year. The good vibe drenched 90's rock and reggae Higher Education and Baltimore favorite progressive funk and jazz fusion Squaring the Circle round things out for a stellar musical Friday among the trees and happy, dancing people.
Saturday:
Seeing Solar Circuit on this year's lineup again makes me giddy as getting down to their epic jamtronica trance fusion set at last year's show was one of the highlights for this guy. Saturday also features the funky rock, reggae, and hip-hop stylings of returning BTW fan favorite Cheezy and the Crackers. Sopoz will have all the attendees feeling the chill with their mellow, surf-soaked reggae, while Elusive Groove promises to bring some heat with their hard-hitting rock/reggae fusion. To top it all off, Squaring the Circle is playing another whole set Saturday night and will show that they are a band as hard to put in a box stylistically as it is to solve the classical math problem from which they derived their name.
At last, there is way too much musical goodness on this line up for me to discuss, so this is just meant to be a brief overview of the awesomeness in store for you at The Blesstival: Bless the Woods 7. At any rate, I'm certain I'll be caught off guard and surprised by a few bands I've never heard before; that's one of my favorite things about festivals. So, make your plans now. Be there or be square and all that jazz. See you in the woods!
Weekend passes include camping, parking, and admission and are available at any Secondhand show or at the gate for the amazingly low price of $45.00.
For more information on The Blesstival: Bless the Woods 7, check out the festival's Facebook event:
https://www.facebook.com/events/1746453602324017/