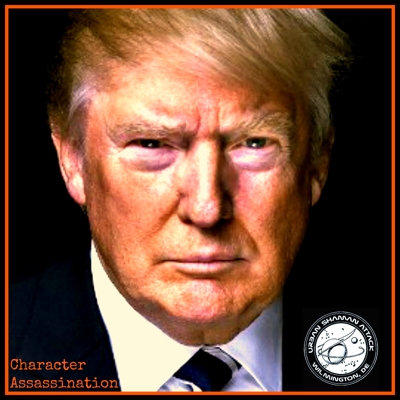 Written by Jennifer Seifert
Delaware-based jazz fusion band Urban Shaman Attack makes a political statement with the release of their most recent album, Character Assassination. Fueled by the 2016 election in which Donald Trump became President and the subsequent social fallout, the music of the album subtly, but effectively, lives up to its name.
However, the names of each track are not so subtle and are enough to portray the theme of this album–even before listening. With song titles like "Cofeveve", "Totalitarian Two-Step", and "49 Shades of News", this album plays on the controversy stirred up by Trump's presidency and the often inane statements he has made while in office.
Character Assassination essentially tells a story, from the beginning of the campaign up to the present day. "Exposure" is symbolic of the emergence of the Trump camp and the disturbance it created, not only within the general public, but the political environment as well.
During "Transition", the band successfully evokes the highly-charged atmosphere that was present throughout the country after the conclusion of the election. They successfully interpret this theme with the music becoming more erratic and scattered as the song progresses, symbolizing the Obama-Trump transition and the transfer of power from one political extreme to another.
"Cofeveve" and "Totalitarian Two-Step" represent the contradictory nature of Trump's words and actions. The band highlights this by becoming more aggressive leading toward the climax of both tracks, after which, they slow down the pace but the element of confusion remains with their use of horns being thrown in throughout, in no particular order but also in a very precise manner.
"Color" and "Contrast" again highlight the contradictions within the current administration, but on a darker note than the previous two songs. "Contrast" is especially dark at the beginning with short spurts of fast-paced drumming and wailing guitar. This also characterizes the feelings of much of the general public, with more people coming to the realization of what is actually occurring within politics.
Character Assassination concludes with "49 Shades of News", which is a definitive portrayal of Trump's attacks on the media and the after-effects those attacks have on the public's perception of it. Sounding like a military drum line for the first half of the song and ending with slow-paced horns and cymbals, "49 Shades of News" is a perfect metaphor for the present-day political cliffhanger.
Overall, this album is a proper allegory for the ripple effect this presidency has had on everyone its touched and how the controversial policies and behaviors of the current administration have affected the United States.
You can listen to Character Assassination by Urban Shaman Attack on YouTube or download it on Apple iTunes.
https://www.youtube.com/playlist?list=PLRqzufzENfPhP-8OHUwj3QEy4nB0HbC6x