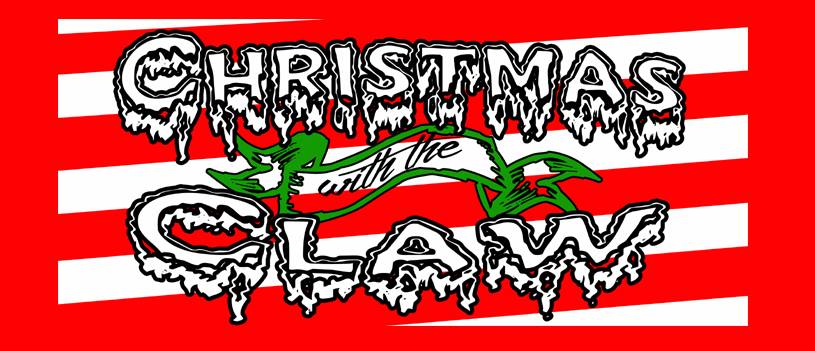 That's right, it's already time to get jolly and we've got plenty to celebrate.  The first show you need to mark on your advent calendar is the first Christmas with the Claw coming up Saturday, December 9th at The Abbey Bar at Appalachian Brewing Company, an awesome venue in Harrisburg, PA.  I talked to Dr. Slothclaw guitar and synth player Adam Golihew about this upcoming event.
Tell me a little bit about Dr. Slothclaw? How do you describe your music? how long have you been a band?
We've been describing ourselves as a "Freak Funk" band for quite a few years now. Our sound is very original and unlike anything else. It's like a large Stanky helping of Funk drenched in Blues and Psychedelic Rock, served up on a sweat drenched dance floor. We've been playing and writing together for 11 years and it shows in the fluid transitions and jams. After all this time, we can almost predict where one another are going in our musical conversation.
Is the the first Christmas with the Claw event? What inspired the idea?
We often do a holiday show in December, although this will be the first year for the official "Christmas with the Claw" show. We really just want to be able to give a little to our community and raise some funds for families in need around the holidays, so we figured why not do a toy drive/raffle at the show!
Even if we can only get a few toys and a little bit of money, that could make all the difference in the world for a family at Christmas time.
How did you link up with The Southern belles?
We first saw the Southern Belles a few years ago at a winter Jibberjazz Productions event. Instantly we were all blown away by their musicianship and original sound. We had the pleasure of sharing a few festival bills with them in 2017, which led to us bringing them to PA for the holiday show!
Have you played Abbey Bar before? What makes this venue special?
Although we live about 40 minutes south of Harrisburg, the lack of a local scene in our area forced us to make our home elsewhere. That's where the Abbey Bar comes in. Our first show there was 5 or 6 years ago opening for Particle on a weeknight, and we have been building ever since. The past 3 years, The Abbey Bar has been our home away from home, and usually the closest we play to our hometown of York. Everything about the place is top notch. Easily the best room/stage for live music in a 50 mile radius, the staff is INCREDIBLE and true music fans, the food and beer are delicious and Greenbelt Events (who book and promote the events) treat us like family. All in all it is our favorite venue and the only place we would consider having Christmas with the Claw!
What's your favorite Christmas carol?
It may not technically be a Christmas Carol, but I've always loved The Grinch song. The lyrics and vocals have always resonated with me; classic but sinister, amusing but well put together. Not to mention the Orchestral arrangement, which is just so fitting with vocals.
What are some other aspects of this event besides the music?
We'll have a toy drive and a raffle ($5 per ticket) going. Winners will receive merch Packages and other special treats. We're kind of a bunch of weirdo's so you can expect something odd and/or hilarious grouped in with the prizes. As our fans know, when your partying with Dr. Slothclaw ANYTHING can happen!
Door time: 8pm
Set time: Southern Belles- 9:15ish/ Dr. Slothclaw- 11ish
Buy tickets here!
Ticket price: $10 Advance/ $12 Door.
An unopened Toy (or $5) gets a raffle ticket. Merch Packages and special surprises for the raffle winners!