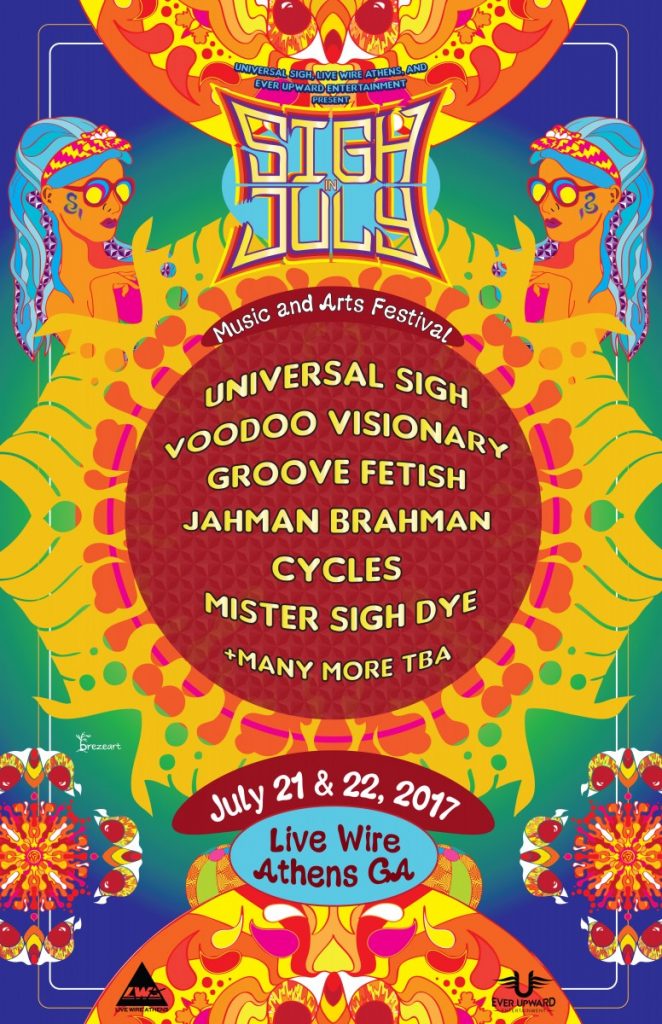 Universal Sigh, Ever Upward Entertainment, and Live Wire have announced the third annual Sigh In July Music & Arts Festival, an Atlanta Pre-party, and the first Phase lineup! Sigh In July will take place July 21-22 in Athens, GA and features a sundry of regional and national touring acts. Live Wire's indoor and outdoor stages will host Atlanta's Voodoo Visionary, Wilmington's Groove Fetish, Asheville's Jahman Brahman, Denver's Cycles, and more. The festival also boasts, a one-time performance of super-group Mister Sigh Dye: a collaboration between the 9-piece contemporary jazz-fusion band Mister Tie Dye and Universal Sigh. Creative workshops, live painting artists, community panels, and more at to be announced soon!
On June 16, Atlanta's Aisle 5 will host the official pre-party featuring Universal Sigh, Dr. Strangelove, and The Night Shift. Tickets are $8 in advance, $10 at the door. Early Bird tickets for the 2-day festival are only $10! Standard 2-day passes are $20 and single-day passes are $15. More information can be found on the Sigh In July Facebook page.
Below you can find footage from Universal Sigh's "Doubtful Sound" from their most recent show at the Georgia Theatre in Athens, GA!