Roanoke Go Outside Festival 2015 Review
by B. A. Jones
     Roanoke Go Outside Festival is the perfect opportunity for urban camping. Set in a park on the outskirts of downtown, this festival focuses on every aspect of camping, and a plethora of outdoor activities. The festival and camping are free and completely family friendly, right down to the family dog. Yes, it is a celebration of capitalism at it's best, to promote a healthy active lifestyle; and to build in our region's tourist based outdoor industry.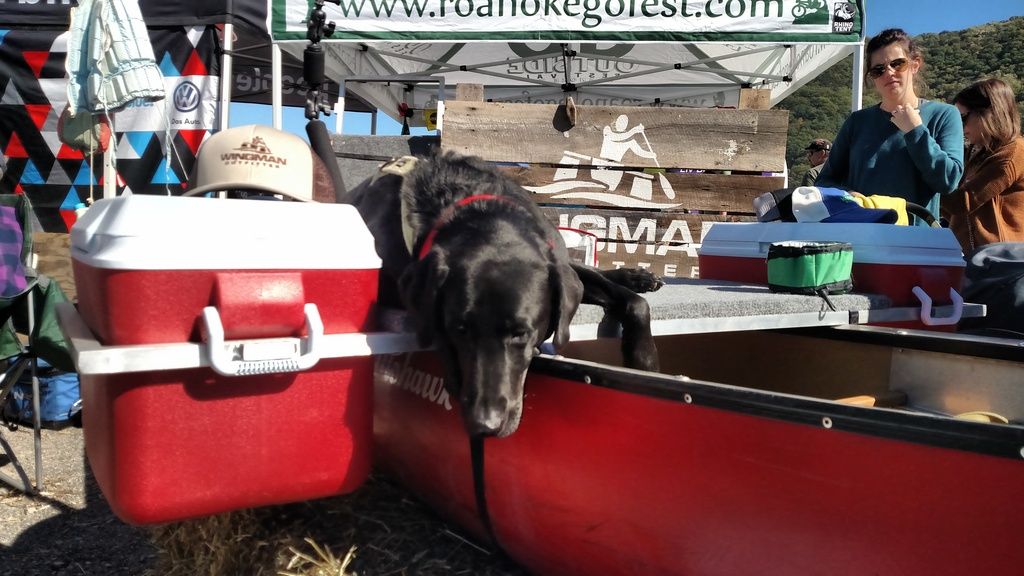 Go Outside Festival, sponsored by Anthem Blue Cross Blue Shield, is geared towards fun for adults, kids, and yes, even dogs. There were dog Frisbee  demonstrations, the Go Big dog agility course with demos, and my favorite, The Ultimate Air Dogs. Ultimate Air Dogs gives any dog a chance to learn to jump off a "dock" into a pool of water, and experienced air dogs the opportunity to entertain eager crowds and win prizes. We saw dogs in every shape and size, many wore their Halloween costumes to keep them warm. It was chilly, but thankfully there was no rain all weekend. There were stations of propane heaters everywhere, and I personally love the chilly weather.
The music is a happy side note to the family fun, and not the center of attention. Of course the music is what lures me in, and the last time I went was 2 years ago when The Hackensaw Boys headlined. I've got to say whoever books the music for this event has fantastic taste in music, and really know the local and national acts that are adored to bring in music lovers. Due to injuries I can not participate in any of the activities, but I had a great time just photographing the event. I drank shine to mask my pain but paid for it Saturday.
The two headliners are what brought me out, and Friday night The Primate Fiasco from Mass. headlined. I love The Primate Fiasco! The original fun sound of their funky brass/ rock makes you want to don a monkey costume and dance your tail off! Their jazz trained drummer Chris Trevethan is amazing, and keeps the up- beat sound alive. Dave Russo, their singer, plays the harmonica, and the banjo like lead guitar. His voice is rich, inviting, and even. Dave is charismatic and easy to like on and off stage. Not only is there no guitarist, there is no bass player either. Kevin LaRose instead of bass, kills it on the Sousaphone. To round off their indelibly unique sound, Drake Descant wailed the accordion all night. As a reveler next to me said, "He's like the Keith Richards of accordion"!
Their set was a blast, and festival goers who stayed back a good distance were soon enamored, and drew in close to dance and party. It was exciting, and many children came up close to see, and some danced while others watched in awe. They played many of my favorite Primate Fiasco songs like Demon, and after a little begging, Sidekick. The crowd screamed for "10 more songs" when they were done, and we got an encore. Their set definitely had me soaring, and was a wonderful way to kick off the weekend.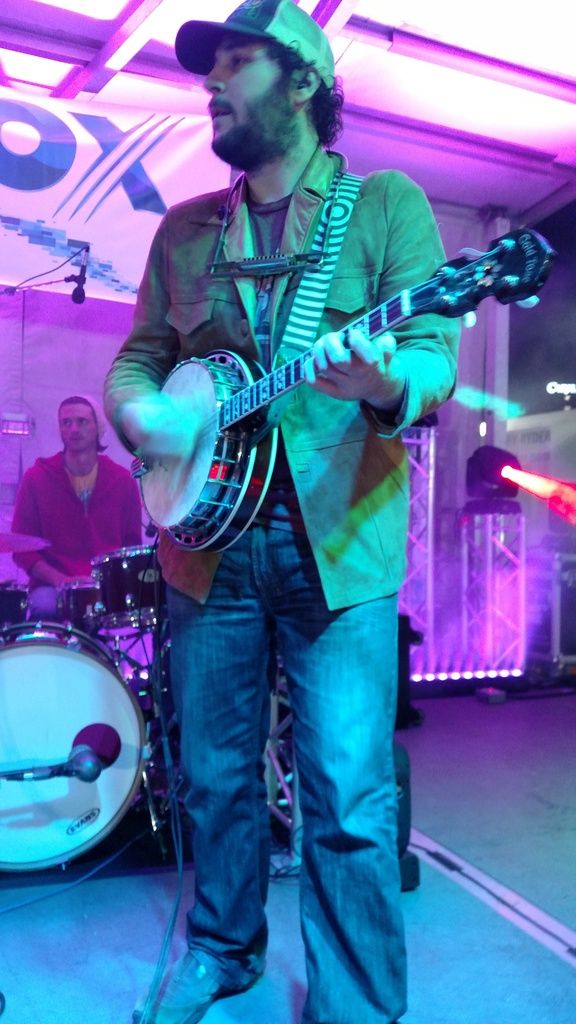 Saturday was sunny, and a brisk wind kept us bundled up to experience all the day had to offer. I photographed so many kids taking advantage of the free activities, it took an entire day for them to do it all. From Ultimate Air Dogs, the kids could ride BMX bikes on a pre fabricated course, as well as watch pro BMX demonstrations. There were Slack-lining demos, and classes to teach kids the art of balance. They could climb the rock walls, and there was even a shallow pool where kids could learn to paddle board. I was impressed by the kids standing up on the paddle boards- even two at a time. It looked relaxing and meditative. There were races, hiking, disc golfing, and a river clean up for all ages. You could even make your own wilderness survival kits. I watched anglers in a fly fishing contest hit targets, and a crowd friendly lumberjack contest. The day couldn't have been more amiable.
At 5 Big Hoax from MD. took the main stage. I had never heard of them, but two songs drew me in. Their genre is listed as Alternative Folk, their enticing melodies and definitive singer reeled me in like a brook trout.  I was feeling them more as Americana/ Soul, and their eccentricities were musically endearing to the ear. The sound of Stephen Filer bowing his electric Cello added to the mystique. He was a rare ingredient to be ingested slowly, like strawberry brandy, and just as delicious.
The drummer and bass player were tightly holding down the beat, with fluidity and funk as their foundation. Crisp and clear bass notes from David Lester confidently populated the air space, held in by the mountains behind. Superseded  only by Luke Alexander on acoustic electric guitar, and the most soulfully infectious voice I have ever heard. Luke's voice is strong, yet tender, and very passionate. It resonated of deep love, and stinging anguish.  their set was so soulful, it seemed to uplift the glorious mountains themselves. Big Hoax was a pleasant surprise and I can't wait to see them again. Hopefully at a festival next year.
The sun started to set and the crowd had grown tremendously. Everyone was bundled up in coats and hats eagerly awaiting Saturday night's music. Major & The Monbacks from Norfolk, VA. emerged. Nine band members including a horn section, drummer, and percussionist took the stage. They got the large audience dancing to late 50's early 60's flavored rock and roll. Billed as retro- rock they had an energizing and joyous sound; and played like a well oiled machine. They played a little over- about 8:11 pm and packed up.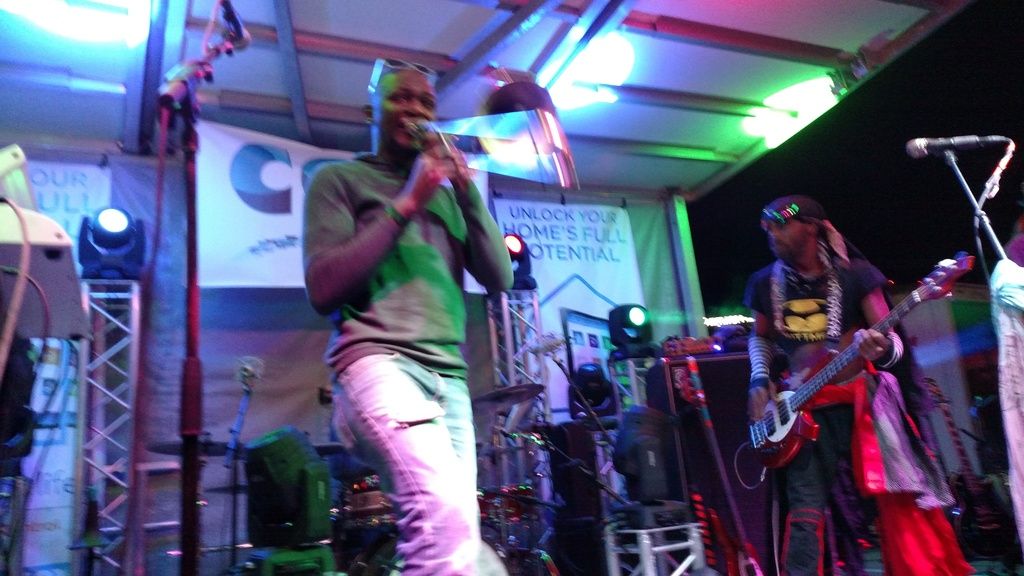 The event headliners Yo Mama's Big Fat Booty Band looked happy as they loaded the stage and began sound check. Hailing from Asheville, NC, Booty Band has been a festival staple for around 10 years, and this was my 5th Booty Band show this year. The personification of funk, they always do an awesome set and get people dancing.  The crowd packed tightly in as close as they could get to the stage. The show began, and the crowd went wild! Mama Funk on keys and vocals wooed the crowd with her sultry voice, and impressed with her electric keys.
Al Al Ingram on bass is always oozing personality and charisma, and his performance always gets the crowd pumped up. He took turns with Mama Funk singing, and Trombone player Derrick Johnson also got in on the singing. They were on fire, and John Paul Miller on guitar was phenomenal! His cool meter was at 100% as he wailed his guitar, wearing his sunglasses. The crowd was amazed at JP's speed and prowess! A few knew their songs, and sang along, as over 1,000 people boogied down to their funky sound.
Al Ingram who has a wireless bass guitar is known for getting down into a crowd, and bassing faces. Tonight, he took his mic and went into the fray- rapping a song- and the crowd was frenzied! Their entire set got the people progressively amped up, and kept us from feeling the cold. Their set was truly fun and funky, and by the time they finished, they had hundreds of new fans. I met some cool new people, and reveled with friends, as we celebrated our valley heritage.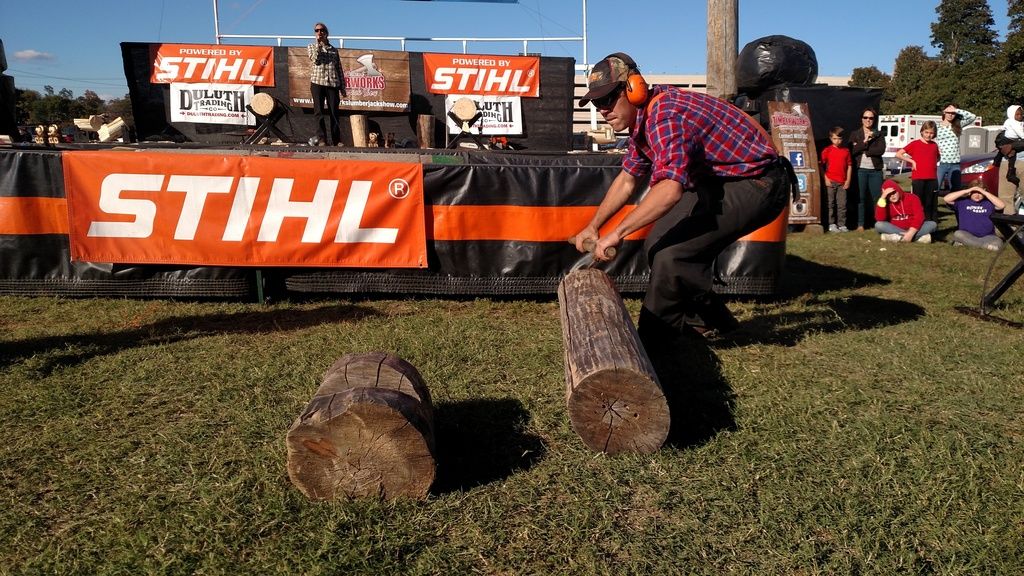 Go Outside Fest 2015 was a smashing success. There's always so much to do and see, it never gets old to enjoy the outdoors. The music as usual was overwhelmingly fantastic! From family camping, races, bikes, and hiking, to our shared love of dogs, we all love this free event. We come seeking fun and to enjoy our local breweries and restaurants, who participate as well. Parkway Brewery kept my thirst quenched with their delicious blonde beer all weekend, and even Martin's had their food truck out. Everything Roanoke is enjoyed, and mid October is a perfect time to have a festival here. The leaves are changing, and we here love the Autumn weather. It's always a magnificent time in the Star City.