Resonance Music and Arts Festival Review
"The Ohio Family Fest"
Sept 24-26, 2015, Thornville, OH
written by Elisha Gud
photos by Roger Gupta
As I packed up my car and headed to Resonance Music and Arts Festival, my mind raced with thoughts of what the weekend would have in store.  Only on its second year, Resonance made a huge move in venues from the small Frontier Ranch in Pataskala, Ohio to Legend Valley in Thornville, Ohio–both venues only about fifteen minutes away from each other.  Legend Valley is steeped in history and is well-known for hosting larger music festivals so I hoped the campgrounds wouldn't seem bare with Resonance moving in.  But that's just it, Resonance Music and Arts Festival had grown.  In just one year the music festival hosted by Essential Productions from Cincinnati, Ohio had grown to a capacity that filled the new site with more music, art, love and laughter then any of us could have imagined.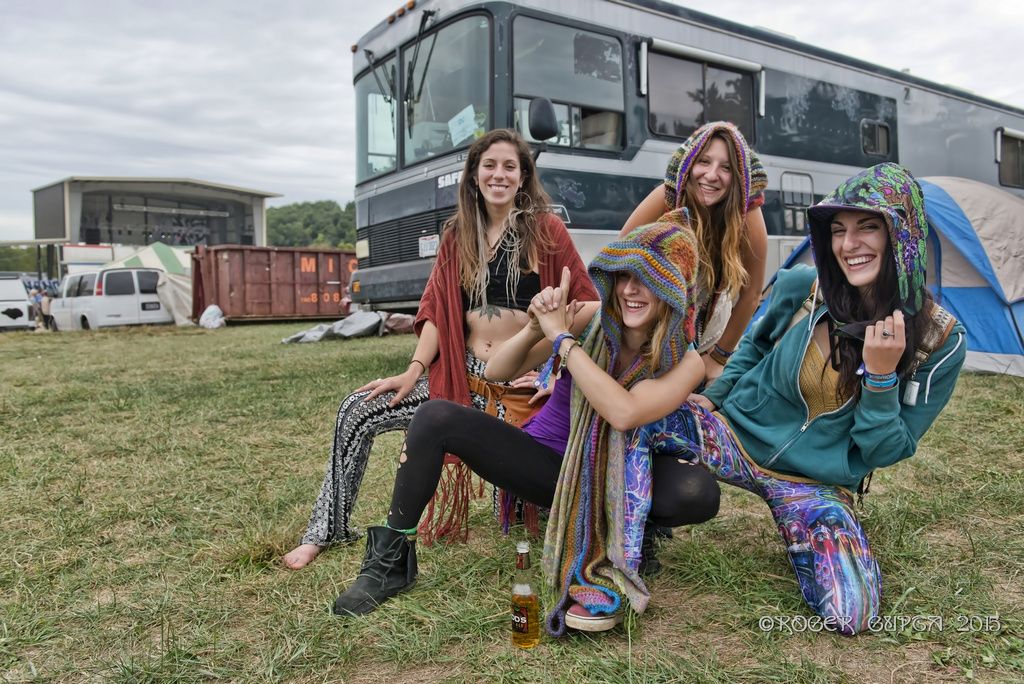 As I walked past the gates the security guards greeted me with high fives and kind words.  Meanwhile all of the festival attendees as far as I could see had the biggest smiles on their faces.  Everyone seemed like they were exactly where they needed to be.  The valley felt like home and I had no doubt in my mind that I was about to experience one of the best festival weekends of my summer.
I had gotten there just in time for the first set of three that Dopapod would play over the weekend.  Essential Productions created a lineup that included two nights of incredible performers TAUK, Papadosio, Rising Appalachia, Keller Williams and Perpetual Groove with their only festival appearance of 2015.  Also featured were more underground bands such as Benchwood Wyse, Sassafraz, Love Alive, and Nevele.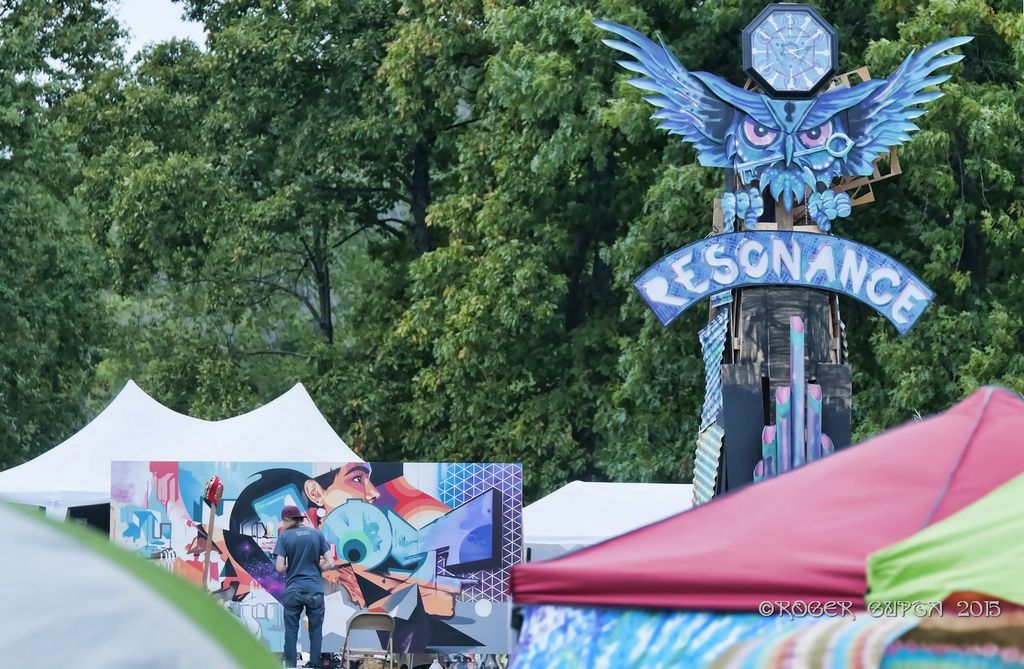 The music was prominent but what really captured my attention was the abundance of artistic beauty within the festival grounds. The Symbiosis Gallery was pulled together by artists from all over to create an environment in which people can feel free to express themselves and co-create together in a welcoming way.  The different types of art displayed within the walls drew you in with intricate work from many types of artists and with so many interactive games and an organ clock tower designed by Logan Walden;  Caena Joy, and the help of other artists, volunteers, and staff, the Symbiosis Gallery proceeded to blow me away.  Workshops included laughter yoga, soul sonics, tree shaking, yoga and meditation greatly contributed to the enjoyment throughout the weekend.
As the Moon arose over the side stage on the first night, Andy Frasco went on to create an energetically interactive atmosphere with super classy rock party jams and sophisticated mashups of 'This is How We Do it' as well as transforming 'Purple Rain' by Prince in to their very own remix.  Frasco engaged the crowd with jokes, while chugging beers on stage to show that it was time to party and get silly.  Delivering one of most unforgettable sets of the weekend he ended his set with an unbelievable cover of 'Killing in the Name of' by Rage Against the Machine.
It was incredible to go from such a high energy set to Nahko speaking words of triumph and comfort.  While Keller Williams played his first set, I took some time to head up to the tent stage to check things out.  A fun interactive art design by a group called Patchy Productions created a honey comb like projection screen, using a Guitar Hero guitar to change the different projections on the screen. Festival goers could take turns jamming out with the bands all while creating projections and interactive art for others to enjoy on the side.  It was easy to get trapped pretending you were a rock star jamming out with the performing bands creating your own magic.
When I woke up on the second day, I was in awe of the perfect Ohio weather that we had been blessed with.  The day started out with an incredible opening ceremony by workshop coordinator Caleb Dotson, and with help from Josh Morrow, and Patrick Welage we welcomed in the four directions, North, South, East, and West, which is a Native American tradition in which you are asking the spirits for guidance in creating a sacred space.  This quickly progressed to a day full of nonstop workshops, music, and fun.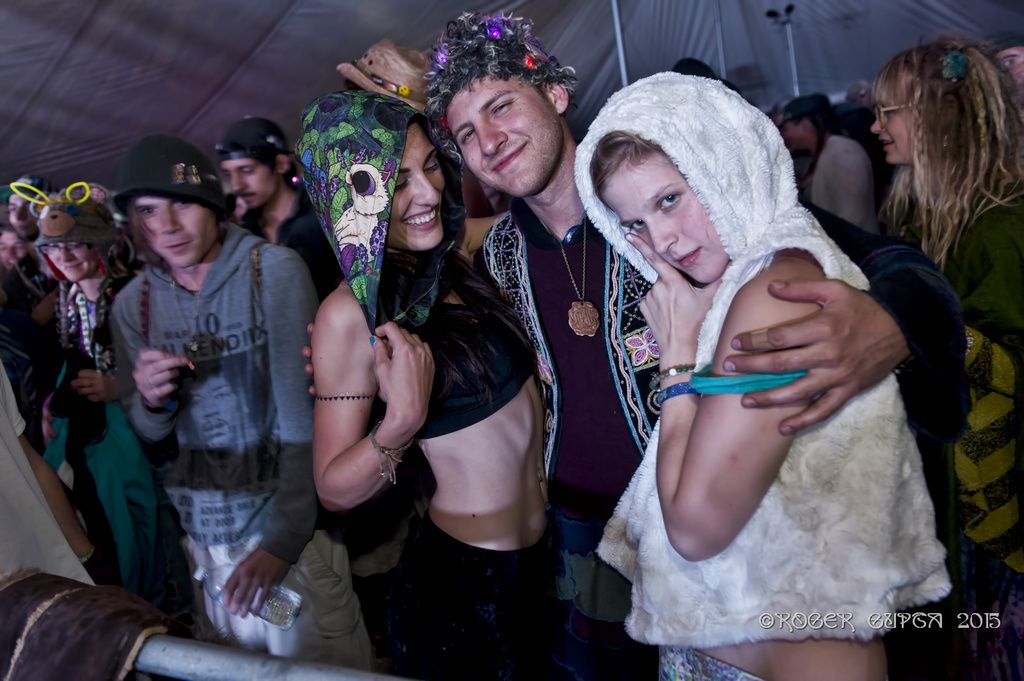 There is something to be said about a band that plays day time sets at every music festival you go to.  TAUK is known for playing some of the most incredible day time sets you can catch at a music festival.  As always I found myself drifting my way up to the front to join the crowd while the boys of TAUK brought one of the best performances of the weekend. While the day was packed full of excitement, music and workshops that would be difficult to miss, the most outstanding set of all would end up being an unscheduled super jam with Peridoni from Cincinnati, Ohio on the late night stage.  This set was to replace Ozric Tentacles, who showed up and left after deciding they were too big to play in the late-night tent.  Sit-ins would include Rob Chafin, and Dan Shaw from The Werks, Mike Healy (Papaosio), Aaron Hagele (tour manager from Dopapod), and Resonance artist at large Jake Goldberg.  The set was captivating as some of the most talented musicians I'd seen all weekend took the stage for one of the best improvised sets I'd ever experienced.  I had the chance to talk to Kaleb Perrin, bassist in Peridoni; he mentioned that "Peridoni has been growing with Essential Productions in kind of a team effort in that we've been growing and creating together so it feels as if all of our dreams were coming into a full circle."  Peridoni was now playing with artists they had grown up watching and being inspired by and finally had the chance to share the same stage.  It couldn't have felt more complete and perfect.   Rob Chafin from The Werks was more than excited to play with the band.  He mentioned that, "Peridoni is a great band that really embraces the art of improvisation and I'm really excited for them as they continue to grow." As I think we all are.
Saturday morning started just the way Friday night had ended, with an amazing opening set by Peridoni and a big Happy Birthday to Casey Schneider, one of the Resonance Event producers who has grown with Essential Productions.  The day consisted of an outstanding performance by the ladies of Rising Appalachia. Throughout the weekend they brought interactive crowd dance parties while making shout-outs to all of the soulful banjo players. Perpetual Groove had an exceptional set that set the tone for Dopapod and Papadosio to bring all that they had to the table.  When Papadosio came back on for their second night playing two sets, both of which were incredible, the band took it back to the past with songs like Magreenery, and even played a couple new songs to further excite the crowd.   During the final Papadosio set, the fire and dance performance crew which is made up of people from all over who were there to provide the audience with a collective visual experience–put on an unforgettable show that could be seen from all sides of the stage.  They demanded everyone's attention and collectively, with the sounds of Papadosio sent chills and awe through bodies and the audience's eyes.  On the late night stage, TAUK once again played an extraordinary set, with Eli Winderman from Papadosio and Max Newman from The Main Squeeze sitting-in.  That was all I needed to cap off my weekend,   incredible jams and unforgettable moments to reflect on.
I couldn't believe the weekend was over, and quite frankly it was hard for me to leave.  There's something about Resonance Music and Arts Festival that I feel other festivals are lacking.  The love and compassion that is put in from everyone in Essential Productions to create such a magical transformational weekend isn't something that you can find just anywhere.  Dave Kriner, who is part of the Resonance team, stated "We have an amazing team that works hard to create an environment where everyone feels comfortable and free to express themselves as they please; it's ultimately about the individuals who come to Resonance and bring their passion and love and truly nurture the energy around them."
Essential Productions is creating incredible events, moments, and memories that will last a lifetime.  Resonance Music and Arts Festival was a great way to bid farewell to the summer and welcome in fall.