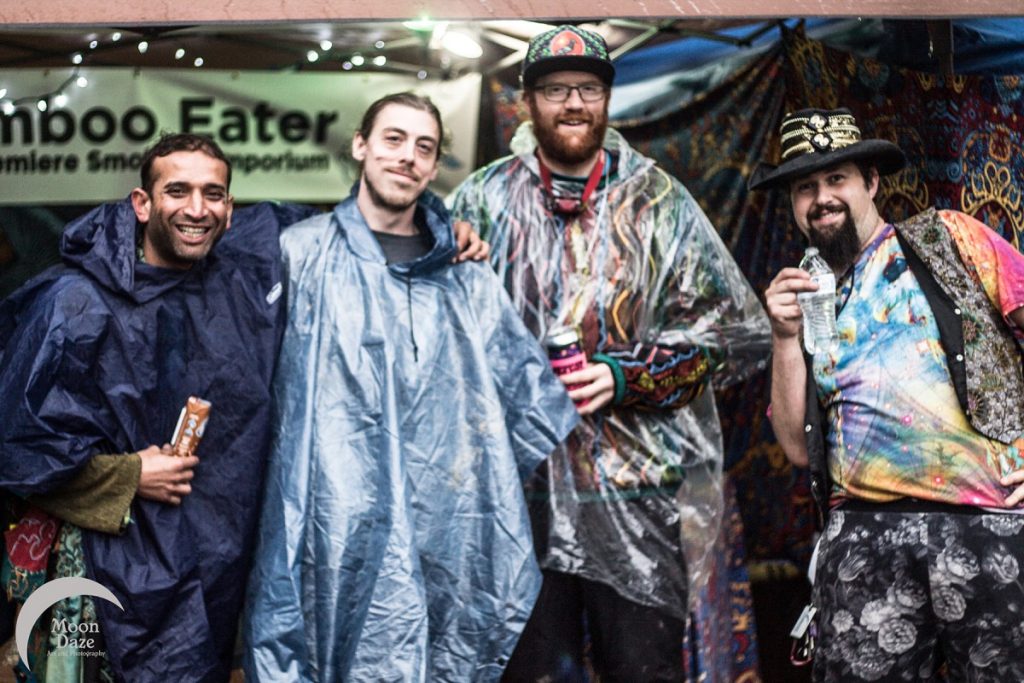 Words and Photos by Matt Way
Pigeons Playing Ping Pong's festival, Domefest 2018, was nothing short of amazing. In their 9th year, there was nothing but love in the air out on Fort Royale Farm in Bedford, PA, featuring three days of non-stop music on 2 all day stages and 1 late night stage. What I thought was the best part was the fact that there were no overlapping sets. All of the music and art and vibration through the crowd was honestly a dream come true–even with the rain that came in. Once the music started and the flock started grooving, good times were had by all, no matter the weather.
The first night kicked off at 5:15PM with the band Formula 5, the first of many sets leading later on into a really great Pigeons Playing Ping Pong set, which would be the first of five throughout the weekend. The PPPP set lead into The Mantras set at the "Bamboo Eater Stage" that kept all the good times going throughout the night and early morning. The Mantras, The Fritz, The Magic Beans, and Vibe & Direct all played really intense late night sets that captivated the crowd and kept them wanting more for the next day's fun filled activities.
"Tweener" sets were played on the One Drop Stage while bands transitioned on the main stage, by bands including Shwizz, looping master Mateo Monk, Schwa – the electronic duo project by Pigeons' bassist Ben Carrey, jam band on the rise from Colorado-Cycles, Deaf Scene, and a very special impromptu "silent set" from Pigeon's frontman Greg Ormont's Scrambled Greg.
Each Pigeons Playing Ping Pong set was carefully thought out, including older songs like "Where Are We Going" (last played in 2011) on "Throwback Thursday" night, a captivating 60 minute single-song ("Whirled") set on Friday night, and a spirited sing-a-long of their arguably most recognizable song "Julia" to finish out the set on Saturday.
Some fun activities in true silly Domefest fashion included theme nights like "Throwback Thursday," "Flower Power Friday," and "Super Shiny Saturday." Pirate games were played by the flock, and the festival even had hidden Easter egg ground scores for the attendees to find. The mud presented itself as a fun-filled activity in itself, prompting some attendees to embrace the puddles by making "mud angels" and sinking their barefoot toes into the muck.
Not only was there amazing music and fun activities at Domefest, but there was a lot of love in the air, too. Bree and George T. Michael got married in front of everyone early morning Saturday. This isn't the first time someone has gotten married at the festival – at last year's Domefest there was another wedding that was very beautiful between two members of the flock Kathy and Scott Hitchings. The feeling of love is truly in the air out there with the flock.
Along with all the love and epic festivities, there were many talented live artists and vendors. North Carolina artist Bryan Stacy was teamed up with the super talented Abbey Aura, Gavin "Gonzo" Gerundo, and Mike Hancock collaborating on an epic mural all weekend. The vendors were all amazing as well. Glass flow art, Kippy's Creations!, Stone Groove Goods, The Soulflow market and so many others stood out to me with the various pins, hoops, and awesome art. It was definitely one of my favorite events to attend in the last several years.
Domefest was full of more energy than ever before this year, with a sold out crowd and an awesome stacked lineup that featured artists such as: Mungion, Ernie Johnson From Detroit, Squaring the Circle, McLovins, and even Broccoli Samurai, and with Scott Raughton as MC for this fun filled weekend. Something special I really love about Domefest is the amount of heart, passion, and love the guys of Pigeons Playing Ping Pong put into it. There wasn't a moment when they weren't performing that they weren't mixed into the event staff and helping people. They really put themselves out there and show so much love towards their attendees and fans. It really shows their dedication and character. We can't wait to return for Domefest in 2019! Can you?