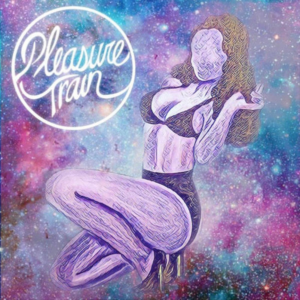 Just a few seconds into Pleasure Train's new album, you know something wonderful is going to happen. Their lead singer has a beautiful, soulful voice that is highlighted by the funky guitar, keys, and drums. Pleasure Train is a Washington, DC area band that has been around since 2014, with their new album Pleasure Train Vol. II showing off the growth of the band and their retro funk-disco rhythms. They describe their sound as a "fusion of styles rooted in groove, alternative, jam, jazz, pop, and house". I enjoy all aspects of this band, but their lead singer is what really captured my attention. Valerie Vega has a rich voice that is rare to find, full of raw emotion that grabs you and makes you feel like you're right in front of them listening.
The first song on this album is "Calabasas," a cool track with an up-beat yet at the same time laidback rhythm. The lyrics are simple and easy to listen to, and definitely easy to dance to (I tested it out myself). I love how the background guitar matches and meshes so well with the vocals, it shows off each member of the band and sets the mood for the rest of this album. The second track "Touch the Ground" starts out with an in-your-face fast beat followed quickly by the powerful lead vocals. This song instantly grabbed my attention and started groovin' just a few seconds in which I loved. You can hear Pleasure Train's pop and funk roots coming out in this song. "Make You Feel" is next up, switching the tone to a slower beat, with a prominent jazz style that makes you feel like you're in a 20's nightclub. The soft keys intro made the anticipation for the song heighten and add something to it. This was my personal favorite song on their album, I loved how the singer's passionate and deep voice mixed with the slow riffs on the guitar. Finishing up the album was "Filthy Ladder," an up-beat rhythm that was a perfect goodbye. The lyrics were beautiful and I found myself singing along quickly. The percussion and vocals were in perfect alignment throughout the song.
With its groovy disco pop sounds, Pleasure Train Vol. II was something fun to dance to. It's one slower song gave this album even more soul and depth but still was fun and colorful. I can't wait to hear more from Pleasure Train!