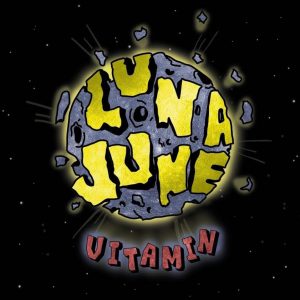 Written by Elise Olmstead
Baltimore band Luna June's Vitamin EP, is a short and sweet little album that can please music lovers of all tastes.  Without a true genre that you can put a finger on, Luna June combines sweet vocals, alt-rock lyrics, pop punk sensibilities, and even playful jams, to create a sound all their own. The album was recorded at Interstellar Productions & Studio in Red Lion, Pennsylvania, in the fall of 2016, and was released on January 8th of 2017.
The majority of the 4-track album is upbeat and vocally-driven. I feel that the first song "Surrender" is most indicative of their style, offering a Foo Fighters-esque alternative rock sound with even a little bit of growl.  The title track, "Vitamin," must be about Vitamin C, because it feels like a sunny day with sweet lyrics about love, singing  "I love her, yes I do, I need her, and I need her to need me, too."  I love that the band sounds like they are having fun on the track, not taking themselves too seriously.  "Change of the Season" takes a more serious tone, with an intro of atmospheric guitar picking that gives way to a crashing of cymbals and a happy little riff.  The song honestly takes me back to the sounds of the 3 Doors Down album of 2002, Away From the Sun.  The last song, "I Need You to Go," is slower and more introspective, closing the album with a grown up, yet relatable tone.
Vitamin EP is a feel good collection of songs that will satisfy listeners of all ages and types.  I like that a lot of it has the nostalgic feel of alternative rock and pop punk from the early 2000's, yet with a fresh new spin.  You can listen to the album now on their Soundcloud, and I suggest turning it on during your next drive down the road.