Written by Mekensy Keener / Photographs by Timelesstravelers
This year the start of fall was commemorated in the Oregon high desert by a brand new camping music festival, Cascade Equinox! Taking place at Deschutes County Fairgrounds in Redmond from September 22nd-24th, 2023, the lineup boasted artists across a variety of genres from jam, to EDM, to bluegrass. With a range of outdoor activities & art, there was truly something for everyone to enjoy. Despite being its inaugural year, the festival was expertly executed by established organizers of Gem & Jam and 4 Peaks Presents for an unforgettable weekend.
The festival kicked off officially on Friday, with headliners like Big Wild, Phantogram, and Emancipator, though early campers were welcomed Thursday for a pre-party. When we pulled into the campgrounds the staff was extremely friendly and helpful, as were our neighbors and just about everyone we met. The weather also welcomed us, with a perfectly mild sunny day and a gentle breeze blowing between the mountains surrounding the venue. Glimpses of their peaks could be seen on either side of our campsite, the ones to the South glimmering majestically with white snow caps. Heading into the festival grounds the natural beauty continued, with a meandering creek flowing right between the stages, even complete with picturesque sitting areas and swings to take in the views.

The first set on our radar was Honey Don't, a local duo who opened up the Harvest stage with a sweet blend of Americana and folk tunes from their recently released album, Threadbare. The Harvest stage was the second-largest outdoor stage, set against a pond ornamented with floating fairy lights. As with all the stages, it offered an intimate feel, allowing plenty of room to walk up towards the front of the crowd and still dance freely without bumping into your neighbor. Next up for us at the Harvest stage was The Main Squeeze, an emerging LA-based band full of soul. As the sun went down & the night got cold, they got the dance floor moving and warmed us up with their funky vibes. The lead vocalist especially had a crowd-engaging stage presence that no one could resist grooving along with.

That set rolled us into Blackstrap Bluegrass next door at the Axis stage. We felt as though we were right at home in Appalachia with all the banjo strumming and swing dancing, though this group is also local to Oregon. The inclusion of the electric stand-up bass offered an especially cool touch to their performance. Fruition closed out the Harvest stage, having attracted a large, lively crowd since we left. The Portland-based band was a lot of fun to watch and seemed to be having just as much fun on stage together. It was a treat listening to the 3 vocalists' beautiful live harmonizing. The crowd was kept thoroughly entertained at this set, taking us for a musical ride from the feel of a rock show, to a traditional string band and then back again.
The night wasn't complete without a Ferris wheel ride, and a sugary nightcap from Das Flüf, a gourmet cotton candy stand. The lineup of food vendors did not disappoint, gearing heavily towards local and sustainable dining. There was plenty of delicious plant-based cuisine, even including vegan sushi and dumplings! We also loved the Kraftbar, a charming little airstream trailer tucked within The Grove, serving seasonal libations.
We were grateful to sleep in a bit on Saturday, a cool fog from the nearby mountains providing the perfect overcast fall morning. Still there was little time to waste, with exciting workshops and activities offered all day, leading up to headliners like Dirtwire and Pretty Lights. Within the grounds were five total workshop areas, each complete with their own unique lineups: Healing Garden, Drumming Sounds, The Orbit and two of the music stages. The diverse offerings welcomed instructors of music, movement, meditation, and art of all kinds to share their passions. A highlight of the weekend was the Cacao & Partner Yoga at the Axis stage, which was just as filled as it had been last night for the bands- though this time covered in yoga mats. The welcoming instructors opened with a serving of ethically sourced cacao and a grounding meditation that melted away any lingering travel tension or fatigue. This was followed by some playful movement to encourage connection, eventually commencing in a big group circle with our hands joined for a communally supported Tree pose. As with the rest of the festival and workshops, the amount of intention and thought that went into making it special was clear in each step.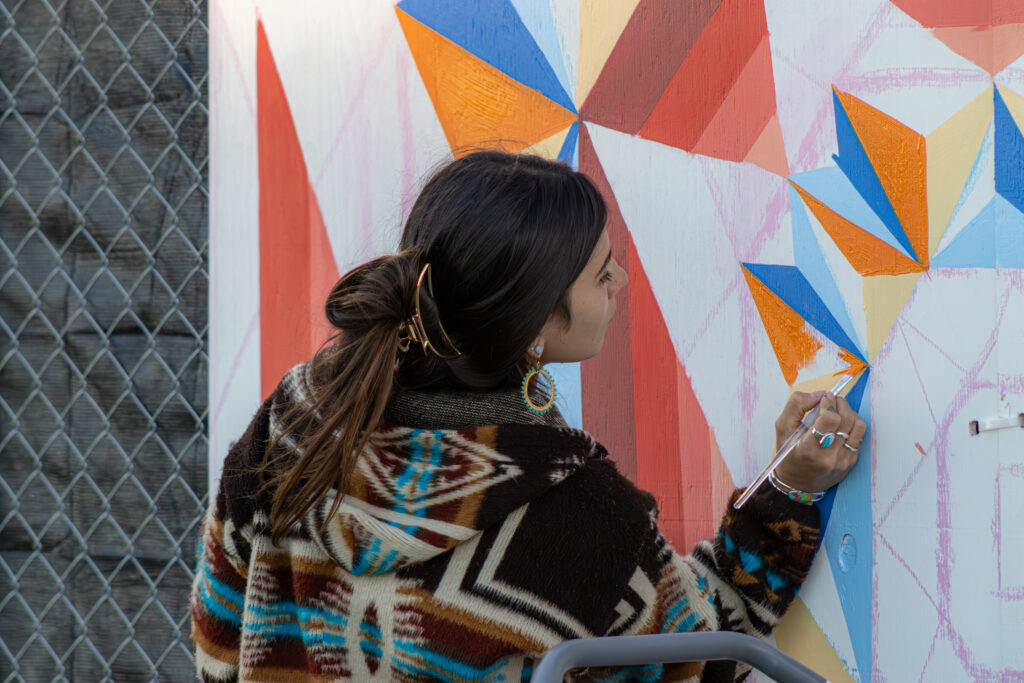 Drumming Sounds workshop area was another favorite, adorned with huge clusters of sacred herbs and flowers hanging from all corners, backing up to the picturesque little pond. The lineup here was stacked back to back with drum circles and educational talks centered on regional indigenous wisdom. The Orbit workshop area was offered by a nearby nature school, Wildheart, welcoming families with kid-friendly activities and childcare at no cost. Another hub for family fun was Tula Movement Arts, with an impressive display of aerial silks, hula hoops, slack lines and more flow props available for kids and adults to try. At almost all hours of the day couples and families could be spotted balancing in an acro-yoga pose!
Musical favorites of Saturday included Phyphr, who brought electro-soul vibes to the Tilt stage. The artists at Cascade Equinox have been hand-selected for certain unique characteristics, like expertise at blending genres, often pairing electronic music with live instruments. Phyphr certainly falls under this category, layering his electric guitar with funky beats. Adding to the excitement was a groovy duo with one of last night's headliners at this stage, Manic Focus.

Next up was Dirtwire, electrifying the Equinox stage with gripping vocals and of a unique assortment of uncommon instruments. I was captivated, from the indigenous performers to surprise guest Moontricks, who had just graced the stage in the previous set. The aerialists were also a highlight, flying high with the glowing half moon as their backdrop; it felt like perfect symbolism of the festival and celestial event we're gathered under to celebrate. We ended the night with Pretty Lights, who was making their debut festival appearance for the first time in 6 years!
Sunday morning brought with it a mist of rain that never quite dried out. Many people started leaving as the morning went on, typical for a rainy Sunday, though surprising given the crowd-favorite headliners to come like Trevor Hall and Goose. We spent the morning checking out the Nomadic Market, featuring its own huge lineup of local and traveling artisan vendors offering everything from hair braiding, to permanent jewelry, to one-of-a-kind vintage and thrifted goods. As a bonus, a lot of the vendors were willing to cut good deals due to the lack of sales tax in Oregon! The weather also gave us some time to peruse the art, which filled the Cosmic Drip pavilion and spilled out across the grounds in the form of huge murals, live painters, and interactive installations. A favorite was the N.E.S.T (New Earth Star Temple), a human-sized bird nest woven from seasonal blooms, berries, and foraged sticks covered in electric green moss. Inside was an intentional space filled with sacred altars and other pretty things commemorating lost loved ones and the change of the season.
The air was buzzing at the Equinox stage right before Trevor Hall & the Great Beyond, despite the rain still steadily trickling down. The set was a perfect blend of old and new, including plenty from Hall's very recently released premier record on self-owned label, Three Rivers. The setlist also included oldies (and personal all-time favorites) in order to serenade the rain- a much needed positive twist of perspective on the weather conditions. All members of The Great Beyond were fantastic but the violin player stood out especially, going so hard he broke several strings on his bow!
Goose was up next at Equinox with a significantly smaller (and wetter) crowd than the previous night's headliners, but the Connecticut-based band had no trouble working the remaining audience into a swoon. They brought a standout set of the weekend, consisting mostly of improvisational jam. From their abundance of flamingo totems, to the bird calls heard throughout the venue, the Goose crowd is a fun bunch and make it clear the band has a growing and loyal fan base everywhere they go.
Tara Brooks brought us inside to the Tilt stage, instantly energizing the night with relief from the rain and bumping house music. Flow artists and shuffle dancers were breaking out their weirdest (in the best way) moves and everyone was having a lot of fun. Production at Tilt was amazing, with top notch sound-system, lasers and immersive LED visuals. Female artists were highlighted here all weekend, including the Librarian, Maddy O'Neal, MZ Worthy, & LP Giobbi- who came up next. LP kept the energy going with her Grateful Dead house set, mixing the band's classic tunes with faster beats and her own live piano breakdowns. These one-of-a-kind sets have gained Giobbi a lot of recent traction as she toured with Dead & Company, providing after hours entertainment on their Final Tour of Summer 2023, and the pavilion was certainly packed to see her tonight.
There was much for Dead fans to revel in throughout the weekend, from the afternoon takeovers at the Axis stage, to the Talking Dead x Garcia Birthday Band set at the Gravity stage, each several hours long. I was super impressed with the caliber of late-night sets overall, going until nearly sunrise daily. This is an element I often find lacking from jam and/or family-friendly events, but the indoor pavilions and spacious venue offered options to keep everyone happy.
Reflecting back on the weekend, I'm filled with inspiration, connection, and gratitude to have been part of such a special event. I loved being immersed in the PNW bluegrass scene, and felt very connected to the local culture and art, despite being so far from home. I appreciated that Cascade Equinox was inclusive to music lovers across a range of genres and ages, welcoming family and ADA accommodations. The grounds were easily navigable, with the comforts of paved pathways and even some flushing toilets, while still retaining a feeling of being immersed in the outdoors and natural beauty of Oregon's mountains. What more could you ask for? It's truly hard to believe this was only the first Cascade Equinox, and it's definitely going to be a lineup to look out for next year!
Deschutes County Fairgrounds is the Pacific Northwest's premier event facility and venue. With sweeping panoramic views of snow capped mountain peaks, trees, and creek running through its 340 acre space, Cascade Equinox promises a vast, naturalistic music festival unlike any other.