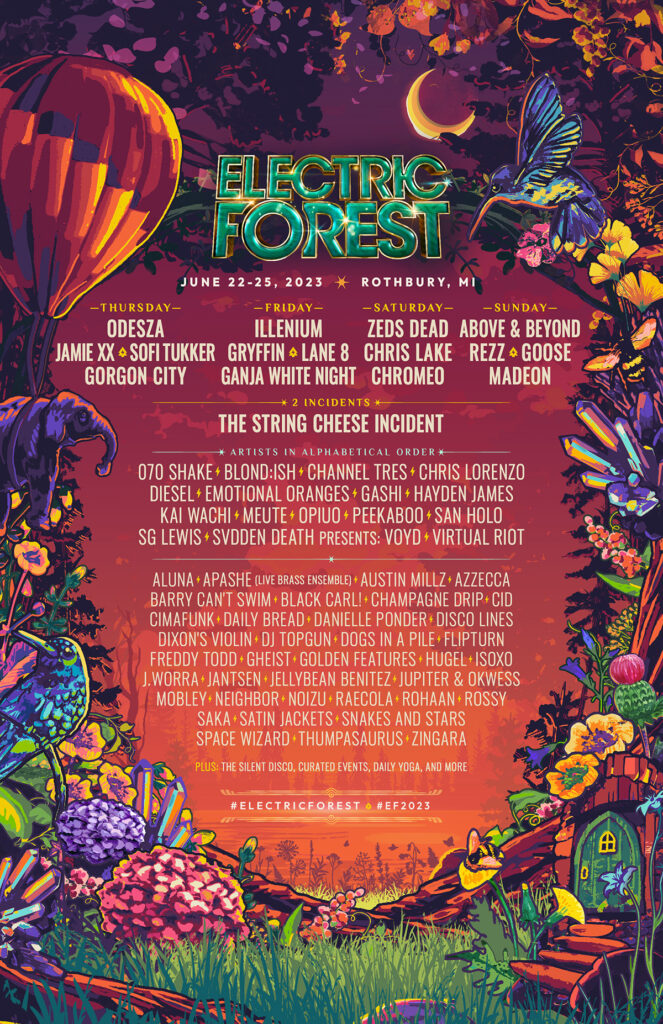 The Electric Forest lineup was announced for 2023. As usual, the lineup is focused heavily on various forms of EDM and dance music. That being said, there are a lot of great reasons to head to the Forest no matter your personal music tastes!
The String Cheese Incident will be performing two shows this year, which likely means their Thursday afternoon single set will be out. Goose will be other "big name" jam band on the lineup, and they've earned their spot at the top of the bill over the past couple of years. I'm looking forward to catching Chromeo, Odesza, and Zeds Dead. Dogs In A Pile is a band I've heard good things about and won't have any big conflicts. Thumpasaurus is an awesome fun funk band that should be perfect for the festival. And Dixon's Violin is always an amazing way to both open and close the Forest, and he'll likely be playing a dozen sets throughout the weekend.
The downside? Tickets sold out pretty much immediately. Electric Forest is one of those "if you know, you know" events, and enough people know that loyalty tickets make up for the vast majority of tickets sold. That being said, tickets are always floating around the secondary market. If you want to go (and, trust me, you want to go) I'd recommend looking for options over the next few months.
Either way The Jamwich is looking forward to another great year at Electric Forest, and we'll keep you up to date with all Forest news!