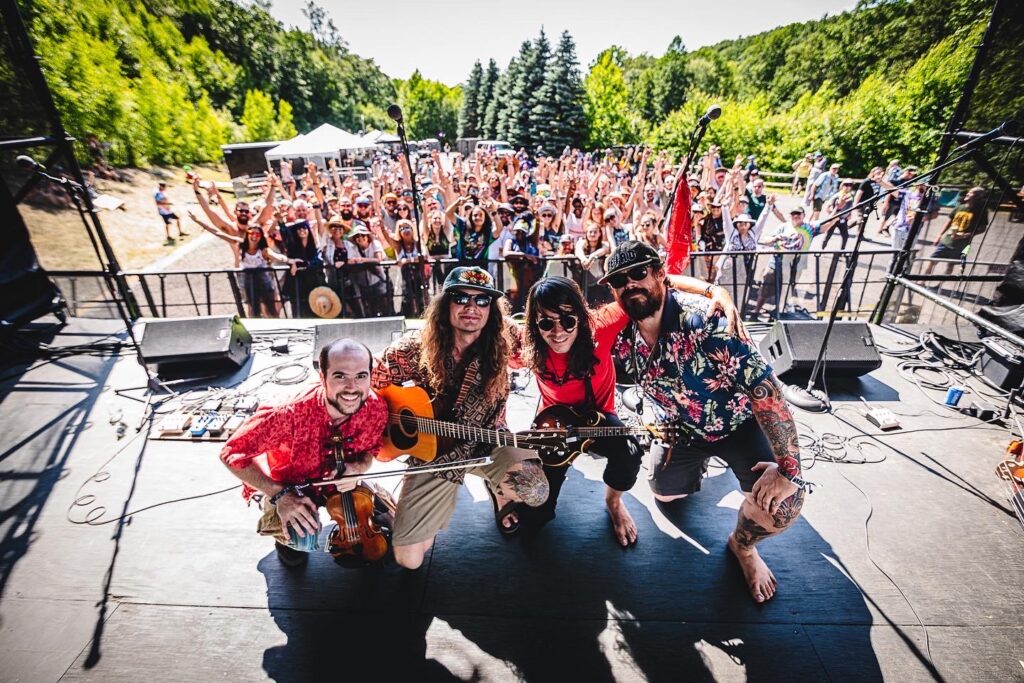 Me:
You all formed because of mutual connections in the Nashville scene. That's usually how the scene works down there. How have you (as a band) evolved in the past four years?
Sicard Hollow:
(Parrish/Bass)
Trying to get away from straight grass and developing our own voice, as a band that is unique for us. Developing our own path, that is definitely the biggest evolution we've been through.
Me:
You have some of those guys like New Grass Revival (Jerry Douglas/Sam Bush/Béla Fleck).
You have some of the "heavyhitters" in the bluegrass scene and want to have your own voice. It's so easy to emulate someone but the key is to really hone in on your visions.
Me:
What do you guys like to do on your off time?
Sicard Hollow:
(Matt/Fiddle)
I like to play video games! I also like to hang out with the band members as well as hit up some music festivals. I'm really into the electronic music scene. I also have a side project called Magec (which is psychedelic electronic violin music).
Me:
I feel like people should be playing Magic The Gathering while listening to Magec.
Sicard Hollow:
(Parrish/Bass)
I love that game!
Me:
Some of your songs really resonated with me like "There's only right here, right now, you got to open up your eyes." Who originally wrote those lyrics and what do they mean to you?
Sicard Hollow:
(Will/Mandolin)
That song is just about living in the moment. That's a phrase from the chorus. We're in a band and we have high aspirations, we all see the future and where we want this to go as a band. What really matters is what you're doing in the exact moment, whatever happens, happens. Live in the moment.
Me:
Where do you see yourselves in the next year with your musicianship? Whether it be individually or as a band.
Sicard Hollow:
(Alex/Guitar)
I feel like we all are pushing the envelope as a band. When we started the band, Matt, on fiddle, was the most technically proficient. The first step was to learn how to play our music together as a unit, then parallel our skills with whoever was at the top of the list. Now I feel like we've evolved so much, I don't see any of it slowing down. For progression, we want to do our own thing with it, write compositional pieces, rather than a (1,4,5 chord progression), and ripping solos over it. We play in unison with dynamics, motifs and ideas that shine through. As a unit, coming together, we're four years in, none of us played bluegrass four years ago. We just have to keep our heads in the right place. I have high hopes for what we can accomplish together.
Me:
How does nonverbal communication play a key in your onstage presence?
Sicard Hollow:
(Alex/Guitar)
We communicate on stage, but its mostly just paying attention to who is playing what. I look down the line to Parrish a good bit to make sure we are locked in, but nothing crazy. No crazy baseball hand signals or anything. Sometimes I just speak out loud to Matt or Will when a change is happening.
Me:
Do you have any shows that you guys are super stoked about coming up this year?
Sicard Hollow:
Oh yeah! We got CaveFest in October with Sam Bush Band, Yonder Mountain String Band, as well as The Kitchen Dwellers. It's straight jamgrass, bluegrass. It's hippies mixed with traditional heads. So I feel it will be a great melting pot for our type of crowd.
Me:
You mentioned that you didn't listen to bluegrass early on. What other genres did you listen to early on?
Sicard Hollow:
(Parrish/Bass):
Prolific music, trying to attain and understand. Straight punk music. Throw it to the wall and hope it sticks. Any genre. Just a few examples are:
Primus
Rush
Punk
Metal
Hip-Hop
Return To Forever
Béla Fleck & The Flecktones.
Me:
In the past few years it's been a tough time for the music industry. How have you guys evolved as a human and as a musician?
Sicard Hollow:
(Parrish/Bass):
You learn to listen more, especially as a musician, as a group. At first, you think about playing your best solo and being your best person at that moment. The best way for everyone is to listen to each other, serve each other. When it's someone's time to shine, support them, when it's your time to shine, they'll support you. Learning that point, becoming unselfish but knowing your worth as a musician. It's boosting, as well as settling your ego, in a group at the same time.
(Matt/Fiddle):
I definitely see myself growing with the band. Like, Parrish said, working together and listening to each other. As well as sharing each other's music, having that inspiration and going to see music together, helped us get out of the funk of the hardships of the past two years. Just to be around this great group of guys and have them behind you is amazing.
(Alex/Guitar):
The beginning of the pandemic I wasn't the guitar player I am now. We put our energy into our craft. I was playing guitar for a solid ten hours a day (until my fingers would bleed). Putting my energy into something healthy was the key to my (and our success during the time). I got into long distance running. I couldn't run a half mile in the beginning of the pandemic. I ran my first marathon in November or 2021. That mentality, dedication and passion, kept me kinda sane. I leveled myself up as a person during that time. I felt I really untilized my time effeciently. I believe that every member of Sicard Hollow became a better human (as well as) musician in the time that we had.
(Will/Mandolin):
The thing about 2020 is all of our friends play music, too, in Nashville. You could see how it was affecting the music scene around us. We were lucky enough to get offers for private gigs during the past two years. The momentum we had from 2020 going into 2021 (we got signed to any agency). These past four years have been great and helped us all.

Sicard Hollow:
www.sicardhollow.com