Opera House LIVE
Monthly Press Release for February 2016
131 W. German Street
Shepherdstown, WV 25443
MARDI GRAS MASQUERADE BALL WITH THE WOODSHEDDERS & 
Saturday, February 6 . Doors 8pm . Show 9pm . Tickets $10 . Buy Tickets Now
Dress up in your best beads, masks & Mardi Gras attire and join us for our Mardi Gras Masquerade Party with The Woodshedders & Hard Swimmin' Fish!  Prizes will be awarded!
"The Woodshedders catchy, original dance sound keeps crowds on their feet and yelling for more. Be sure to catch these yardbirds at a festival, concert, or party near you!" – NYC Roots
The Woodshedders bring the influence of vintage American music forward in its songwriting. The band is known for fun, danceable shows that swerve between different genres to create exciting original sounds. The lineup includes Dwayne Brooke on guitar & vocals, Ryan Mayo on upright bass, Jared Pool on guitar and mandolin, Jesse Shultzaberger on drums & Dave Van Deventer on fiddle. The band has played Bristol Rhythm & Roots Festival, Mountain Stage New Song Fest, PBS Song of the Mountains, WAMU's Capital Americana & are the host band of Virginia's
Watermelon Park Fest.
Hard Swimmin' Fish, "twisted vintage roots", will open the show. They are a blues quartet that has been making music together for over fifteen years. The band plays a range of styles covering the country blues of Mississippi & The Piedmont, the urban blues of Chicago, and funk infused varieties with roots in New Orleans' second line. This versatility allows Hard Swimmin' Fish to offer performances atany venue.
Watch & listen to The Woodshedders: https://www.youtube.com/watch?v=lSNrjJj12EQ
Watch & listen to Hard Swimming Fish: https://www.youtube.com/watch?time_continue=48&v=Fc0HZd1EVqk
6TH ANNUAL SUPER BOWL SUNDAY & POTLUCK PARTY
Sunday, February 7 . Doors 6pm . Game 6:30pm . Entrance is FREE
Drink, eat and cheer on Super Bowl 2016 with the community! Watch Super Bowl 50 on the big screen. Grab a cold beer, take part in & enjoy our potluck fun. Come out and celebrate with us!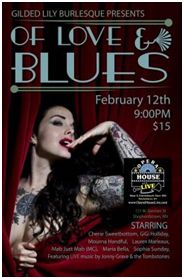 GILDED LILY BURLESQUE PRESENTS: OF LOVE & BLUES
Friday, February 12 . Doors 8pm . Show 9pm . Tickets $15 . Buy Tickets Now
Immerse yourself in acts of classic tease! Enjoy dance and variety to live blues music! Witness glamour and decadence as it was intended! Gilded Lily Burlesque presents: Of Love & Blues a night of LIVE blues music, variety and classic tease, premiering at OPERA HOUSE LIVE, February 12, 2016.
As Valentine's Day approaches, Gilded Lily Burlesqueand special guests celebrate the day of desire by transporting the audience on a red hot blues journey for their Valentine's Day celebration. Blues rockers Jonny Grave & the Tombstones will be on hand, providing the musical accompaniment & howling the blues to the acts.
Gilded Lily Burlesqueand special guestsinclude: Cherie Sweetbottom (DC), GiGi Holliday (DC), Lauren Marleaux (Baltimore),Mab Just Mab (DC), Maria Bella (Baltimore),Mourna Handful (DC) and Sophia Sunday (Baltimore)
Of Love & Blues is the latest creation of Gilded Lily Burlesque, voted "Baltimore's Best Burlesque" by the Baltimore City Paper & Charm City's premiere burlesque troupe. Maria Bella founder of Baltimore's hometown heroines, "Gilded Lily" is a rising star in the neo-burlesque movement, with triumphant performances throughout North America. She was a featured artist in the 2012 New York  & 2012, 2013 Toronto Burlesque Festivals & the 2014 London Burlesque Festival.
Jonny Grave is a guitarist, songwriter, singer, bandleader, teacher, musical historian, journalist, photographer, and Bluesman from Washington DC. Growing up in a very musical family, Grave was introduced to the sounds of American traditional folk music early on. At age fifteen he found himself learning slide guitar techniques from old Blues records & by seventeen he was performing them live. The Tombstones, is a band that understands the blues. But this ain't your granddaddy's twelve-bar blues. Their brand is a brutal smack-down of riff-rockin', paint-peelin', gut-hollerin' blues. The kind of blues you heard from Howlin' Wolf. The kind of blues you hear on the Fat Possum label. The kind of blues you'd hear out on the field. And with the Tombstones – Jeff Stapleton (guitar), The Rev. Aaron Pierce (bass), Terry Boes (harmonica), and Nathan Oliver (drums) – it's the kind of blues that makes you want to dance & dance hard. For more on Jonny Grave go to:http://www.jonnygrave.com/
Watch & listen to Maria Bella: https://www.youtube.com/watch?v=9YExBzXZcF8
Watch & listen to Jonny Grave & the Tombstones: https://www.youtube.com/watch?v=Fm6WG1Q0m1s
GOODWOLF WITH THE 29ERS & JOHN R. MILLER
Saturday, February 13 . Doors 8pm . Show 9pm . Tickets $5 . Buy Tickets Now
Morgantown, WV's Goodwolf is a powerhouse garage rock band devised and fronted by West Virginia native Tyler Grady. Rounded out by a rotating cast of friends, the road-tested and unapologetically melodic band brings a loud-but-inviting live show with stark dynamics and themes that can at once force the listener to feel the sense of adult disillusionment, yet a sort of spiteful pride at not quite throwing in the towel on the idealism of youth. With an expansive knowledge (and unabashed love) of the underdogs of independent rock and roll, as well as the distinct knack for a well-placed hook, Grady will make you listen to what he has to say and by the end of it you might have to believe him.
With one foot firmly planted in the country-tinged rock of the 1970's, and the other foot wandering between alternative, power-pop and folk, The 29ers make a refreshing new kind of music that still feels familiar. Matt Metz and Matt Kline, who share lead singing and songwriting duties, have played in multiple bands and genres together for over 10 years. Their harmonizing vocals and guitars are complemented by Chris Chilcoat on drums, Martin Metz on bass, and Eric Watland on keyboards. Metz and Kline made up half of the folk string band The Fox Hunt, which spent 8 years touring around much of the United States, as well as parts of Ireland, Scotland, and Japan. Prior to that, they played with Chilcoat in the instrumental post-punk/metal band The Red Oranges, who had garnered a reputation for complex song structures and frenetic live shows.Pulling inspiration from the past and stepping confidently into the future, The 29ers are bringing their brand of rock and roll to stages in their home state of West Virginia and beyond.
John R. Miller's friends and musical contemporaries could tell you all about it and more. Like, for instance, his knack for twining, in ways not at all overused, internal places, like the lonely American heart, with exterior places, such as highways and parking lots, or bars at closing time (where his songs so often take place). Or, say, about his ability to draw straight from the American folk canon and forge original analogies and melodies from therein – his songs are ever the opposite of tired. J.R. Miller's work is distinctly American, sure, and it could sit comfortably with all those other works you might think of. His influences are not covert, and when you notice those influences what you'll hear is mindful admiration, never leaning lazy.
Watch & listen to Goodwolf: http://goodwolf.bandcamp.com
Watch & listen to The 29ers: https://www.youtube.com/watch?feature=player_embedded&v=mQaSaqQwWYs
Watch & listen to John R. Miller: http://johnrmiller.bandcamp.com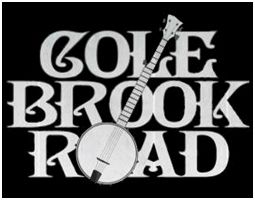 COLEBROOK ROAD  with THE GYPSY RAMBLERS
Saturday, February 20 . Doors 8pm . Show 9pm . Tickets $10 . Buy Tickets Now
Drive through Pennsylvania's countryside and you're bound to end up crossing one of the many avenues named Colebrook Road.  They're all over the state, in many different counties.  The band derives their name from this commonly driven thoroughfare, and has been using it since their inception in 2009.  A unique sound is achieved by combining musicians of varied backgrounds with college degrees ranging from music to medicine to biology, to sound engineering.
Based out of Harrisburg Pennsylvania but performing all over the MidAtlantic region, Colebrook Road is an original band.  Almost ninety percent of what they perform is from original compositions within the band.  They are a group of dynamic performers who bring excitement, introspection and enjoyment to each performance. The unique sound of the band comes from years studying music theory and bluegrass music in particular, while putting a modern spin on that old sound through original songwriting, highly creative and detailed song arrangement, and polished three and four part vocal harmony.
The band was named winners of the 2015 Podunk Bluegrass Festival in Connecticut, the 2014 Watermelon Park Fest band contest in Virginia, and the 2011 Pickin' In The Panhandle band contest in West Virginia.   With an ever-increasing touring schedule that covers a wide geographic range, the music of Colebrook Road brings energy to any stage and every audience.
The Gypsy Ramblers will open for Colebrook Road. They are a five-piece acoustic band who play a blend of gypsy, jazz, 'dawg', and blues music. Their repertoire is a mix of instrumental and vocal songs, more than half of which is original material written by the band.
The band features Matt Robinson on mandolin, Jeff Kauffman on guitar, Bill Unger on bass, Butch Sanders on percussion, and Lavinia Reid on violin. Influences include David Grisman, Joe Craven, Django Reinhardt, Stephane Grappelli, Irvin Berlin, Louis Armstrong and BB King, to name a few, and the sound is reminiscent of these artists.
The group is comfortable playing any venue and the music is well-suited for any audience. Whether you want to sit back and listen or get up and dance, the Gypsy Ramblers are sure to satisfy!
Watch & listen to Colebrook Road: https://www.youtube.com/watch?v=VU8B7KjYacQ
Watch & listen to The Gypsy Ramblers: https://www.youtube.com/watch?v=_G1pCyFZ86Y
THE LARRY KEEL EXPERIENCE CD RELEASE PARTY
Friday, February 26 . Doors 8pm . Show 9pm . Tickets $20 . Buy Tickets Now
"Larry Keel is a triple threat… songwriter, guitar player, entertainer. He can do it all,"… "I think what makes Larry so powerful is that he has lived his songs, he's not sitting in a room trying to write the hit of the week, he's writing what's in his heart and on his mind." Del McCoury
"I love me some Keels. There is a certain genuine authenticity that Larry and Jenny possess," …"When we get together, our wonder-powers unite to form a giant, impenetrable sphere of open-minded, Appalachian psychedelic goodness." Keller Williams.
Larry Keel is described by some reviewers as the most powerful, innovative and all-out exhilarating acoustic flatpicking guitarist performing today. He has absorbed the best lessons from his Bluegrass family upbringing, both sides deeply steeped in the rich mountain music culture and heritage of Southwest Virginia. From there, he has always integrated that solid musical grounding and natural-born talent with his own incomparable approach to flatpicking the guitar and composing original music.
Larry Keel has dazzled music-lovers once more with his 15th self-released album Experienced, due out February 26, 2016. The album is an entirely original work of The Larry Keel Experience that showcases both Larry's and bandmate Will Lee's exceptional songwriting, singing and jaw-dropping instrumental performances, accompanied by Keel's equally talented wife Jenny Keel on upright bass and harmony vocals. It was recorded at Wally Cleaver Studio in Fredericksburg, VA with engineer (and guest drummer) Jeff Covert and mastered by the award-winning industry great Bill Wolf (Willie Nelson, Tony Rice, Doc Watson) in Arlington, VA.
Throughout his prolific career, Keel has released 15 albums, including Experienced, and is featured on 10 others. Along with those that guest on the new album, Keel has performed with a multitude of top acoustic and electric musicians alive, and some now gone, including Vassar Clements, John Hartford, Tony Rice, Bill Monroe, Bob Weir, Jorma Kaukonen, Little Feat, Trombone Shorty, Railroad Earth, Leftover Salmon and many many others. Larry has written songs being performed by the likes of Del McCoury Band, Infamous Stringdusters and Yonder Mountain String Band and has a tune on Del McCoury's GRAMMY-winning album The Company We Keep [2005] entitled 'The Mountain Song.'
For Keel the musical mission is always clear: to let technical skill, honest emotion and fearlessness connect the playing and singing to audiences, to entertain and to thoroughly enjoy the experience of creating and sharing in music.
Watch & listen: https://www.youtube.com/watch?v=8r3M2Aj_FMo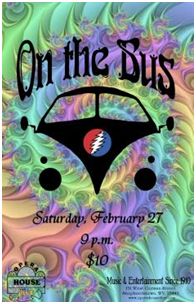 Saturday, February 27 . Doors 8pm . Show 9pm . Tickets $10 . Buy Tickets Now
On The Bus is the premier Grateful Dead tribute band in the Washington, D.C area, known for its faithful recreation of the music, vibe and experience of a Grateful Dead show. On The Bus is not just a tribute to the Dead, but a tribute to the musical environment that spawned a multi-generational genre that artfully blends the essential elements of rock, blues, jazz, funk, country, bluegrass, and soul.
The group was formed in early 2002 and performed in the area as a three-piece band for the first 4 years. The late Vince Welnick of the Grateful Dead commented on the trio saying "They're something you gotta see!" As the band's mission grew to embrace the idea of being as "Dead-like" as possible, the band expanded to the current 5 members. On The Bus plays clubs, parties and regional festivals, and has shared the stage with Jefferson Starship, Vince Welnick, John Kadlecik, Cornmeal, Ekoostic Hookah, and many other regional and national acts. The band is a proud member of the Rex Foundation Travelling Caravan, the Grateful Dead's charity founded by Jerry Garcia. On the Bus plays an annual social on Capitol Hill for Senator Patrick Leahy from Vermont, and has made many local weddings and private parties Grateful events to remember. Come join the party!
Watch and listen:  https://www.youtube.com/watch?v=fJt1SmaQtXo
About Opera House LIVE  at The Shepherdstown Opera House an intimate venue in downtown Shepherdstown, WV. Home of the Smithsonian Channel's, Rocking the Opera House: Dr. John. Great live music, shows, wonderful film festivals and unique rental spaces make the 105 year old Opera House a venue for everyone www.operahouselive.com