Denver jamtronica band, Schema Things, has taken the opportunity to dive into creating a full length album while live music is on an unprecedented pause. The last time I spoke with the band they were set to record an EP and since then they have made waves on virtual concert endeavors, refining old tunes and writing new music for their growing audience. With a full tour booked right before COVID-19 changed their plans, ST figured it was the best time to focus on their sound in the studio. They are super excited to share this project with the public soon. See what these YeeHaw boys are bringing to the scene and stay tuned for new music.
How has your music progressed since we last talked?
Since the last time we talked, our sound has definitely developed. We've added a few more vocal-heavy songs and fleshed out that part of our sound a little more. We're definitely still rooted in electronic dance party jams, but it's also getting a little more accessible to the masses.
What made you change from an EP to an album?
We basically just had free time on our hands. The last time we talked, we had a spring tour booked starting at the Bluebird in Denver and ending in Boston with some Midwest and New England dates sprinkled in. Needless to say, that didn't happen. On March 13th, a moratorium cancelled all events in Denver with more than 50 people two hours before our soundcheck at the Bluebird. So long story short, we had a bunch of time on our hands and we figured the album would be a good way to use it.
How many songs are on the band's first full length album?
It's nine songs so far. We've talked about adding a few more, but we keep coming back to nine. It'll probably run between 45 minutes to an hour.
How has being in the studio felt?
We've been recording at Camera Jams with our super homie Logan Firth. We've played a bunch on Camera Jams before, so at this point it kind of feels like home. Logan's dogs know us and they get excited when we show up. It's got a great vibe, which makes it easy to work on music there.
Are you working with any new folks or have you had past projects with the people helping on the album?
When we need to get into the studio for any reason, Logan is always the first person we call. He is a total pro. He's recorded us on Camera Jams before, and he's also also run live sound at some of our shows. Realistically, this project would be impossible without him.
We've also had a few other friends influence the album, for example, "Canary Trap" came from a jam session with our friend Max Platt and Doran Joseph wrote the lyrics on "Nice Place."
Is there new content on the Album or songs you've jammed live?
It's a little bit of both. There are a few songs that are re-worked versions of tunes that Danny and George wrote in their last band Wabakinoset, like "Nice Place" and "Lyrium Dust."
We also have a new tune called Sharcano that we're releasing as a single in early November. We've played it once before in a virtual set that we posted on our social media outlets, but the studio version has a lot more attention to detail. We also have a few songs that are totally new. Matt has been churning out a bunch of solid tunes, some of which we've never played live before. George also wrote a new one for the album, it's a heroic lullaby for his dog, Elsa. Other than that, we have a couple classics that we've played live a bunch of times. But I'd say the majority of it is fairly new content.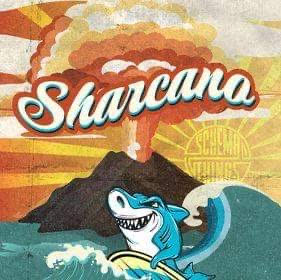 When is the album out?
We've almost got the recording wrapped up, and after that there will definitely be some post-production work. Right now, we're shooting to release the album sometime in Q1 of 2021.
Any other news you would like to share?
We recently started releasing prerecorded videos of sets in our "March to the Screen" series. They're sort of like virtual concerts. So far we've finished two of them, and we're planning on recording a few more to release once or twice a month. It's not the same as a live show, but it helps create a similar vibe for the band. We jam and do improv, which is something we haven't done much on the album. Nik Francis and Dustin Dow (Lucid TV) helped us pull off the Yeehaw Untz and Club Set video sessions. We're grateful for all of these people and resources! We wish everybody well and can't wait to safely see you in person again!

Thank you Schema Things for bringing in some new jams and virtual experiences. Stay tuned for, Sharcano, dropping in early November. There is more to come in the "March to the Screen Series", check out social ST's media for fresh content. There are two new full sets on Facebook, the "Club Set" and the "Yeehaw Untz Set" check them out!