Written by Kristan Whitlow Hughes
Throughout the whirlwind storm of covid-19 in the United States, the media industry as a whole took a hard hit as festivals, concerts, and any public gatherings have been put on hold for the foreseeable future. Whether you're a performing artist, a vendor, an event bartender, or even just a fan in the scene, the sense of loss has been heavy at times; luckily, there are some rainbows starting to appear.

Supporting some of our fan favorites such as Goose, Twiddle, Pigeons Playing Ping Pong, and many others, 11E1ven Group exceeded expectations when their virtual festival, Live from Out There, brought in more than $150k in the first two weeks. We've seen performers on social media doing live streams while taking personal song requests, offering virtual instrumental lessons (who wouldn't want to jam with Jesse Hensley from BIG Something), and artists like Bumpin' Uglies or Ryan Dempsey of Twiddle are utilizing Patreon where fans can access live-streams and more for a minimal monthly fee. The creativity so many have put forth in order to rally around artists and their community has been uplifting in many ways – which includes the constantly growing public Facebook Group, Socially Distant Fest, and their movement to provide opportunities for performing artists like Jenny Lynn Stacy.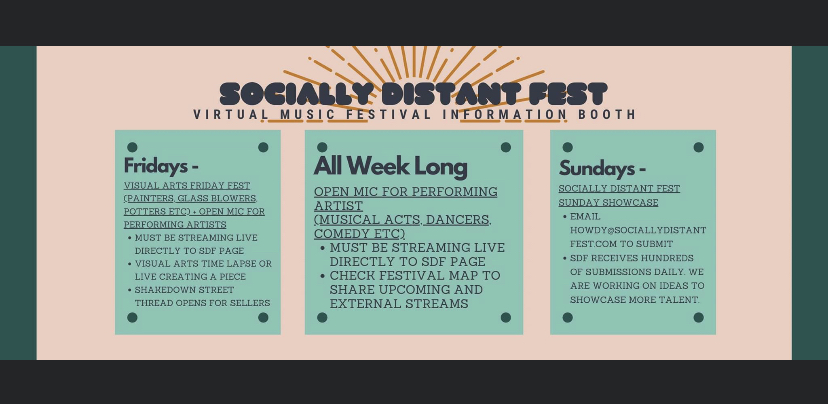 Socially Distant Fest, a virtual music festival, started as a single live stream on Jacob S Allen's Facebook profile on March 16th, 2020. As a performer, Jacob was looking for a way to entertain family and friends who were also in quarantine. The group went viral and gained more than 18,500 followers in the first 48 hours, and currently holds 130,000 followers as they approach their fourth week. Performers are encouraged to take an open mic live stream approach, sharing their digital payment platform "tip jars", and their website including social media links with each post. On average, there are more than two hundred live sets posted per day – which is how I found Jenny and her kazoo.

Based out of Davenport, Iowa, Jenny has been rockin' out solo from her living room instead of with her band, Jenny Lynn Stacey and the Dirty Roosters. The band formed four years ago and currently includes Jenny, Shayne "The Pain" Quade, Joel Swanson, Mark Gordon, and Emily Castro. Their music style is "an eclectic combination of bluegrass and punk, rockabilly, country fried southern rock" which the band refers to as "blue-trash." As a songwriter and vocalist, Jenny immediately grabbed my attention; her sensitive and witty lyrical content, paired with her strong bluegrass and southern rock style vocals, left nothing but goosebumps at the end of each performance. She's loud. She's raw. She's honest. She's mastered the kazoo. She's an artist that resonates with your soul, and she is just as thankful as I am that Socially Distant Fest exists.

"I think it's a phenomenal platform that, honestly, I wish we would've had before the world was turned upside down. I've not only been exposed to more musicians than I think I would have otherwise, but my own music has reached places I couldn't have done without this group…..I truly hope this continues even after we return to normal, whatever that new normal might look like. …Whoever started this group did a huge thing.."
–Jenny Lynn Stacy
Yes, thank you, Jacob, for connecting so many fans, musicians, and artists alike through Socially Distant Fest. Some performers are reporting up to $500 in tips per set with as many as 16,000 video views. Those that don't wish to accept tips have been asked to consider requesting donations for MusiCares. Socially Distant Fest has a generous donor who will match up to $1,000.

Let's all try to be like Jacob S Allen and remember that one small step can lead to so much positive change in our world. Help each other, give what you can, support those that need it: remember that #loveisanactionword.

And love cannot be quarantined.

You can find the live stream that made me fall in love with Jenny's music, her band's Facebook page, and a link to join the Socially Distant Fest on Facebook below.

Jenny's epic performance :
https://www.facebook.com/groups/sociallydistantfest/permalink/1081321392224239/
Jenny Lynn Stacy and the Dirty Roosters :
https://m.facebook.com/jlsandthedirtyroosters
Socially Distant Fest on Facebook :
https://www.facebook.com/groups/sociallydistantfest/