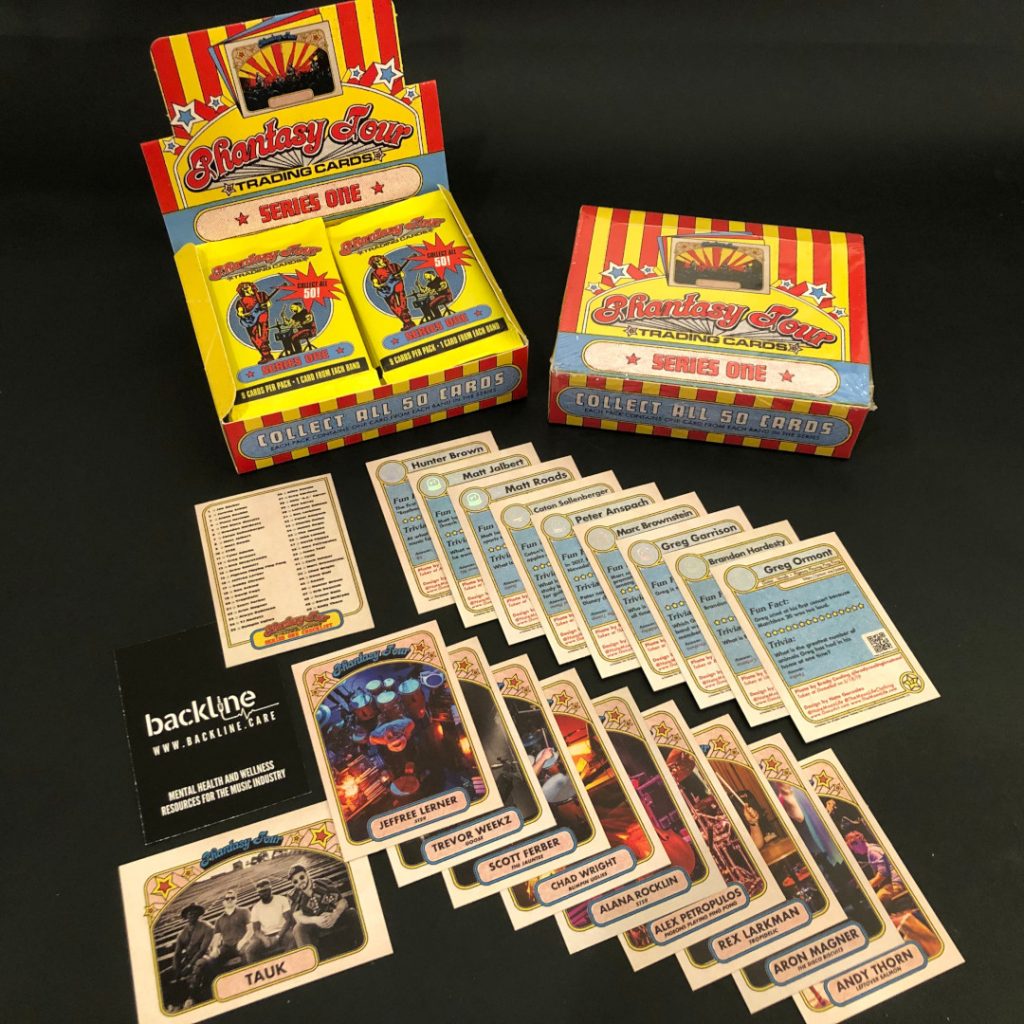 Baltimore-based social media company Phantasy Tour today officially unveiled their first series of live music trading cards. These high quality, collectible trading cards feature photos of top touring bands from various musical genres. The front of each card displays a photo of the musician or band and the back includes biographical information, fun facts, trivia questions and a foil stamp of authenticity. An online catalog of all cards in the series is available at https://phantasy.cards.
In the inaugural set, collectors will find cards featuring STS9, Leftover Salmon, The Disco Biscuits, Pigeons Playing Ping Pong, Tropidelic, TAUK, Goose, Bumpin Uglies and The Jauntee. Each pack of Series One Phantasy Tour Trading Cards contains 9 randomly sorted collectible cards featuring a musician or entire band. There are a total of 50 unique cards in the series. There is also a checklist card in every pack.
Phantasy Tour donated the space on the back of each checklist card to Backline to promote the great work they are doing in support of the musicians we love and the people that support them. Backline is a hub for music industry professionals and their families to quickly and easily access mental health and wellness resources. More information about Backline is available at https://backline.care.
Phantasy Tour founder Paul Glace says "Trading cards are a great compliment to Phantasy Tour's mission to promote live music and connect and engage fans during and between concerts."
Packs of Phantasy Cards can be purchased directly from the bands in the series at their upcoming shows or in their online stores. Here is a list of confirmed dates and locations at which cards will be available:
2/26/20 Tropidelic at The Orpheum Theatre, Flagstaff, AZ
2/26/20 Bumpin Uglies at The Pour House Music Hall, Raleigh, NC
2/28/20 The Jauntee at Old Town Pub, Steamboat Springs, CO
2/29/20 Pigeons Playing Ping Pong at 10 Mile Music Hall, Frisco, CO
3/5/20 Goose at The Agora in Cleveland, OH
3/6/20 Leftover Salmon at Crystal Bay Casino, Crystal Bay, NV
3/12/20 The Disco Biscuits at The Fillmore in Philadelphia, PA
3/13/20 TAUK at 9:30 Club, Washington, DC
Coming Soon to the STS9 Merch Store
Online pre-orders are also being accepted at Phantasy Tour's Merch Store found at https://merch.phantasytour.com. Online orders will begin shipping March 16.
Work has begun on compiling the next series of Phantasy Cards. Fans can vote for the bands they are most interested in seeing in a future series by visiting https://phantasy.cards/vote.
About Phantasy Tour
Phantasy Tour is an online platform for live music fans. Phantasy Tour members compile the show, song and setlist histories of their favorite bands and run stats and collect their experiences based on that information. Phantasy Tour also offers data services to bands, allowing them to display their show and setlist history on their own websites and run show and setlist analytics.