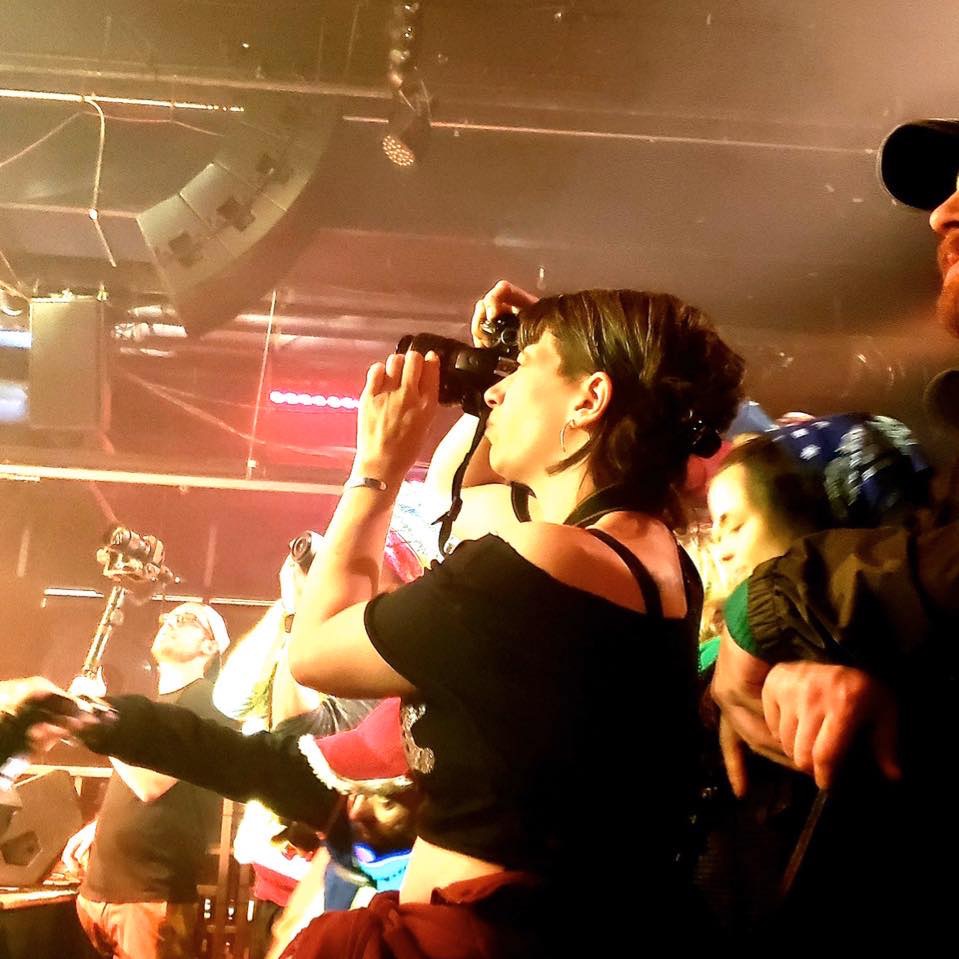 The Jamwich is always excited about meeting new photographers and collaborating with fans in the music scene, so it was business as usual when Kristan Whitlow Hughes sent us a message asking if she could shoot a show on behalf of The Jamwich. Little did we know that Kristan is not your run-of-the-mill photographer or music fan–she's an incredibly exuberant soul filled with an almost endless love for the music, the community, and the spirit of contribution. Everything she does, she does so with the dedication to do her absolute best and consistently impresses me with her initiative and ever-evolving talent. She and I (Elise) have not met in real life, but I consider her a great friend – and an invaluable part of The Jamwich! Many of our "Fan Friday" spotlight subjects are more than just fans–they are an active part of the community–and it's safe to say Kristan could run laps around most when it comes to scene activity. Get to know her a little bit in this week's Fan Friday!
Hey Kristan! First of all, can you please tell me a little bit about where you live and a little bit about your family?
I currently live in Richmond, Virginia, with my husband and two kiddos – ages 3 and 8. I consider myself a pretty normal mom. Other than when I travel, I work from home and most of my days consist of fighting small people to put their pants on or stepping on legos. I'm originally from Detroit and left when I was 18 but forever identify it as home. After coming to VA in 2007, I hopped around a bit before falling in love with RVA.


When did you start getting enthusiastic about music? What was the first band that really inspired you to get more live music in your life?
Music has always been a prominent and a life saving aspect of my existence. My Dad was a music buff and my childhood memories of him include listening to JJ Cale, Eric Clapton, The Beatles, and Chris Isaak on full blast through our tiny house. Detroit has a killer music scene. Rap and hip hop, for sure, and I certainly still enjoy that, but I started going to punk shows when I was 14 before my angsty teen self found Bright Eyes. Conor Oberst and his lyrical content hit me hard – I dove into indie emo rock, started writing, and live music became my ultimate happy space.

Who is your favorite band currently and why?
This is such a hard question to answer. I have a top three bands, all of whom I found in late 2018, but my favorite band right now is Twiddle (the other two are CBDB and Bumpin' Uglies, check them out). I adore Twiddle.
I was lucky enough to see them for the first time while photographing their October 2018 show at The National in RVA, and I was blown away. I have never walked into a green room and met a nicer, more welcoming, and loving group of dudes. Mihali's energy that night, the overall message of love, the poetic lyrics ("relax and dream one day at a time, let the beauty of the music start to heal your life") and then the fun funky jams…thinking about it still gives me goosebumps. I remember heading home and thinking I NEED MORE OF THAT. NOW. PLEASE.


What is it in particular about the jam band scene that you enjoy and keeps you coming back?  You also dabble quite a bit in the reggae scene, can you tell me about some of the differences and similarities between these communities?
So, the jam scene is a newer home for me. I love to dance, I love the energy from the community, I love that each jam show is a true individual experience.  My first festival was Bonnaroo in 2009 – Phish was headlining – and I remember packing and wondering if I was really walking into a new plane of existence? A safe community, a place of no judgement, of warmth and love – would it really be what everyone made it out to be? 

That answer was yes. It changed my life. Detroit isn't a safe city, and growing up home didn't always feel safe, either, so I instantly felt at ease. Free, you know? It was beautiful. I had to take a break for a bit while life happened, but dove back in after meeting my husband, who is a huge Phish fan. Phish fans are dedicated souls. If he hadn't named his cat Trey, I would probably have a baby named Trey. 

The reggae scene was a fun transition for me.  I was familiar with the music style, sure, but after catching a Bumpin' Uglies show and falling in love I started following them and exploring other reggae style bands. (Stephen Marley at Tumble Down was an amazing experience!) The similarities between the jam and reggae communities are what makes me seek home and refuge in both: the message is acceptance, universal love, peace, social awareness, we are all family, and let's celebrate life, here's some weed! – haha.


When did you start doing photography? Tell me a little bit about your photography journey. When did you start photographing events?
I have been photographing "professionally" for eight years. Professionally, for me, means I started charging minimal amounts of money for my work. I had a close friend that was into photography, and after having my son and sharing photos I'd taken, people would compliment the quality and composition – so my friend helped me shop for a reputable DSLR. I knew nothing about photography, at all. But one thing I have always loved? Light. Sunsets, Sunrises, rays of light through the clouds, through peeks in between trees in the woods, it's always made me stop in my tracks.

I mastered my camera manual and taught myself about ISO/aperture/shutter speed – which all tied in to the use of light and further inspired me. I started focusing on family and portrait photography while chasing sunsets, timing all of my photo sessions around peak natural lighting, and spent at least six months doing free sessions to build a portfolio. I covered whatever I could to expand my experience for "free99;" weddings, products and catalog, boudoir, real estate, you name it.

I am still a baby in the event photography world, honestly, and I am so so lucky and full of gratitude to have the growth and opportunities I've had. The first show I worked was a two-night Lotus run in November of 2017. I sent them a Facebook message of my portfolio full of babies, brides, and butterflies, and asked for a chance…and got a yes. It was such an incredible experience and much different than using natural light – but, still all about light! It changed my whole professional direction. I started hitting up bands I loved, building a new portfolio, and had been corresponding with Phish's management about their 2018 Hampton run when I got the "yes," but I had to find a media company to send an assignment request for final approval – which is what led me to my true home, The Jamwich.
What is your favorite part about event photography? What is your least favorite part?
My favorite part is, I won't lie, generally having the best seat in the house. Watch for me dancing in the pit or from backstage – Sorry friends! Other than that, it's about supporting artists and documenting history.

My least favorite part is that when I photograph, I am no longer present. I am seeing the world through my view finder and focusing on the lights and color combinations and waiting for the perfect moment to compliment my frame. If I get REALLY into photographing for too long, I won't even recall certain songs from the set. Balance is important.


What was your favorite event that you photographed in 2019? What was your favorite event that you went to just for fun?
I was able to photograph for Snoop Dogg last year, but not just him, the "Puff Puff Pass Tour" which featured some of my old hip-hop favorites like Afroman, Bone Thugs, and Warren G, among others. It was surreal.

I don't go to many events without my camera in hand. Even if it's a local RVA event, it's all about support and friends. I like to pop in on Brandon Hardesty's (of Bumpin Uglies) solo shows if I'm in the MD area to chill, enjoy the music, fist bump, and grab a beer. He's one of my favorite artists and I now get to call him a friend, so…I really try to practice mindfulness in these moments.

What advice would you have for aspiring event photographers?
Turn your flash off or they'll kick you out of the pit! Half joking.

Just a reminder to always follow your heart. Society does not influence us to pursue art, to support others without benefiting, and really wants you to think success is monetary.

This is still a struggle for me sometimes and I often seek balance. We all have to eat, pay bills, and are looking for validation to make what we do "worth it." It's worth it. It's so worth it. Doing what you love is worth it. Leaving your comfort zone is worth it. Human connection, the experiences and the memories, the support of other artists that are there sharing themselves to make other people feel good and give us an escape, it's all worth it. And you're worth it, too, I promise.


Where can we see you next?
As most photographers do, I'm lining up my 2020 schedule as of now and am sure there will be more to come! You can find me dancing with Twiddle on January 25th in DC, and…

Goose in April at the 8×10 (Baltimore)
PPP in April at The National (RVA)
Tumbledown in July (Burlington, VT)
Weekend at Wolfies Festival in June (Bedford PA)
Still accepting event invitations, hit me up!