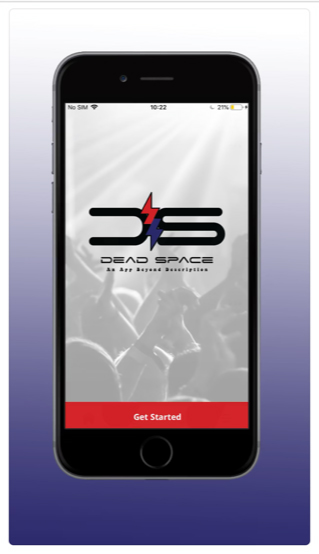 Over one billion people are currently on Facebook, and I'm sure you don't know many (or any) friends or family without a Facebook profile. After all, it's a great way to stay in touch with everyone from your Grandma to your middle school friend that you haven't talked to in years. With the advantage of being looped in with just about every acquaintance you've ever met (and maybe some you haven't!) the disadvantage of Facebook is the endless amount of chatter that distracts you from what you really care about – which if you're a Jamwich reader, that means music!

Wouldn't it be great if you could be part of a social media platform full of like-minded individuals who enjoy the same music as you, and be tapped in directly to jam bands and jam band news? Dave Braeger had this great idea about 6 months ago and it came into fruition December 2019. The app is called "A Dead Space" and is a social media platform specifically for Grateful Dead and jam band fans! We talked to Dave about the app and also learned a little bit about him and his own love for the music.

Hey Dave! Can you please tell me a little bit about yourself? Where are you from and where do you live now? What do you do for a living? Tell us a little bit about your family.
I spend my time between Dallas, TX and WI. I am the Founder of Dead Space LLC which is a media company that has developed a social media platform with the developers of "The Official Rolling Stones Fan App" and "Official Luke Bryan Fan App" for lovers of The Grateful Dead and other "jam bands." I am married with two teenage boys.

What is the Dead Space App?
Dead Space App is the first of it's kind community social media platform for the Grateful Dead family as well as lovers of all jam bands.  The app contains a "fan wall" very similar to the scroll wall of Facebook and Instagram and also gives direct access to jam band news media, podcasts, streaming music services, and ticket services.
When did you get this idea and how did you make it into a reality? Who helped you develop the app?
Approximately 6 months ago I came to the conclusion that Grateful Dead and jam band lovers did not have a sufficient platform to share their love of the music and the family. I was frustrated that Facebook and Instagram have become more of an advertising platform with too much politics, too much negative content and no access to media and music. I researched how to create a better social media platform and was introduced to Disciple Media in London as they had produced the apps for The Rolling Stones and Luke Bryan. They were very excited to take on the development of this app once I made them aware of the massive following The Grateful Dead and other jam bands have. The shared goal was to offer the best social and media platform available for fans.

What are some features of the app that are similar to social media platforms like Facebook?
Just like Facebook, the app has a social media scrolling wall where pictures and media can be shared and all members can engage directly.

What are some features that are completely unique?
The app offers access to all of the major jam band publications, the largest jam band podcasts, streaming music services, tour dates and tickets, and has live streaming capability used to stream live shows from various bands across the country. Users no longer have to move from different social media platforms and internet sites one by one to experience their passion..

How many users are currently on the app? How can people join (and why should they definitely join)?
The app currently has over 5000 members and has grown on a completely viral basis with members coming in from all over the world. Members can join by purchasing the app in the Apple or Android app stores directly on their phone. The app is currently .99 cents per month and contains no advertising and we are currently developing the desktop version.

How long have you been a Grateful Dead fan? What was your first Dead (or music of the Dead i.e. Furthur) show? What's your favorite Grateful Dead song?
I started listening to The Grateful Dead when I was approximately 15. My first Dead show was a 2 night stand at Alpine Valley in Wisconsin in 1986. I have seen the Grateful Dead, the related bands (Further, Dead and Co. Dark Star Orchestra, JRAD etc) and the members' bands well over 150 times. I am also a big fan of Widespread Panic, Phish and other major jam bands and have seen those bands numerous times. My favorite Grateful Dead song is Morning Dew. I listen to one or two live shows per day at home and at work and there are not many Dead songs I do not love.

What is your favorite band besides Grateful Dead?
I am a huge Allman Brothers fan.

What do you love most about the jam band/Grateful Dead music community? What attracted you to this scene and what keeps you coming back?
The Grateful Dead and jam band community shares such a passion for the free flowing music and the concert environment always offers such a positive energy between the bands and the fans who come from various backgrounds. The community is a family that has introduced me to so many great people and so many great concert and travel experiences.

What are some expansions or improvements you hope to add to the app in the future?
The first major expansion is the desktop version which will be out in approximately two months. My opinion is that we have developed such a high quality social media platform that we will develop direct relationships with various jam bands to spread their music, news and merchandise directly to their fans. Dead Space is your "one stop" for all your jam band loving needs. I see the company will move further into ticket relationships to and I foresee Dead Space merging with other media companies as a direct platform for their businesses. The social interaction and media access for jam band lovers is completely fragmented and does not offer a user friendly experience.

How do you hope this app helps music fans or the music community?
The social interaction and media access for jam band lovers is completely fragmented and does not offer a user friendly experience. We have resolved that problem with "one stop" for the fans to enjoy the social interaction, media and music access.
GET THE APP NOW! – Tell them you found out about Dead Space from Jamwich and get 1 month free.