Written by Michael Stegner
SPEED is the third album published by the Keller Williams side project known as Keller and the Keels, set to release this Friday (November 22). The acoustic trio consists of Keller Williams (guitar and vocals) with husband and wife musicians Larry Keel (guitar) and Jenny Keel (stand up bass), who make up two-thirds of the bluegrass trio known as The Keels. 
The album consists of a dozen songs (mostly covers) along with original songs from both Larry and Keller that will translate very well in a live setting.
The title of the project, Speed, is without a doubt a testament to the fast-paced finger-picking throughout the album, which is consistent with the other music the trio has produced together, and for the entire bluegrass genre for that matter. While Keller's music often dips its toes into the cloudy waters of numerous other genres ranging from funk and electronic to beat-boxing, loops, and reggae, this album is pretty straight forward with its style. It starts as a bluegrass album and remains just that until the final notes are picked, plucked, and strummed. 
One noteworthy track is Medulla Oblongata, which showcases not only the versatile guitar skills of both Larry and Keller, but it stretches the boundaries of traditional bluegrass by using some electronic effects and features some of Keller's signature fun and goofy lyrics that will stick in your head all day. Let's face it – words like Medulla Oblongata and Hakuna Matata are fun to say. This track shows us that they can be even more fun to sing!
Keller is a master musician, who, while capable of putting on a one-man-show that will have an entire venue dancing, can also mesh beautifully with other musicians. As their third album together, SPEED is a continued testament to his musical chemistry with Jenny and Larry Keel.
An excellent example of this is chemistry their ability to turn popular songs into unique covers that fit well into their Appalachian style of psychedelic bluegrass. SPEED offers versions of songs that turn the original tunes upsidedown, transforming them into enthusiastic takes on familiar tracks like "Livin' la Vida Loca" by Ricky Martin, "Hash Pipe" by Weezer, and "Roadhouse Blues" by The Doors. Other covers include Fiona Apple's "Criminal", Casey Musgraves' "Slow Burn", and a feel-good rendition of Presidents of the USA's "Peaches".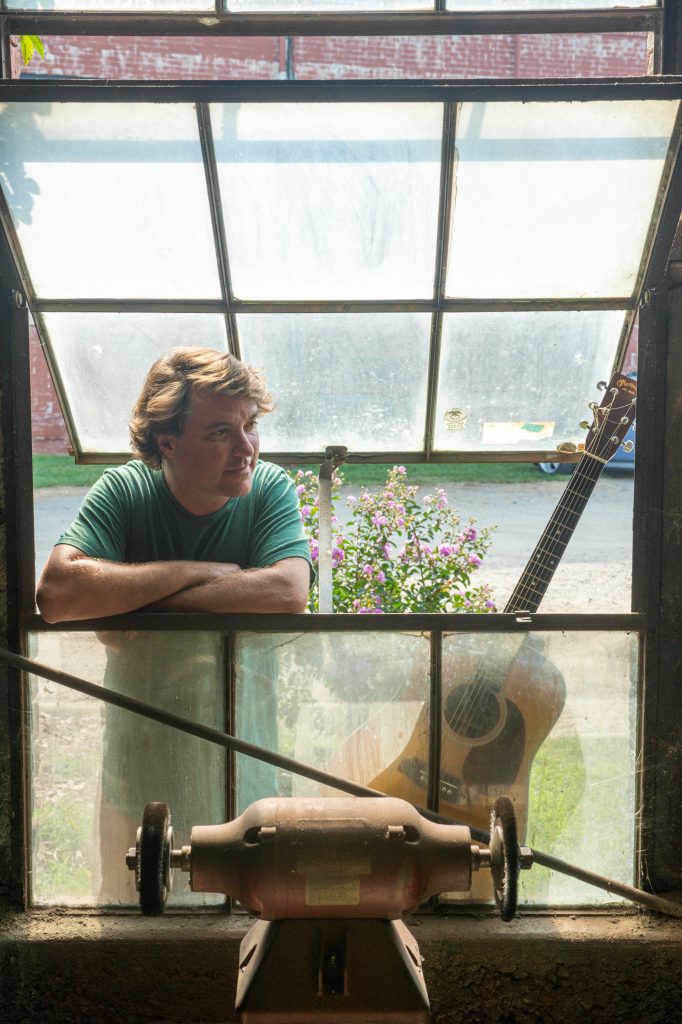 Keller and the Keels don't perform together often since they both have their own tour schedules and lives to keep up with, so this album is a great look at what happens when the three of them get together for some fun jamming.
You will have a chance to see them together (and they will certainly be performing some of these new songs) on New Year's Eve this year. Keller will perform with The Keels in addition to his Grateful Grass ensemble, for two special NYE shows at Old Rock House in St. Louis.
They will also be doing a show together for Winter Wondergrass in Steamboat Springs, CO on February 21, 2020. To see all of Keller's solo dates and The Keels upcoming tour dates, check out their websites: Keller's tour dates. The Keels tour dates.
THE INTERVIEW
How did you meet Jenny and Larry Keel?
I first met Larry years ago when he was running an open mic style night in Fredericksburg, Virginia, which is where I'm currently at. He was playing with this band Fizzawah, which I got the opportunity to open for during a few shows. We continued to work around and alongside one another for quite some time. Fast forward to, I believe 2004, and we were making our first project as Keller and the Keels.

What made you decide to do another album of mostly covers?
I think the decision really came from the desire to play with them more. There is a sort of special chemistry when I play with Larry and Jenny that I enjoy so very much. This project grew from a desire of mine to simply play and get together with the two of them, rather than to record a bunch of music we'd written. They bring such a unique and authentic level of bluegrass musicianship that I don't think is there when I am playing by myself.

What was the process of making this album like?
A lot of these covers grow from ideas that get stuck in my head. You know, I don't really sit down and choose which songs I want to cover, they just kind of come to me throughout my life. 

Will you be doing a tour with The Keels for this project?
Not in the straightforward tour kind of way you're probably thinking. I've been doing what I like to call the Weekend Warrior runs. I'll leave on Thursdays and return home on Sunday evenings. We have a lot of those types of runs planned, some of which will be in support of the new album.

Have you gotten to play any of these songs in a live setting yet?
Yeah, we've done about 5 shows this year with the new music. So far it's been a lot of fun performing the songs and playing with Larry and Jenny Keel.

SPEED is your 25th studio album. That's something that not many people can say. How does that feel?
I lost count a while ago, but it really does feel good looking back on them all. I try to just keep the focus on creating new music that is interesting to me. I work with a recording studio called Wally Cleaver's Recording right here in Fredericksburg. Being able to work independently and finance everything myself has really given me complete creative freedom to try basically anything.

How do you manage to keep your music interesting and make each album unique after 25 albums?
I try to make sure that every album has, at its essence, a musical representation of me. That being said, I like to make sure that each project is unique and can sort of stand-alone. I try really hard to never make the same album I've made in the past, which is why each one of them has such a unique sound or theme that makes it stand out.

In what ways have you grown as a musician since your first album FREEK was released in 1994?
Well, physically my stomach has grown much larger, and as for my chin, it has sort of grown a little longer as well during all of this. (Laughs…..) But seriously, I would say that my voice has improved a lot since I first recorded FREEK. I'm not the nasally singing youngster that I was back then.

I also think that I have started writing songs more for myself. Like in the beginning, I think I was working really hard on creating songs that hit on many levels and appealed to the audience. Now I am more focused on entertaining myself with these songs, so in a way, I am writing more for myself and less for others. I tend to write lyrics that are more comical than worrying about if they are relatable.

These are the words that float around my head all day, and by playing with them and turning them into my songs, it is how I help get them out of my head. People say that you have to sing a song backward to get it out of your head, but that doesn't work for me. It doesn't undo it. I have to see these things out to the end. So you could say I write my music as a way of caring for my mental health!

What have you been listening to lately?
There is this local kid I've been into, well he's not really a kid. He's about 10 years my younger. But he is a local artist from my area of Virginia named Bobby West who goes by the stage name Erothyme. He's doing a sort of electronic-dancey-solo project thing that I've really been digging. 

Looking back on the year, what was the highlight of your 2019?
The one thing that comes to mind right away is that this year was the 20th anniversary of the Breathe album that I did with the String Cheese Incident. To celebrate that one we got together and played the entire thing out at Red Rocks, and that was really something special. 

What types of new things will 2020 bring to Keller Williams?
There are already quite a few really good festivals that we've got booked. The Virginia festivals especially are really fun. Lock'n is always one of the great ones as well as Floydfest. They are always really special. Another thing I'm looking forward to is I'm playing again at The Caverns in Tennessee. 

Will you be doing another "Weekend with Keller" thing this year?
Well, we're going to just be doing 2 days this year. We'll do a Friday/Saturday run, but we won't be doing the Sunday matinee this year like we did last summer.

Well thank you so much for your time, and please keep doing what you're doing. I've been a fan since I was 13 or 14 and all I ask is that you keep making music and spreading happiness.
That means so much man, I really appreciate that. Have a great one!