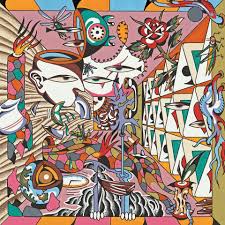 Written By Jeff Modzelewski
Right off the bat, I have to say that Billy Strings is, in my opinion, the best thing going on in bluegrass music today. As a band, they have great songwriting, excellent chemistry, and bring it both live and in studio. Billy himself is up there with the best bluegrass guitar players of all time, and he's still in his 20's. The band is bringing in new sounds and new ideas to bluegrass and making it all work. Their debut album Turmoil and Tinfoil took off like a rocket and their follow-up, Home, is clear evidence that Billy Strings' meteoric rise is not a fluke. There's a new bluegrass heavyweight, and everyone should be taking note.

The first thing that anyone who listens to Billy Strings needs to know is that Billy Strings doesn't just mean Billy Strings the singer/guitar player. While Billy is making his case as a once-in-a-generation bluegrass picker, the three others around him are just as vital to the music. Billy Failing plays banjo, Jarrod Walker is on the mandolin, and Royal Masat holds down the rhythm on the bass. Each player is an important component to the album. The violin adds tension to "Long Forgotten Dream". Failing's banjo on "Highway Hypnosis" adds an element of quick picking that holds up the rest of the song. And the benefit of such a spectacular band is that it opens Billy up to do what he does better than anyone, which is rip blazing fast riffs on his guitar. This album doesn't do a lot of the traditional bluegrass style of trading solos back and forth (although everyone gets the opportunity more than once), but what the band does is layer the different instruments so that fills and exchanges are woven seamlessly throughout the album.

The theme of home is present throughout the album, starting with the standout opening track "Taking Water." The song reflects on the issues that his part of Michigan has faced, and, in 4 minutes, Billy paints a picture while also opening himself up to the opportunity to "turn the wheel around." That theme of turning around is carried on with "Must Be Seven," which shows Billy at his narrative best, relaying a story of leaving a broken home, both figuratively and literally. Nearly every song on this album can be tied back to this theme, whether it's about leaving home as in the title track or the frailty of our home planet on "Watch it Fall." This album is reflective, it's personal, and it's showing Billy in a new point in his life. With his success and the understanding that his life simply will never be the same as it was, this album uses the theme of home as a way for him to come to grips with his new reality.

Billy also shows his ability outside of the strictly bluegrass style throughout this album. Shredding electric solos on "Away From The Mire". Slow orchestrated ambiance on "Home". Even a little psychadelic weirdness on "Highway Hypnosis" and the instrumental "Guitar Peace." And the band is always able to follow where he leads. They even get a chance to show their excellent vocal harmonies on the closing track "Freedom." Every piece of this album is thought out and every song gets at something a little different.

Since being turned onto Billy Strings a couple years back, I've been wondering how the band was going to follow up the excellent Turmoil and Tinfoil. Home isn't just a solid sophomore album, it's an album that can stand with anything in the modern bluegrass genre. The best part is that the band is getting the recognition they deserve, selling just about every show on their current run weeks or months in advance. It was just a year and a half ago that I was talking to friends about the rocket that Billy Strings had strapped to his back. Home is a confirmation that the hype was legitimate and that Billy and the band are more than able to exceed expectations.
Billy Strings is currently on tour. Tickets, where available, can be found at at https://billystrings.com/tour/.