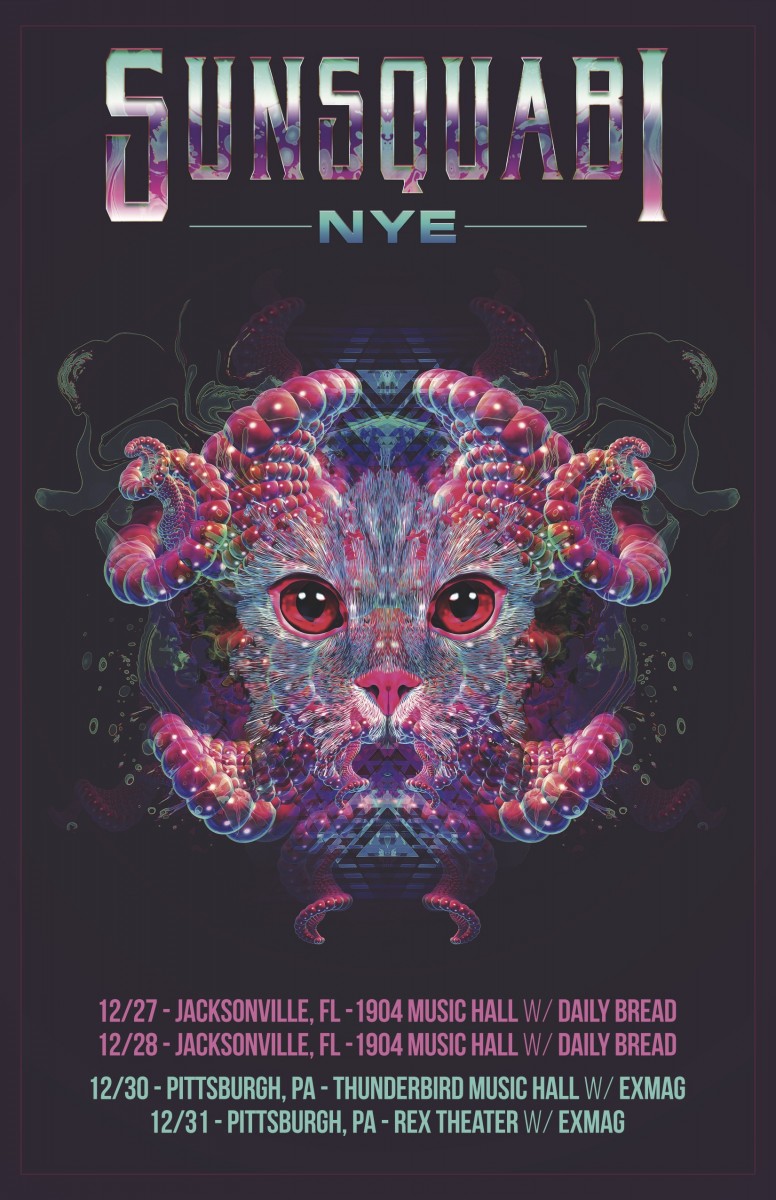 Colorado-based 'hydro-funk' trio SunSquabi has announced their 4-night New Year's Eve run with support coming from Exmag and Daily Bread. Tour stops include special two-night runs in Jacksonville, FL on December 27 – 28th and Pittsburgh, PA on December 30th – 31st. The band will be performing at the 1904 Music Hall, Thunderbird Music Hall and the Rex Theater to close out 2019.
"This year has been incredible on so many levels. We have been to so many places, released a full length record, collaborated with our heroes and are incredibly excited to end our year in Jacksonville and Pittsburgh. We love those cities and can't wait to be back for these 2 night runs" – Kevin Donohue
$1 per ticket sold on the tour will go to the Can'd Aid Foundation keeping music and instruments in the hands of children across America. SunSquabi has partnered with the foundation and hopes to continue to inspire youth across America with instrument donations.
Tickets on sale today, Friday October 18th -> https://www.sunsquabi.com/tour/
Follow Sunsquabi
https://facebook.com/sunsquabi
http://www.soundcloud.com/sunsquabi
SUNSQUABI TOUR DATES
10/25 Kansas City, MO Record Bar
11/07 Harrisburg, PA XL Live
11/08 Washington, DC 930 Club
11/15 Lake Tahoe, CA Crystal Bay
11/21 Los Angeles, CA The Teragram
11/24 San Diego, CA Wonderfront Music Fest
12/06 Grand Rapids, MI Intersection (Elevation)
12/07 Grand Rapids, MI Intersection (Elevation)
12/20 Dallas, TX Trees
12/21 Austin, TX Empire Control Room
12/27 Jacksonville, FL 1904 Music Hall
12/28 Jacksonville, FL 1904 Music Hall
12/30 Pittsburgh, PA Thunderbird Music Hall
12/31 Pittsburgh, PA Rex Theater
2/6/2020 Live Oak, FL Brainquility Festival
More dates TBA shortly