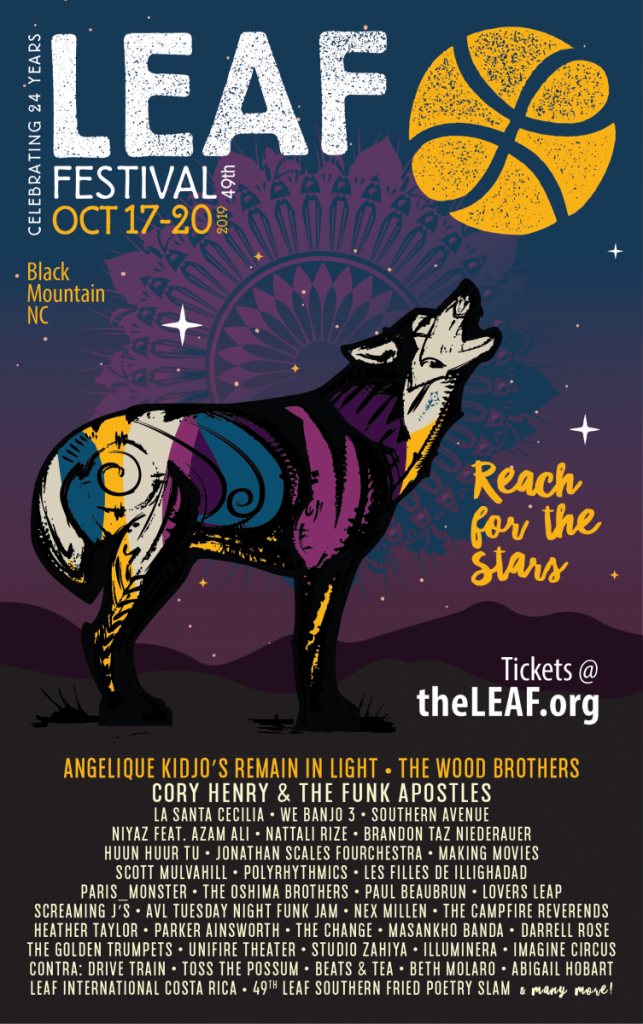 LEAF Festival will "Reach For The Stars" this Fall 2019

July 18, 2019 (Asheville, NC) –  LEAF is thrilled to announce our lineup of extraordinary artists performing at the 49th LEAF Festival, taking place Thursday, October 17th to Sunday, October 20st near Asheville at the majestic  Lake Eden in  Black Mountain, NC. With over 400 performing artists representing 15+ different countries, 5 family adventure villages, 80+ craft & culinary vendors, 50+ healing arts, music & earth skills workshops, and a global community steeped in tradition, LEAF welcomes all walks of life for an unforgettable weekend experience. Kids under 10 FREE! Discount tickets available @ theLEAF.org/tickets.
"Of all the forces in our universe, few things captivate more inspiration, awe and wonder… than the stars. No matter where we stand upon this beautiful Earth, up above is a celestial blanket beckoning our vision to higher possibilities. For the 49th LEAF Festival, the artists selected transcend expectation, defy all convention, and capture the essence of what it means to embrace one's fullest potential. From the shores of Benin, to the mountains of Colorado, to the forests of Ireland, to the city streets of LA… this Fall, over 15 nations will unite at Lake Eden to share a vision of who we are when we release all expectations, dive deep into our creative passions, and Reach for the Stars.
~ Ehren Cruz, Artistic Director

REACH FOR THE STARS FESTIVAL HIGHLIGHTS:

4 Time Grammy Award-winning Beninese Afro-Beat superstar Angelique Kidjo carries the weight of a continent on her shoulders through her pioneering music, renowned humanitarian work, and undeniable legacy. BBC's "50 most iconic figures African Figures", The Guardian's "Top 100 Most Inspiring Women in the World" and Forbes' first woman to be listed among "The 40 Most Powerful & Influential Celebrities in Africa"
Nashville based American Folk trio The Wood Brothers bring their innovative blues & jazz infused roots music to 49th LEAF Festival stage.

Emerging as a marquee artist & composer through Snarky Puppy, whose solo on "Lingus" video touts nearly 20,000,000 views on Youtube, Cory Henry is one of the most highly acclaimed piano & keys innovators of our generation. Cory Henry & The Funk Apostles are taking the mainstage by storm headlining the 49th LEAF Festival.
OFFICIAL 49th LEAF FESTIVAL PERFORMER LINEUP
Angelique Kidjo's Remain in Light • The Wood Brothers
Cory Henry & The Funk Apostles
La Santa Cecilia • We Banjo 3 • Southern Avenue
Niyaz Feat. Azam Ali • Nattali Rize • Brandon Taz Niederauer
Huun Huur Tu • Jonathan Scales Fourchestra • Making Movies
Scott Mulvahill • Polyrhythmics • Les Filles de Illighadad
Paris_Monster • The Oshima Brothers • Paul Beaubrun • Lovers Leap
The Screaming J's • AVL Tuesday Night Funk Jam • Nex Millen • The Campfire Reverends
… and many more!