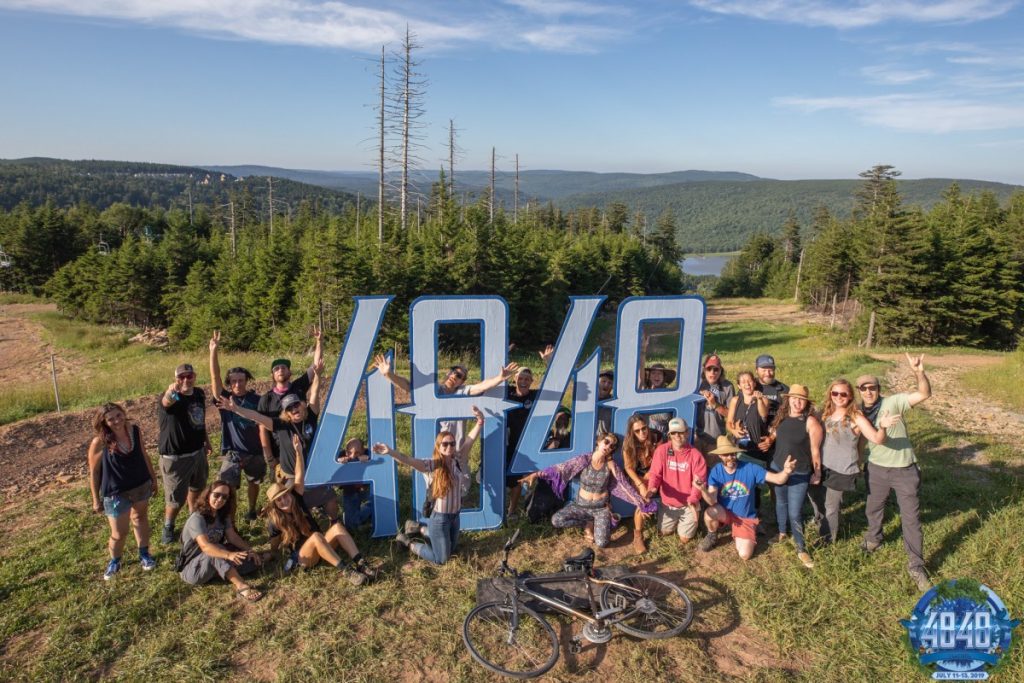 Written by Elise Olmstead
The new festival 4848, which took place July 11-13, 2019, was undoubtedly one of the most anticipated events this season and for good reason.  The lineup of Greensky Bluegrass, Railroad Earth, Umphrey's McGee, and Billy Strings, just to name a few, was most jam band fan's dreams.  Combined with the beautiful location of Snowshoe, WV, and hotel rooms available on-site, every music fan in the region was in a frenzy of calling off work and booking their "festi-vacation" as soon as it was announced. 
I have always been a fan of the "boutique" experience at festivals, getting on the boat for Jam Cruise two years in a row and preferring RV accommodations over camping.  I've put my fair share of camping in over the years, and I think we can all agree, we're getting too old for that sh*t. In fact, I ran into many former Jam Cruise co-horts at 4848 and noticed the crowd was a little bit older overall.  There's merit in "raising the rent" as Taco likes to say, because it curates a more responsible crowd with a budget to actually support the event. There were very little teeny-boppers or wayward wooks and instead saw many families and adults who were grateful for a like-minded crowd who knew when to "shut up when the band is playing" (except for me of course). Many chose 4848 to be their only festival of the year and came prepared with money for merch and the bar — most of the 4848 merch sold out the very first night, showing that these people were serious about making this weekend count, and make it count we did.
The locations of the hotel rooms that you could book directly through 4848 were phenomenal, many having direct view of the stage.  At the Village Stage we could spot friends partying on their balconies, and in a different friends' room you could sit on the windowsill to watch the Sky Stage on one end of the room and watch the Village Stage from the window of their bedroom.  Their room became a gathering place of buffet lunches and glitter stations at all times of the day. Even if you couldn't see the stages from your window, you could still view the set on the television, which was so Jam Cruise-esque it made me nostalgic.  Every friend's room was armed to the teeth with a full bar of liquor, food to cook, and costume changes for the themes – Friday was sparkle and Saturday was capes. I found out about the costume themes a little too late but thank goodness some friends brought extra sparkle for me.
Snowshoe itself has plenty of amenities like a nearby convenience store, restaurants, stores, and pools.  It is a unique experience to eat a sit-down lunch at a restaurant at a festival, but a welcome one! The weather was a little too chilly for me to want to swim in the pool; the first night I ended up buying a Volcolm flannel at one of the stores when the breeze was too much.  Staff was friendly and helpful, security was not too pushy, and I had the pleasure of seeing lots of friends working like the lovely Victoria Ki'Somma who did the site lighting, and of course the Lettuce crew and Turkuaz crew made up of some friends who used to work with The Werks.  It was an all-star cast of artists and staff that never failed to impress.
If all this wasn't enough to convince you that this is the most damn-near perfect festival experience you could ask for — it also takes place in an amazing area for fishing, hiking, mountain biking, and swimming.  You can mountain bike right on site and swim at the lake at the bottom of the mountain. We watched bicycles coming up on the ski lift every once and a while along with people riding up from the camp grounds. There was even a "Boathouse Stage" at the bottom with a couple of musical offerings in the early day.  Did I make it down there? Unfortunately not. I was sometimes lucky to pry myself out of my friend Ben's room that had the perfect view of the Village Stage from his window. It felt like being in a skybox at a football game.
Thursday night kicked off with Orgone and their powerful afro-funk getting the crowd going.  I suspected the enthusiasm and full liquor bottles of Thursday night would make us susceptible to hotel ragers, but there were a surprisingly huge number of people already front and center at the stage.  This was the type of crowd that found their spot in front of the stage early and stuck to it; maybe leaving for a bathroom break or a drink but always keeping a couple of friends behind to secure the "spot."  It reminded me of my All Good stance, but it's been a far cry since those days and instead I've become more of a wanderer and not too keen on being boxed in a crowd. The good news is, there was plenty of room to breathe in the back and plenty of places to wander to.  In fact, when it started raining during Infamous Stringdusters' set we found our way to our friend Kris's room and watched out the window and mixed some cocktails. Greensky Bluegrass also played their first of two sets on the Village Stage tonight; the Sky Stage would debut on Friday. The Village Stage was aptly named such because it was nestled among the buildings of hotel rooms, condos, restaurants and shops.  The Sky Stage was much larger with a wide field, though divided by a concrete embankment of some sort that I believe had something to do with its use as a winter ski mountain (someone tell me please). The view of the endless sky and the mountains was absolutely breathtaking at this stage.
The next day I put in some more Jamwich work (never not busy) and chatted with Victoria over brunch (bagels).  We could hear The Hip Abduction from our room which was lovely, damn they are a fun band. It's hard to nail down their genre, but I can best describe it as indie roots with soulful vocals and their own unique twist.  Cris Jacobs Band is a great Baltimore-based band, Cris Jacobs of course being from the beloved band The Bridge and a super nice guy ta'boot. Marcus King Band was the one that everyone was gearing up to see, though, and his popularity has been exploding lately.  Marcus has been playing on stage since he was a teenager, and at only 23 he is selling out venues. To hear the powerful blues-y vocals that rival Warren Haynes come from this baby-faced blonde is certainly shocking. The music fans were securely rooted in their "spots" by this point and not a soul was speaking during the Lettuce set (ahem, except for me of course, catching up with my friend Kaylee in the back).  Lettuce has been playing for nearly two decades and still sounds just as good as ever, recently releasing a new album Elevate that ended their 3-year hiatus from the recording studio.
Then it was primetime at the Sky Stage for Greensky Bluegrass's second set of the weekend. Their light show was phenomenal as usual, even though we watched some of it from the TV set in our friend's room who wasn't feeling well. Some amazing sit-ins took place to wow the crowds — Marcus King joined the band for "I'd Probably Kill You" and "Ain't No Bread in the Breadbox" and Cris Jacobs took the stage to help play the songs "Past My Prime" and "Golddigger."  At the end of the set they provided even more of a spectacle by setting off some fireworks and inviting dancers to perform on stage. By the time my friends came back to join us for Billy Strings they were weak in the knees and bright-eyed with wonder. Billy Strings was the perfect late night set at the Village Stage (which we watched partly from the primetime view of a window seat in Highland House) playing my favorite tune of his "Dust in a Baggie" only one song in and proceeding to keep the party going well into 2AM.
Saturday was the final day and a late start for me.  The blackout curtains in our Mountain Lodge room kept me cool and sleepy well into the afternoon until our family photo by the 4848 sign got me motivated to dress and face the day.  Many people were already lined up at the sign to take their photos and I loved that the festival offered this landmark for people to make a momento of their memories. It was surely an unforgettable weekend already for so many, and it was hardly over.
Undoubtedly I was looking forward to tonight's Umphrey's McGee set the most, but there was plenty of amazing music to keep us occupied until then.  Raging Fyah brought their reggae tunes to the mountain and The Nth Power brought their signature soul. Fruition at 6PM has been absolutely on fire lately, easing the Village Stage crowd into the Railroad Earth set at 8PM.  We had the pleasure of running into Todd Shaeffer earlier, who we had joined on a float trip with Larry Keel and friends in 2017. They opened up with "Mighty River" and closed with "Fisherman's Blues" giving us more float-trip nostalgia than we could have hoped for.
It was finally time for Umphrey's McGee and I didn't stop dancing the entire set.  Every time I see UM I hopelessly cross my fingers for "Nothing Too Fancy," so when Anders Beck and Paul Hoffman of Greensky Bluegrass joined the stage along with Billy Strings for a ridiculous 17+ minute jam of my beloved favorite song, I practically jigged down the mountainside in a euphoric haze.  Their encore was my second favorite part of the set, playing "2×2," "In the Kitchen" and "The Floor" with a little signature cover-magic thrown in between that only UM can do with a jam of Motley Crue's "Dr. Feelgood." Fireworks filled the sky to commemorate the last set of the weekend, sending my heart soaring to dangerous heights.  We made our way back for a bathroom break and refreshment refill before Turkuaz, and standing out on my friend's balcony looking at the stars, I felt truly glad to be alive.
After this unforgettable weekend there was not a single person I talked to that was anything but grateful for their experience at 4848.  All attendees had sparkles in their eyes as they expressed hope in the festival happening again. We all agreed, though, how lucky we were to take part in the inaugural weekend. There was a comfortable, small-ish crowd filled with some of my closest friends; I could not turn a single corner without running into someone I knew, and all the greatest quality of crew and staff.  This is going to be one of those festivals that you'll have to plan for the ticket drop in order to get those coveted balcony rooms and pre-sale tickets. It is a triumphant return for Tim Walther and arguably one of the best festivals I have ever attended, which is saying a lot. Where the mountains meet the sky I will meet you again 4848.