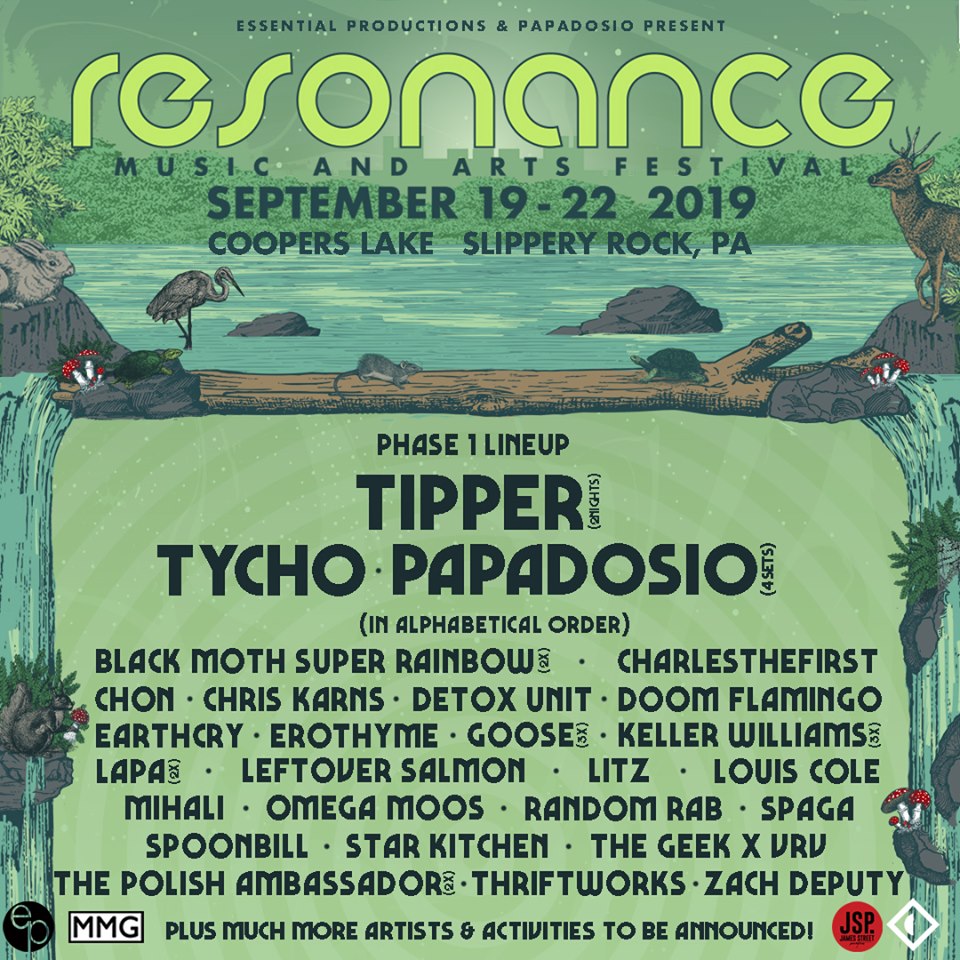 Written by Michael Tucker
Photos by Bradford Watkins
Each year as summer slides gracefully into Autumn, a magical event called Resonance Music and Arts Festival takes place. This fantastic celebration of human potential and creativity happens just as the temperature grows more moderate and the East Coast festival season starts to wind down, and, for this guy at least, it's the pinnacle; it's the festival I look forward to all season. Although it has typically been about a five-hour drive from my Mid-Atlantic front door, Resonance feels like home for me, and I count myself blessed to have attended each Resonance since its inaugural event at Frontier Ranch in Ohio. In truth, I could list a hundred reasons not to miss the latest installment of brilliance that's slated to happen over this Autumnal Equinox, but due to editorial consideration, I'll limit my list to five. OK, five on top of that one time on Facebook when synth-wizard Billy Brouse gave us the following PSA: "Resonance Music and Arts Festival is 'bout to be some shit you tell your grandkids about. I'm very serious when I say this because I care about you and your family."
So, here are five other reasons not to miss Resonance 2019:
1.  Music  Of course, I have to start with one of the most eclectic and well-thought out musical lineups on this year's calendar. No matter what genre you're into, the wide-ranging bill of quality musical acts Resonance offers is sure to have something that will keep your ears happy and your feet dancing for the duration of the event. I've never gone to a Resonance without both seeing many familiar favorites play numerous incredible sets—some of them even being a super- special once in a lifetime musical happening—and without discovering mind-blowing artists I'd never before experienced. This year's line-up is stacking up to be extraordinarily unique and diverse. Of course, if you know me, you know I'm over the moon about the fact that Papadosio will be performing 4 sets: 1 acoustic set, 2 OG sets and 1 rare resonance set. Just scratching the surface of the remainder of the musical goodness, Resonance 2019 has to offer, there's everything from the fuzzy experimental, highly creative weirdness of Black Moth Super Rainbow to the conscious, yet epic, dance party of The Polish Ambassador and every musical style in-between— and then some. Tycho, whose ultra-melodic audio-visual extravaganza fills the space between electronica and rock, will be returning this year as one of the acts to which I am most looking forward—and then there's the meticulously crafted, more human than human beats and extraordinary visuals of Tipper who will be playing 2 sets again this year.
The progressive rock and guitar geek in me are super-excited that CHON is making their Resonance debut this year. I'm also really stoked for no less than 3 sets of the organic grooves of Goose and funky ADM wizardry from Keller Williams. As if that's not enough variety,  I'm excited that my funky Maryland homeboys in Litz  are returning to Resonance again this year. Wowza—there's so much musical brilliance happening this year that's outside the festival "mainstream."   Check it out yourself by following the Resonance Facebook page here: https://www.facebook.com/ResonanceMusicFest/
Also check out the ever-growing Spotify playlist of  music from Resonance 2019 artists here: https://open.spotify.com/playlist/125ZW6IPiVKBWAunidOAKz?si=4zSl22hUQuKy-k9uUNbFuA
The good news is that this is just phase one of the lineup. There is plenty more awesomeness to come.
2. Art
The dazzling music offered at Resonance would alone be enough to make the trek out each year, but the festival also offers a fantastic array of visual art in which to immerse yourself. I'm not talking about just a few live painters either; Resonance offers a well-curated gallery featuring visual art presented by visionary artists who specialize in several media. Last year's visual art featured work from superbly talented artists such as Logan Walden, Ryan Byrd, Vince Dibiaso, Sweet Melis, Whitney Holbourn, Aaron Brooks, Jerod Black, Bryan Stacey, Chance Losher, Hanzo Art, Danielle Sperando, Johnny Stinson and many more. Resonance also strives to create an environment wherein creative expression is cultivated, and it's truly wonderful to behold all the beauty created in this lovely environment. There are always many comfortable, imaginatively designed chill areas that are the perfect environment for connections and conversations to flow.  If all that's not enough, Resonance always features a plethora of world-class performance artists including hoopers, aerial artists, and fire-spinners.
3. Workshops
As if its next-level musical and visual offerings weren't enough, Resonance is also truly transformational in the sense that it offers a full array of yoga sessions and workshops. These learning opportunities for mind, body and soul make this very special festival so much more than just a party. Don't get me wrong, I love to party, dance and celebrate with my friends, but I also love learning, growing, and taking something of real value home for me and my local community. Past offerings have featured workshops on such varied topics as Sound Healing, Breakdancing, Color Therapy, Transparent Sexual Pursuits, Making Bismuth Crystals, and Designing Your Own Hair Wrap. Resonance is a great reminder that a festival is much more than just a party. So, make sure you check out the fantastic yoga and workshop offerings Resonance 2019 has in store for you.
4. Fans
To put it very simply: "The law of Resonance provides the answers as to how the law of attraction operates and creates the events, conditions and circumstances in your life. A gathering of like minded, motivated, music loving individuals."
As if  the top-notch music, visual art, and learning opportunities of several varieties are not enough to make Resonance a transcendent festival, the beautiful souls who gather each year in attendance to celebrate, take in inspiration, and inspire others are just as essential to its success as a wonderful experience. Over the years at Resonance, I have had so many meaningful interactions with so many beautiful human beings that I could fill a book. The Dosio fan base is the nicest and most respectful group of music lovers I know, and they show up in droves. Along with this stellar group, a wonderful variety of human beings from ALL walks of life and with diverse interests comes to resonate each year. It is my hope that you'll come celebrate with us this year, whether you're a repeat resonator or a first timer.
5. New Venue
Finally, my favorite festival is getting some new digs this year. Resonance is changing venues from Legend Valley in Ohio where it has been since 2015—never forget Frontier Ranch in 2014—to Cooper's Lake in Slippery Rock, Pennsylvania. While I'll always treasure my Ohio Resonance memories (but not the Lost Lands fallout), I'm really looking forward to the change. In my case, the drive will be just a bit shorter. As the venue's name suggests, there's a lake. I hear there's a castle, and Taco tells me good things about it. Judging from the Cooper's Lake's website, it looks like a great venue. Check it out yourself here:
https://www.cooperslake.com/clchome/mapsandtours.php
I've given you five very good reasons not to miss Resonance 2019. After all, just like Dosio's  "Sultan of Synth" Billy Brouse, I care about you and your family.
For more information, check out Resonance's website here:
http://resonancemusicfest.com/?fbclid=IwAR1Wk2XaN7oBHTvqGBP120mfGZjRSJHLo0vQ2O83yNe8hlK97EUpOlc1HrA
Get your tickets here:
https://essentialproductions.cincyregister.com/resonance2019?fbclid=IwAR1mCpsYumFW0EPByaiBG0TyVgB-hp4b4GqpRyboScaVBDW_b4pkBOVMq9A
I'll see you in September.