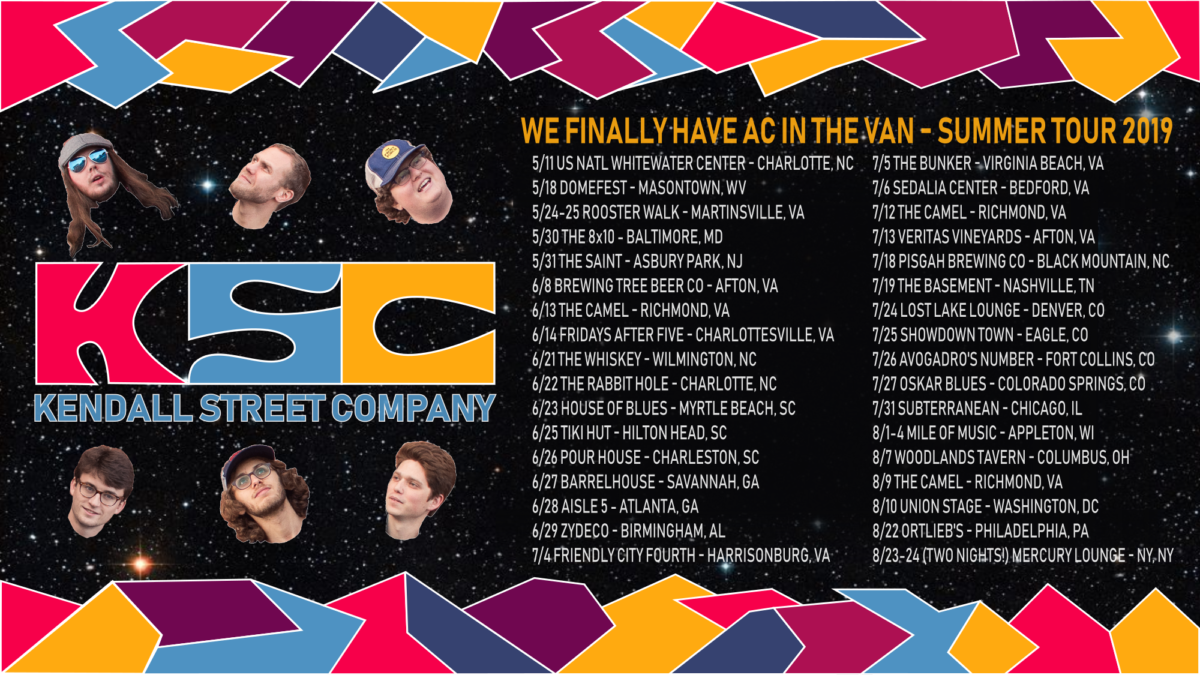 Written by Elise Olmstead
Kendall Street Company's name has been on the rise, and as the temperature did the same the band announced their summer tour with dates all over the East Coast and into Colorado and Illinois!  After a stellar release of their latest three part album RemoteVision, and a very adorable music video for "Boomba Voyage (I Sure Do Love Plants)" off the record, the momentum for these guys just doesn't stop.  Thankfully they'll get a break from these hot releases by jumping in their van and cranking the AC–that's right! The guys have finally made it, and they'll be sure to remind you.
Read our review of Remotevision here.
If you want to check out their diverse sound and stunning instrumentalization (these cats play a tight game), your soonest bet is Brewing Tree Beer Company in Afton, VA, on June 8, or June 13 at The Camel in Richmond, VA–one of The Jamwich's favorite venues.  They'll be heading down south to play for our friends in Wilmington, NC, at The Whiskey (6/21), and hitting Aisle 5 in Georgia (6/28), then doing a whirlwind Colorado tour, before playing for our Ohio peeps at Woodlands Tavern August 7th and finally capping off the tour 8/10 at Union Stage in DC and two nights at Mercury Lounge in New York, NY.

Like their page on Facebook to stay in the loop with all KSC news.  
How did you come up with the name for this Summer Tour?
Well, we finally have AC in the van…so we decided to call it the "We Finally Have AC In The Van" tour. It's pretty chill. [Bu-dum, psssh.]
What is different or better about this year's summer tour vs. last year?
For starters, we have AC in our (new-ish) van this year. We are also playing more dates and larger venues than previous tours, such as a two night run at Mercury Lounge in New York City and the Mile of Music Festival in Appleton, Wisconsin.
What is a venue or place you're excited to return to?
Thanks to our new AC, trips short and long are a breeze. We are in the midst of a year long monthly residency at The Camel in Richmond, Virginia, which has proven to be a fun creative challenge for us as a band. Because we are performing there so frequently, we are constantly seeking ways to keep our live show fresh and unique. This residency has also afforded us opportunities to play with and make friends in the local and regional music community, such as LITZ, Goose, Kate Rhudy, The Orange Constant, and Muther Goose to name a few.
What is a new place that you're excited to play for the first time?
Well now that we have AC in the van, the world is our very chill oyster. We are particularly excited to be bringing The Company west for the first time to Colorado for a string of dates in Denver, Fort Collins, Eagle, and Colorado Springs. Another storied city that we are excited to be visiting for the first time this summer is Chicago, where we will be playing at Subterranean with fellow East Coast jammers Of Good Nature.
How do you keep yourselves from getting too bored on the road?
Being in an enclosed van (that now thankfully has AC) with five of your best friends for weeks on end is anything but boring. In addition to a collection of partially rewound vintage VHS tapes (including stunners such as Independence Day, Flubber, and, from the storied National Geographic Video canon, The Sonoran Desert: A Violent Eden) we also have a Dreamcast upon which we routinely play competitive Pokemon Pinball. Beyond the digital realm though, we enjoy finding watering holes along our journeys so that we can get a chance to stretch our legs and cool off as well as discovering local restaurants to get a taste of every city we find ourselves in. This often lets us get to meet new people and make friends throughout our travels.
What's your number one rule for the band van?
Tow button? Check! E-Brake? Check! AC? CHECK!
Why should we be super excited to get out to your shows this summer?
Well, beyond the Freon-fueled celebratory nature of our "We Finally Have AC In The Van" tour, we are excited to be sharing loads of new songs that we have begun to integrate into our live shows. We have been in the studio recently with plans for more projects in the near future, so trying out these unreleased tunes on audiences both new and old is quite enjoyable. Every show we play has unreleased material, so a ticket to our show is basically a ticket to the future.