Hello Readers! The Holiday season is upon us! Don't let this time of year stress you out. Instead, relax and unwind with some friends at a live concert this week!  Don't know who to see, or where to see them? Here are some suggestions to help you make through the week.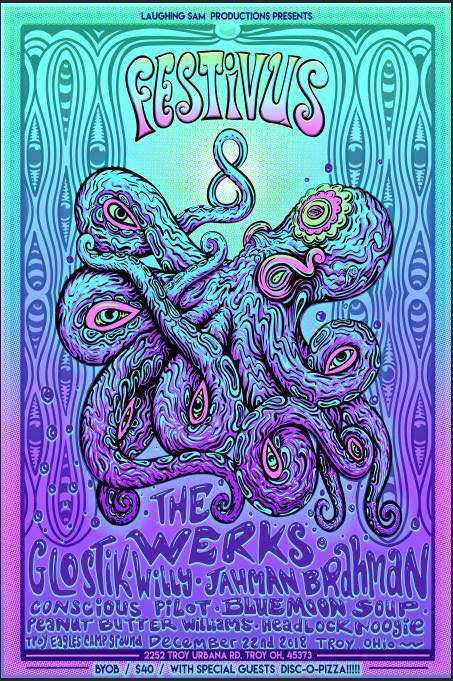 Festivus 8 awaits you this weekend at the Eagles Camp Grounds in Troy, Ohio!  This all-night event will take place in a 50x120ft heated tent, and will feature music from Saturday evening, all through the night until noon on Sunday. Scheduled performers include The Werks, Glostik Willy, Jahman Brahman, Conscious Pilot, Blue Moon Soup, Peanut Butter Williams, Headlock Noogie and Creation Station.  Tickets are set at $40 and can only be purchased the day of the event at the gate.  Check out the event's Facebook page for more info.
Join Gordon Sterling and other talented musicians this Tuesday for another improvised evening at The Gypsy Sally's Jam. Every Tuesday Gypsy Sally's in Washington, DC invites musicians of all kinds to get on stage with strangers and play improvised music. Put your name in a bucket, and if it's picked it's your turn to get on stage.  Amps and drum kit are provided. Just bring your instrument, an open mind and the desire to jam.
Other notable performances this week include Beggars Tomb at Gypsy Sally's in Washington, DC (12/19), Black Masala w/ Swift Technique at Union Stage in Washington, DC (12/21), Better Off Dead w/ Swamp Donkey Newgrass at Gypsy Sally's in Washington, DC (12/21), The Mantras w/ Twin Brothers Band at The Camel in Richmond, VA (12/21), Dr.Bacon w/ Space Koi at Capital Ale House in Richmond, VA (12/21) Root Shock w/ West End Blend at Anthology in Rochester, NY (12/21), Dead Alliance Buffalo at Buffalo Tap Room in Westfield, NY (12/21), The Werks at Woodlands Tavern in Columbus, OH (12/21), and Big Something w/ Too Many Zooz and Electric Love Machine at 9:30 Club in Washington, DC (12/22).
As always, please feel to leave your own suggestions for events and concerts in the comment section. Also, don't forget to check out the full list of concerts for the week, which is just a bit further down. Stay Jammy. Until next week.
Festivals/Events:
12/22 – Festivus Festival – Troy, OH
Concerts:
12/18 – The Gypsy Sally's Jam – Gypsy Sally's – Washington, DC
12/19 – Beggars Tomb – Gypsy Sally's – Washington, DC
12/19 – Kluster Phunk – Martin's Downtown – Roanoke, VA
12/20 – The Heavy Pets – 1904 Music Hall – Jacksonville, FL
12/20 – Organ Freeman w/ Disco Risque – Gypsy Sally's – Washington, DC
12/20 – Big Something w/ Dewpoint & Butterchild – Brighton Music Hall – Allston, MA
12/20 – Kung Fu – Octave – Covington, KY
12/21 – Black Masala w/ Swift Technique – Union Stage – Washington, DC
12/21 – Better Off Dead w/ Swamp Donkey Newgrass – Gypsy Sally's – Washington, DC
12/21 – Tommy Wyatt w/ Josh "Pappy"Miller – Dante's Bar – Frostburg, MD
12/21 – The Mantras w/ Twin Brothers Band – The Camel – Richmond, VA
12/21 – Dr.Bacon w/ Space Koi – Capital Ale House – Richmond, VA
12/21 – Big Something w/ Habatat – Rex Theatre – Pittsburgh, PA
12/21 – Too Many Zooz – The Fillmore – Philadelphia, PA
12/21 – Root Shock w/ West End Blend – Anthology – Rochester, NY
12/21 – The Werks – Woodlands Tavern – Columbus, OH
12/21 – Tauk w/ Kung Fu – Toad's Place – New Haven, CT
12/21 – The Heavy Pets w/ Surfer Blood – Revolution Live – Ft. Lauderdale, FL
12/22 – Big Something w/ Too Many Zooz/Electric Love Machine – 9:30 Club – Washington, DC
12/22 – Sophistafunk w/ Exmag – Gypsy Sally's – Washington, DC
12/22 – The Congress w/ Kenneka Cook Band – The Camel – Richmond, VA
12/22 – Sol Driven Train – Charleston Pour House – Charleston, SC
12/22 – Dead Alliance Buffalo – Buffalo Tap Room – Westfield, NY
12/22 – Root Shock w/ West End Blend – The Haunt – Ithaca, NY