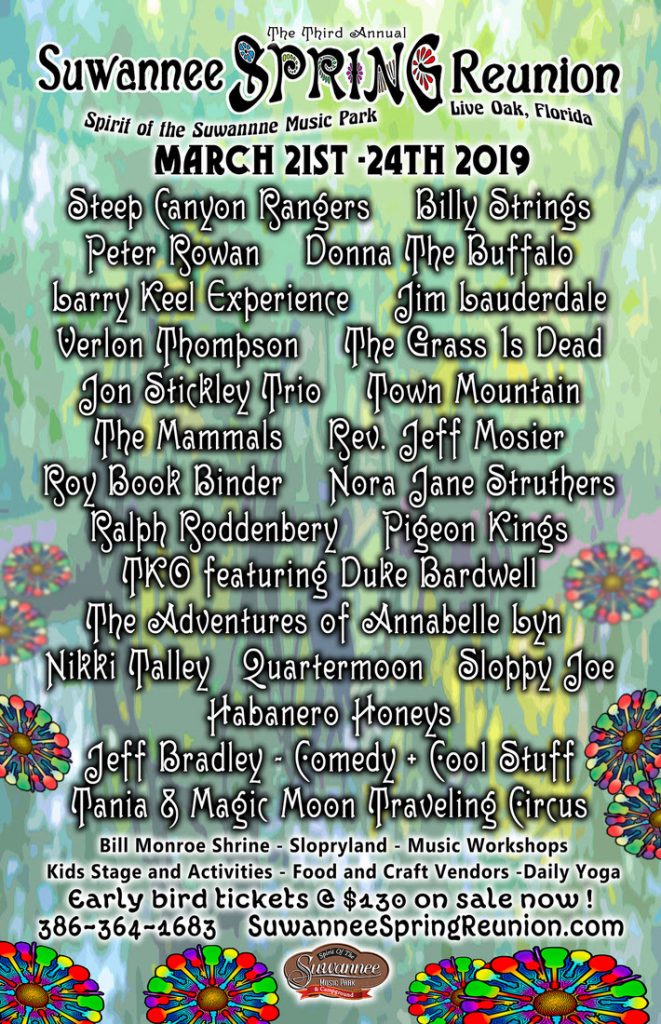 LIVE OAK, FL — For decades the onset of Spring meant gathering at the Spirit of the Suwannee Music Park in Live Oak, Florida for a weekend of fun, family, Bluegrass and string music. A beloved tradition continues as the picturesque grounds play host to a new take on a classic family-friendly gathering with the 3rd Annual Suwannee Spring Reunion taking place Thursday through Sunday, March 21-24, 2019.
For four days in March, you can slip your shoes off and dance under the bright blue vistas and star-studded skies. Wander the endless trails along the Suwannee River, tell stories around the crackling campfire or simply lie back and watch the Spanish moss that drapes the sheltering Live Oaks that sway in the breeze. Dance the days away at the Stages and while away the late night hours around the "Picking Parties" that spring up into the dawn's early light. There are no wrong choices when you arrive at your home and the place where live music lives for the founding of a new tradition, built on the love of the past, the Suwannee Spring Reunion.
The Suwannee Spring Reunion initial lineup for 2019 features Steep Canyon Rangers, Billy Strings, Donna The Buffalo, Peter Rowan, Larry Keel Experience, Jim Lauderdale, Verlon Thompson, The Grass Is Dead, Jon Stickley Trio, Town Mountain, Rev. Jeff Mosier, The Mammals, Roy Book Binder, Pigeon Kings, Nora Jane Struthers, Ralph Roddenbery, TKO featuring Duke Bardwell, Nikki Talley, The Adventures of Annabelle Lyn, Quartermoon, Sloppy Joe, Habanero Honeys, Jeff Bradley – Comedy + Cool Stuff, Tania & Magic Moon Traveling Circus. More artists to be announced.
Most of these artists bring with them storied histories of epic Suwannee performances! Matching the history on the stage, long time festival creators Beth Judy and Randy Judy along with an amazing staff, are partnering with the Spirit of the Suwannee to make sure that every piece needed is in place to make an epic weekend of music and fun.
Festival Director Beth Judy believes that the perfect gift for music lovers this year is the 2019 Combo Ticket available until January 7th. Beth says "What could be better than a gift of an extraordinary experience not once, but twice in one year when your loved one can attend Suwannee Spring Reunion and Suwannee Roots Revival?  And if not the Combo, an Early Bird Ticket for Suwannee Spring Reunion will make smiling faces all around!"
Once again the beloved tree-lined amphitheater is home to early morning sing-a-longs and night time musical pyrotechnics from the park's stellar cast of alumni and new favorites. There will be music on four stages including the Amphitheater, Porch, Music Hall, and Music Farmers Stages. Suwannee Spring Reunion attendees will also enjoy music in the campground with jamming at Slopryland and the Bill Monroe Shrine as well as camp pickin' parties.
Hands-on and performance workshops will be held throughout the weekend with a variety of artists set to perform.  Expect to get professional instruction at the hands on workshops and some out of the ordinary intimate musical experience from the different presentations.
Placing a strong emphasis on embracing the traditions that have made the park a national treasure, there will be a wide array of arts & crafts as well as an array of culinary delights ranging from healthy to decadent in the Vending Village. The park itself is a place where kids of all ages can remember why they fell in love with the magic mixture of sights, sounds, and sensations that constitutes a weekend of paradise that is the Spirit of the Suwannee Music Park
Tickets are on sale now. Suwannee Spring Reunion offers a multi-day Weekend Ticket that includes festival admission for four days of music, as well as primitive camping on Thursday, Friday, Saturday, and Sunday nights. Early Bird Tickets are $130; Students and military with a valid ID are $120. Children 12 and under are free if accompanied by a parent or legal guardian. Get your tickets now before they rise to the next pricing tier. Single Day Tickets will be available at the Gate only. Please note, Single Day Tickets do not include primitive camping.
Also available is the 2019 Combo Ticket Featuring one multi-day Weekend Ticket for both Suwannee Spring Reunion and Suwannee Roots Revival priced at $260, available until January 7th.  
SOSMP is located between Jacksonville, Florida & Tallahassee, Florida about 30 minutes south of the Georgia State line, about 45 minutes north of Gainesville and is host to a variety of events.
Suwannee Spring Reunion 2019 Initial Lineup
Steep Canyon Rangers
Billy Strings
Donna The Buffalo
Peter Rowan
Larry Keel Experience
Jim Lauderdale
Verlon Thompson
The Grass Is Dead
Jon Stickley Trio
Town Mountain
Rev. Jeff Mosier
The Mammals
Roy Book Binder
Pigeon Kings
Nora Jane Struthers
Ralph Roddenbery
TKO featuring Duke Bardwell
Nikki Talley
The Adventures of Annabelle Lyn
Quartermoon
Sloppy Joe
Habanero Honeys
Jeff Bradley – Comedy + Cool Stuff
Tania & Magic Moon Traveling Circus