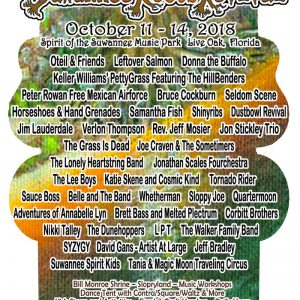 Written by Ashley Feller
It's the third year for Suwannee Roots Revival at Spirit of the Suwannee Music Park in Live Oak Florida. This festival is growing into a great new event that continues to attract avid music lovers from all over. Roots Revival is a fantastic time for families, solo travelers, and anyone who seeks an opportunity to get away and enjoy a fantastic plethora of music in a beautiful setting. This is it. The Spirit of the Suwannee is the home for every spirit seeking out an adventure. It is the perfect place to escape and become immersed in all the positive energy that flows in the park. This year's lineup features Oteil and Friends, Leftover Salmon, Bruce Cockburn, Horseshoes and Hand Grenades, Shiny Ribs, Jon Stickley Trio, and many more!
Suwannee Roots Revival includes music on five different stages. The main stage which is in a gorgeous natural amphitheater underneath the massive live oak trees. In addition therr are also three outdoor stages. Each one with its own unique experience.  The only indoor stage known as the Music Hall is a great area to witness intimate music performances.  The SOS Cafe/Music hall features a full bar and plenty of comfortable seating.
Spirit of the Suwannee is also known for its amenities. The park features hundreds of full hookup RV and tent campsites, cabins, horse stables, bathhouses, country store, and laundry facilities. Primitive camping is included with general admission tickets. Electric sites can be reserved by calling the SOSMP office.
Suwannee Roots Revival is a great escape. Many attendees will tell you they leave feeling refreshed and transformed. This is the place where friendships are cultivated, and memories are made.  There are two campsites Slopryland hosted by the band SloppyJoe and also The Bill Monroe Shrine hosted by Quartermoon that welcome pickers to come and play music throughout the weekend.
Roots Revival is the perfect festival for families. There are many activities to enjoy such as yoga, the kid's tent, and also various vendors. At the Music Farmer's Stage, there are various instrument workshops scheduled. These are taught by many of the weekend performers and are quite educational and intimate experiences. The "beach" at the Suwannee River is just a short drive down River Road. The beauty of the Suwannee River  is unique and some folks won't head home until they visited the river. Another attractive feature in the park is the recently built Tree House. The house is nestled in a 175-year-old live oak that is now known as Mother Tree.
Gather up your friends and family, pack your camping gear and come to have a fantastic four days of music, arts, dance, and adventuring at Spirit of the Suwannee. Be a part of a long tradition among friends and music lovers. Early bird tickets are currently available online. Children under the age of twelve are admitted for free. There are student and military discounts available, more details can be found on the festival website  www.suwanneerootsrevival.com. Reservations for cabins, RV, and electric sites can be made by calling the Spirit of the Suwannee Music Park office (386)364-1683.  Be ready for a relaxing weekend filled with some of the best music in one of the most beautiful locations in Florida. The lineup for this year is especially strong, bring your dancing shoes. Don't hold  back,  have a fantastic time at The 3 rd Annual Suwannee Roots Revival October 11th-14th 2018.