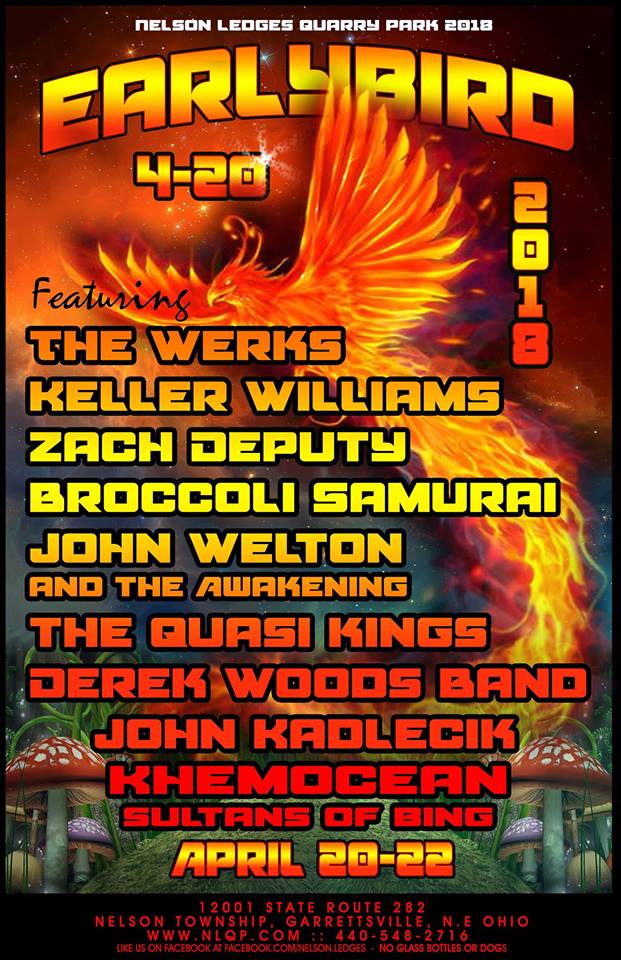 Come kick off the festival season at Earlybird Music Festival at the Nelson Ledges Quarry Park in Garrettsville, Ohio. A once functional rock quarry, NLQP now serves as a retreat from the stresses of everyday life. The venue features forested camp sites, a fresh-water quarry for swimming and even cliff jumping, a main stage on the outskirts of a sandy beach, and lots of smiles. Come join The Werks, John Kadlecik Band, Broccoli Samurai, Zach Deputy, and more for an unforgettable weekend. Visit www.NLQP.com for more information about the festival and venue, to buy tickets, and reserve campsites.
Join everyone at the Spirit of Suwannee Music Mark in Live Oak, Florida for the music festival Wanee. The three-day-long festival starts this Thursday, although many goers will be showing up Wednesday for the festival kickoff party, known as Wanee Wednesday. The lineup for the weekend includes two sets from Widespread Panic, two sets from Phil Lesh & The Terrapin Family Band, Pigeons Playing Ping Pong, Main Squeeze, Marcus King Band, and many more. Visit www.waneefestival.com to get more info, purchase tickets, check out memories from past years, and chat with others on the forums.
Lots of people are getting excited for this Friday, which marks a certain off-the-record holiday. The evening is jam-packed with concerts to choose from all over the region. Keller Williams will be at the Tralf Music Hall in Buffalo, Aqueous at the Kings Rook Club in Erie, The Disco Biscuits at The Fillmore Philadelphia, Turkuaz at the Brooklyn Bowl and The Motet at Charleston Pour House just to name a few. Check out the list of concerts below for a more in-depth list of suggested events.
This Saturday make your way to Safety Harbor's Waterfront Park in Tampa, Florida for funk, jazz, and fusion fest, Brainquility. Headliners include Beats Antique, Lettuce and Tauk, with many more accompanying acts set throughout the day. Come check out local artists, enjoy delicious food and local food truck fare, soak in the view of the Tampa Bay harbor, and have a great time. Visit www.brainquilityfest.com for more info.
Other notable performances this week include: Twiddle at Sherman Theatre in Stroudsburg, PA (04/21) and Rex Theatre in Pittsburgh, PA (04/22), The Disco Biscuits at The Fillmore Philadelphia in Philadelphia, PA (04/19-21), Aqueous at The Haunt in Ithaca, NY (04/21), and Pink Talking Phish at Putnam Place in Saratoga Springs, NY (04/21).
Other festivals this weekend include: 420 Gathering in Eglon, WV; Big Poppa's Spring Ball in Richardville, VA; GOTTA Festival in Bentonville, VA; Starfire Festival in Norfolk, VA; and Pennsylvania Cannabis Fest in Scranton, PA.
04/17 – Perpetual Groove – Funk 'n Waffles Music Hall – Rochester, NY
04/17 – Brit Floyd – Palace Theatre – Albany, NY
04/18 – Tweed – Buffalo Iron Works – Buffalo, NY
04/18 – Perpetual Groove – Funk 'n Waffles – Syracuse, NY
04/18 – TAUK – Woodlands Tavern – Columbus, OH
04/19 – Tweed – Flour City Station – Rochester, NY
04/19 – Keller Williams – Homer Center for the Arts – Homer, NY
04/19 – Perpetual Groove – Putnam Den – Saratoga Springs, NY
04/19 – The Disco Biscuits – The Fillmore Philadelphia – Philadelphia, PA
04/19 – Brit Floyd – Hershey Theatre – Hershey, PA
04/19 – Wanee Music Festival – Spirit of The Suwannee Music Park – Live Oak, FL
04/20 – Keller Williams – Tralf Music Hall – Buffalo, NY
04/20 – Aqueous – Kings Rook Club – Erie, PA
04/20 – Max Creek – The Westcott Theatre – Syracuse, NY
04/20 – EarlyBird Festival – Nelson Ledges Quarry Park – Garrettsville, OH
04/20 – The Disco Biscuits – The Fillmore Philadelphia – Philadelphia, PA
04/20 – Turkuaz – Brooklyn Bowl – Brooklyn, NY
04/20 – The Lizards – Stereo Garden – Patchogue, NY
04/20 – Wanee Music Festival – Spirit of The Suwannee Music Park – Live Oak, FL
04/20 – Pink Talking Phish – The Ardmore Music Hall – Philadelphia, PA
04/20 – moe. – Lincoln Theatre – Washington, D.C
04/20 – Runaway Gin – Martin's Downtown – Roanoke, VA
04/20 – Beats Antique – Culture Room – Ft. Lauderdale, FL
04/20 – The Motet – The Charleston Pour House – Charleston, SC
04/21 – Tweed – O'Connor Brewing Co. – Norfolk, VA
04/21 – Max Creek – Funk 'n Waffles Music Hall – Rochester, NY
04/21 – Aqueous – The Haunt – Ithaca, NY
04/21 – The Lizards – River Street Jazz Café – Wilkes Barre, PA
04/21 – Perpetual Groove – The Gramercy Theatre – New York, NY
04/21 – EarlyBird Festival – Nelson Ledges Quarry Park – Garrettsville, OH
04/21 – The Disco Biscuits – The Fillmore Philadelphia – Philadelphia, PA
04/21 – Turkuaz – Brooklyn Bowl – Brooklyn, NY
04/21 – Brit Floyd – Sands Bethlehem Event Center – Bethlehem, PA
04/21– Wanee Music Festival – Spirit of The Suwannee Music Park – Live Oak, FL
04/21 – Pink Talking Phish – Putnam Place – Saratoga Springs, NY
04/21 – Brainquility – Safety Harbor Waterfront Park – Safety Harbor, FL
04/21 – ekoostik hookah – Civic Music Hall – Toledo, OH
04/21 – Twiddle – Sherman Theatre – Stroudsburg, PA
04/21 – moe. – Elmwood Park – Roanoke, VA
04/21 – Runaway Gin – The Southern – Charlottesville, VA
04/22 – Twiddle – Rex Theatre – Pittsburgh, PA
04/22 – Perpetual Groove – The Foundry at The Fillmore – Philadelphia, PA
04/22 – EarlyBird Festival – Nelson Ledges Quarry Park – Garrettsville, OH
04/22 – Turkuaz – Brooklyn Bowl – Brooklyn, NY
04/22 – Twiddle – Rex Theatre – Pittsburgh, PA
04/22 – moe. – Pisgah Brewing Outdoor Stage – Black Mountain, NC